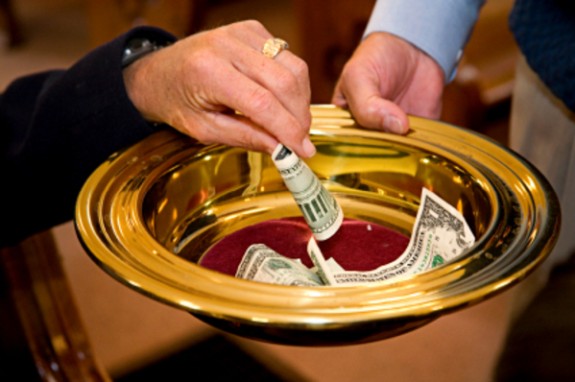 It's a serious question among many of us in the non-profit Catholic world. And it's a source of concern for pastors and administrators, as well.
America magazine took a survey of its readers and reported last week:
Many respondents told America that they had reduced their financial contributions to the Catholic Church in the wake of the sexual abuse crisis. Fifty-seven percent of respondents said they had lowered the amount they gave to their bishop's appeal, while 47 percent said they had reduced donations to their parishes.

Heather Glose of Buffalo, N.Y., explained her reasons for reducing her financial contributions this way: "As leaked diocesan documents indicate finances were a primary concern instead of victims, I am unable to contribute money while keeping my conscience clear," said Ms. Glose. "If they care about money above all, maybe they will listen to our outrage more once they suffer financially."

Donations to Catholic service agencies and schools suffered less than collections by bishops and parishes because respondents said they had greater trust in these institutions. Only 22 percent of respondents said they reduced their donations to Catholic charities, and 10 percent said they had lowered the amount they donated to Catholic schools. An anonymous reader from Sacramento, Calif., said: "I support Catholic Relief Services, and I support my parish if I can specify what ministry it goes to. I do not support my parish priest, who openly says abuse is a thing of the past, when I know that it is not."

Many respondents said they would give more to the church if they felt it was responding adequately to the crisis. In the words of a reader from Oregon: "Investigate all present and past situations and publish a report of the results. Healing begins with acknowledging what has happened."
CNS looked at the situation involving Catholic agencies and non-profits:
Leaders and fundraisers at Catholic organizations are cautiously monitoring the level of donations and gifts as the end-of-the-year giving season approaches, hoping that the clergy sexual abuse scandal won't negatively affect their bottom line.

While most of the professionals contacted by Catholic News Service said it is too early yet to see what effect, if any, the abuse crisis may have on giving, some are taking steps to reassure donors that money contributed to vital ministries is not going for settlements to abuse victims or payments to attorneys.

The crisis is just one factor that concerns the leaders. There's also the 2017 Tax Cut and Jobs Act. It's effect on giving remains a question mark. "People remain confused about it," said Franciscan Sister Georgette Lehmuth, president and CEO of the National Catholic Development Conference.

"The main thing is no one knows. It's way too early," Patrick Markey, executive director of the Diocesan Fiscal Management Conference, told CNS.

Beyond that, some organizations have offered the expertise of their members to individual dioceses and the U.S. Conference of Catholic Bishops in areas of communications and finances as the bishops prepare to publicly address the abuse crisis during their fall general assembly Nov. 12-14 in Baltimore.

One effort to prevent a drop off in donations has been initiated by Catholic Charities USA. Dominican Sister Donna Markham, the organization's president and CEO, sent a letter to all donors Oct. 31 expressing concern about calls to withhold donations to any Catholic institution.

"This concerns me deeply," Sister Markham wrote. "I am very worried about the consequent impact this will have on many children and families living in poverty or on the edges of poverty right now."
Stay tuned.