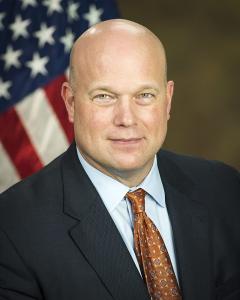 We haven't heard or read much about the acting attorney general's religious background. I was curious and did a little Googling to see what I could find. While it hasn't been widely reported, it turns out that Matthew Whitaker has strong opinions on the law and public life that are closely related to his Christian faith.
NPR interviewed Berit Berger, the executive director of the Center for the Advancement of Public Integrity at Columbia Law School. He noted:
He has taken some incredibly extreme views on legal issues. For example, he discusses that he approaches things – legal issues – you know, he wants to see them first from the Christian perspective and then from the constitutional perspective. That is not necessarily something we are used to hearing the attorney general say.
The Washington Post has more:
In a 2014 debate when he was running for the U.S. Senate, acting attorney general Matthew Whitaker said judges should have a Christian worldview, and that a judge with a "secular worldview" would be problematic, according to reports from that time.

Efforts to reach Whitaker, who was appointed Wednesday by President Trump to the post of acting attorney general, were not immediately successful. A May 2014 report in the Des Moines Register cited the event, in a critical column by Register opinion writer Rekha Basu.

…"If they have a secular worldview, where this is all we have here on Earth, then I'm going to be very concerned about how they judge," Whitaker says at the Family Leader debate on a video published in April 2014 by the progressive advocacy group Right Wing Watch.

Whitaker [said]: "Natural law often times is used from the eye of the beholder and what I would like to see — I'd like to see things like their world view, what informs them. Are they people of faith? Do they have a biblical view of justice? — which I think is very important because we all know that our government …"

"Levitical or New Testament?" interrupted Erickson.

"I'm a New Testament," continued Whitaker. "And what I know is as long as they have that world view, that they'll be a good judge. And if they have a secular world view, where this is all we have here on Earth, then I'm going to be very concerned about that judge."

Bob Vander Plaats, president and CEO of the Family Leader, on Wednesday praised Whitaker and said he "is a believer in Christ, and the man of highest integrity and a man who really loves his family and his country."

Asked what, specifically, is meant by a "New Testament" point of view for a judge, Vander Plaats said "my guess is he's saying someone who wants justice, and to walk humbly with your God."
The New York Times notes that Whitaker is also staunchly anti-abortion:
He signaled opposition to abortion rights, saying that he believed "life begins at conception," and to same-sex marriage rights, saying that "it's traditionally been up to the churches and to God to define that." He expressed frustration that the Iowa Legislature had not pushed back against a State Supreme Court ruling in 2009 that permitted same-sex couples in Iowa to marry.

Mr. Whitaker voiced a hard line on immigration, saying he did not believe in "amnesty" for undocumented immigrants who are already inside the country — he did not address the so-called Dreamers, or people brought to the United States as children — and talked about visiting the southwestern border while he was the United States attorney for the Southern District of Iowa during the second term of President George W. Bush.

"I was able to see what our border looks like and the fact it is under assault on a daily basis from people trying to bring illegal people and illegal drugs into our country," he said. "What do I think the solution is? We need to secure the border first and then look at ways to reform the system, whether that's getting rid of chain immigration," in which migrants trace the paths of relatives or others they know to come to the United States, "or increasing the number of skilled-worker visas."