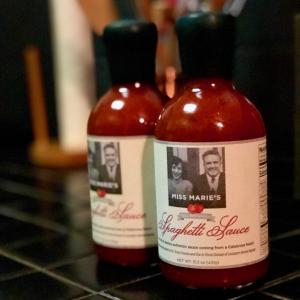 The unfailingly creative and generous Father Jim Sichko — who has made a few appearances in my blog over the years, and made headlines with his charitable work — is at it again, and this may be one of his biggest undertakings yet. Remember "Newman's Own"? Think of this as "Sichko's Own."
From CNS: 
When Father Jim Sichko recalls Tuesdays during his childhood in Orange, Texas, he can almost smell the aroma of his mother's homemade tomato sauce wafting through their home.

Marie Ceraso Sichko was a native of Italy who would make fresh sauce, bake delicious dishes and lay out her finest china for her weekly lunch guests each Tuesday.

"Through the front door would come stinky, smelly, garbage sanitation workers," said Father Sichko, who currently serves in the Diocese of Lexington.

"They would come in and they would dine," he told Catholic News Service in an interview. "She would serve them."

Marie Sichko's simple act of charity for the local sanitation workers has rippled out to touch thousands. Father Sichko decided to bottle her secret sauce recipe and, after his mother died unexpectedly last year, chose to donate the proceeds from sauce sales as a tribute to her memory.

Now, just two months after Father Sichko unveiled "Miss Marie's Spaghetti Sauce," the bottles can be found on the shelves of more than a dozen Kentucky retailers, are used at high-end Lexington restaurants and have been shipped across the country through Father Sichko's website, www.frjims.com.
Read more. And check out the video about the project below.