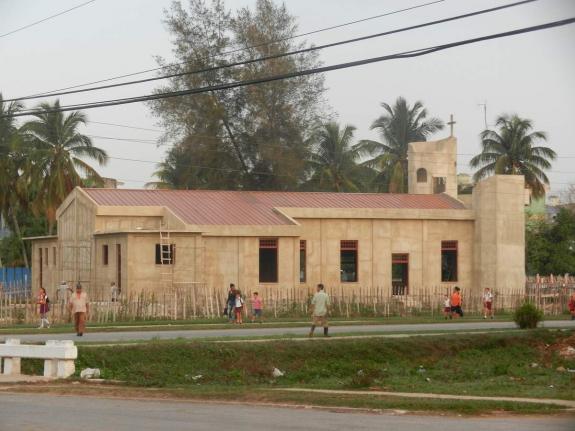 And it was done, in large part, because of a parish in Florida.
Religious history is set to be made in Cuba thanks to the efforts of Tampa's St. Lawrence Catholic Church.

On Jan. 26, the first new Catholic church will be inaugurated on the island since the Cuban Revolution 60 years ago ushered in an era of atheism.

St. Lawrence, at 5225 N. Himes Ave. in Tampa, led the effort to raise the $95,000 needed to build the church in Sandino — a town of 40,000 people in the far-western coastal province of Pinar del Rio.

"It's been beautiful to watch a project come to be, through the efforts of individuals who care and take initiative to accomplish something good," said Father Chuck Dornquast, parochial vicar at St. Lawrence.

The venture began in 2010 when Father Tom Morgan, then pastor of St. Lawrence, expressed interest in a spiritual partnership with Cuba.

Father Ramon Hernandez, a native of Cuba and also a priest at St. Lawrence, got the ball rolling by reaching out to Father Cirilo Castro, then a priest in Sandino. With no church, people who lived there worshipped in homes.

A partnership was formed. The Cuban government approved construction and sold land to the Sandino parish. St. Lawrence started a fundraising campaign that brought in money from its own parishioners and from people throughout the country.

"Donations came from as far as San Francisco, New York, Wisconsin," said Luisa Long, coordinator of Hispanic ministries for St. Lawrence. "This was handled through St. Lawrence but made possible by many."

The Sandino church is named the Sagrado Corazon de Jesus, Spanish for Sacred Heart. It was originally to be called Divina Misericordia de Sandino — Divine Mercy of Sandino.