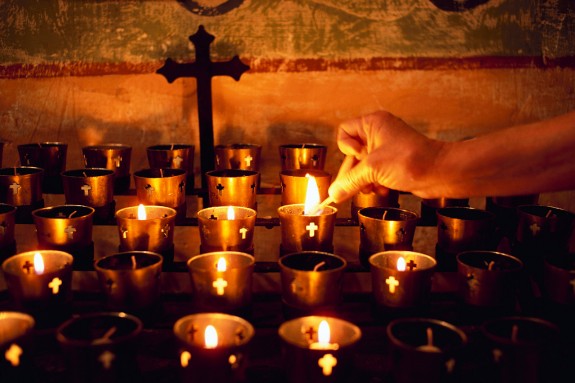 After all the controversy swirling around the funeral homily for a young man in Detroit, reading this homily was like a balm.
Letitia Adams posted this on her blog, and it cannot have been easy.
It's the funeral homily delivered by Father Jonathan Raia last year, after Letitia's son Anthony took his life. I encourage you to read the whole thing at her blog. It is nothing less than breathtaking — pastoral, wise, merciful, illuminated by truth and grounded in the Gospel.
But it is done with such tenderness and grace. It fulfills one of the first great commandments of preaching, words of wisdom that were imparted to a classmate of mine as he was about to preach his first homily at his Mass of Thanksgiving. "Whatever you tell 'em," the pastor said, "just make sure they know God loves 'em."
From the homily for Anthony Gallegos:
Our faith does not try to answer for us the question of "why?". The answer that our Christian faith does give to us, the only answer, is the answer that is a Person.

It's the Person of Jesus Christ, God who became man for our salvation. God who suffered and died to free every single one of us from death. It's Jesus, the answer, who when he was on the cross, cried out "My God, My God, why? Why have you forsaken me?". See, in Jesus, God has said to each and every one of us, "I understand what that 'why?' feels like. I know it because I felt it too."

The one request that Leticia had for me regarding this homily (she's not afraid to give instructions to priests! I know her, she's not shy), the one request that she had for me was that I proclaim to every one of you that beautiful truth that Noe, who did our second reading, who is such a beloved spiritual father and teacher in this family here at St. William's, that beautiful little saying that Noe loves to preach, "God loves you more than you think He does." God loves you more than you think He does. That was what Leti said: "Tell them that." So, God loves you more than you think He does.

Wherever you are in your own journey of faith, in your relationship with God and relationship with the Church, God loves you today, now. More than you think He does. Much, much more.

So where was God in Anthony's final days, in his final moments here on earth? Jesus was battling inside of him. Jesus was battling inside of him, giving him the resolve to marry Ariana in the Church, to be a good father to Aaliyah and Camryn. To keep his faith at the center of his life. He wrote those things down. Jesus was right there and although it might seem to us today that the darkness won that battle inside of Anthony, we are here in this church this morning because we believe that the war has in fact already been won.

St. John proclaims to us, "The light shines in the darkness, and the darkness has not overcome it." The light shines in the darkness, and the darkness has not overcome it.

See, the symbols right now that surround Anthony's body—the Paschal candle, the pall—remind us that right over there in that font, seven years ago, Jesus Christ, the light of the world, came to dwell in Anthony's heart. I had the great privilege to baptize him, along with Dan, and Gabe, and Felicity.

And on that night, God the Father looked at Anthony and said, "You are my beloved son. You are my beloved son." The same words that we just heard the Father say to Jesus at the Transfiguration. On that day of his baptism, Anthony received the gift of faith, and Jesus promised him a share in his own victory over death. We are here today to beg the Lord Jesus to remember that promise.
As I said: read it all.
Priests and deacons: print it out and study it. This is how it's done.