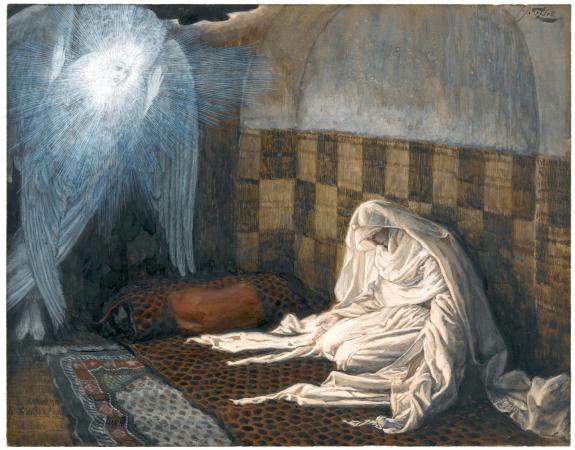 It probably began like any other day.
There were prayers to be said. Chores to do. Bread to bake. Clothes to clean or sew. Water to draw from the well.
We don't know what the weather was like. Nobody knows if a storm might have persuaded her to stay indoors, or if the sun was so warm she wanted to go outside for a walk.
But at some point in an otherwise forgettable day in an ordinary town in an overlooked corner of an empire…a Jewish girl we call Mary made history. Nothing after that has ever been quite the same.
She did it with just a few words.
"May it be done to me according to your word."
Put another way:
She said, "Yes."
And here we are, 20 centuries later, remembering this moment, honoring the young woman who is at the center of it, and celebrating God's extravagant wisdom, generosity and love.
And we do it because this moment didn't just happen. This feast we celebrate, the Immaculate Conception, commemorates a great mystery and a miracle: that God so loved the world that not only did he send us his son…but he also gave us Mary.
He planned for Mary to be his son's perfect vessel, conceived in her own mother's womb as sinless and pure, untouched by what happened in Eden.
That miracle of creation brought us to another miracle of creation — the Annunciation we just heard in Luke's Gospel.
But for a moment, I want to go back to that key phrase at the heart of this Gospel —which is also at the heart of this feast:
May it be done to me according to your word.
This is where everything began. Here is a complete and selfless desire to do the will of God, offered with humility and a sense of purpose.
I have to ask myself: Could I say anything like that?
Could any of us say that today?
Could any of us be so willing to surrender to God so eagerly, so completely, so beautifully?
In an age when personal freedom is prized above all else, when the culture tells us you don't have to do anything that is uncomfortable or inconvenient … this girl named Mary says something most modern people would find altogether shocking.
To an angel of the Lord, and to the God who created her, she says, "If you want it, I'll do it."
Her son would later put it another way, in a prayer that is known by every Christian: Thy will be done.
But Mary's words carry the added weight of history being written.
Think of what came about because of that.
Bethlehem. Egypt. Calvary.
Easter came about because of these words.
Our salvation came about because of these words.
Because of that moment, we are here tonight, hearing God's word proclaimed, receiving the Eucharist, worshipping the Lord in faith and hope and love.
It all began with that one "Yes."
And yet, this feast of the Immaculate Conception also reminds us it began even before that, when Mary herself first began.
What a wonder in this season of wonders.
The life and sacrifice and love of Mary serves as a model for every one of us — and a bold challenge. Because the beautiful reality is: like her, each of us is called to be a vessel for Christ.
Each of us is called to bring Jesus into the world. To take him to others. To announce him.
To sacrifice for him. To surrender for him. To love for him.
To live our lives in such a way that we can, as Mary did, "proclaim the greatness of the Lord."
Know this: God had a plan for Mary before she was born — as he has a plan for every one in this church.
Shortly before my ordination, Bishop Frank Caggiano put it beautifully. He told my diaconate class: "God has a dream for you. Your job is to discover what it is and to make that dream come true."
So this night, overwhelmed once again by the humility and trust of Mary—her ability to say, "Yes" to what God had planned from the first moment of her immaculate conception—we carry this question in our hearts:
How can we be more like her?
What is God asking of us?
What is God's dream for us?
What is his dream for you? What particular gift has he given you? What plan does he want you to fulfill?
How can we make God's dream for us come true?
My friends, I would submit that it begins as it did for Mary — with a response that, on an otherwise ordinary day, changed everything.
"May it be done to me according to your word."