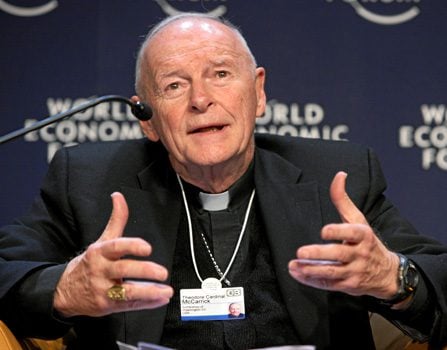 From The Washington Post: 
Vatican investigators have finished collecting evidence in the sexual abuse case of disgraced ex-cardinal Theodore McCarrick, according to a person familiar with the investigation, indicating that the Catholic Church is moving quickly toward sentencing the cleric in its secretive justice system.

The former prominent archbishop of Washington, who now stands accused of sexually abusing three minors and harassing adult priests and seminarians, already has become the first U.S. cardinal ever removed from that office due to sexual misconduct allegations. Now, he faces the prospect of soon being defrocked — meaning he would no longer be a priest of the Catholic Church and would lose his church housing and financial support.

In the past several weeks, witnesses far from the Vatican offered testimony under questioning by American clergy tapped to help with the case. James Grein, who has spoken publicly about his alleged abuse by McCarrick which he says began when he was 11, told The Washington Post that he testified in late December in the office of the Archdiocese of New York. A man who says McCarrick molested him when he was a teenage altar boy has also testified, along with a third man who was a minor when he was allegedly abused by McCarrick.

[A source] in the Vatican, who like others in this report spoke on the condition of anonymity, said he felt that the Holy See waited too long to start the canonical process, the workings of the Vatican's internal justice system, but that the case is now accelerating. The CDF is now trying to "make up for lost time," he said.

The bishops have the option, "when the evidence is clear," to skip a full canonical trial, which can last years, and instead opt for an abbreviated process, he said. In rare instances, the pope has decided such cases directly. In the last two instances, a decision could conceivably be reached ahead of a February meeting of top bishops from around the world called by Pope Francis to discuss the subject of sexual abuse in the church.

…A common punishment in Vatican cases is to sentence the accused to a life of prayer and penance — which Francis has already imposed on McCarrick before trial.

McCarrick, currently an archbishop, would lose his church housing and stipends if he is laicized, Martens said. He would not be allowed to wear clerical garb, celebrate Mass or present himself in a priest in any way. He would retain only one priestly role, Martens said, because the church believes the ordination it confers on priests is permanent: In an emergency, he would still be obligated to minister to a sick person in danger of dying.