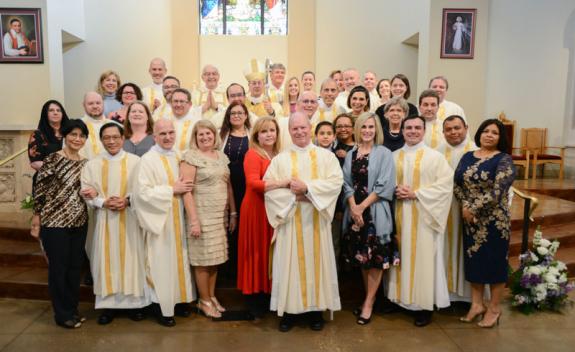 In an unusual twist, one of the men began formation for the permanent diaconate, and eventually discerned a call to the priesthood—but he wanted to be ordained a deacon with his former classmates.
Details from The Miscellany: 
Sixteen new permanent deacons will be serving the Diocese of Charleston, and one man is now closer to the priesthood after being ordained to the transitional diaconate.

Bishop Robert E. Guglielmone ordained the men at St. Michael Church on Feb. 9. The liturgy took place in front of hundreds of family and friends, many of whom had traveled long distances to see their loved ones fulfill their dream of serving God in a new way. They were joined by 58 permanent deacons and 35 priests who came to show their support.

The class of 2019 is part of a remarkably strong permanent diaconate program in the diocese. They follow 35 men who were ordained in 2016, with another large class in two years.

Ordination to the permanent diaconate is an elaborate and emotional ceremony. Bishop Guglielmone explained the duties of a deacon and then the crowd knelt while the men prostrated themselves before the altar during the Litany of the Saints. This is a sung series of prayers where the congregation petitions Jesus, Mary, dozens of saints and other holy men and women to intercede for the ordinands.

Seminarian Bruce Barnett of St. Theresa the Little Flower Church in Summerville was also ordained, although he is entering the transitional diaconate, which is the last milestone before being ordained to the priesthood. Deacon Barnett had previously started on the permanent diaconate track before discerning a call to be a priest, and decided he wanted to be ordained with his former classmates.

 Read his story below.

The bishop laid his hands on the men and prayed, and then the newly ordained deacons were vested with the stole and dalmatic, traditional vestments for deacons. The bishop also handed them the book of the Gospels, which symbolizes their new ability to proclaim the Word at Mass.

Permanent deacons also assist priests during Mass, preside at funerals and wakes, lead prayer services and benedictions, and visit the sick and dying. Deacons also perform many roles in parishes such as teaching religious education.
Read it all and learn more about the new deacons here. 
Congratulations and welcome, brothers! Ad multos annos!