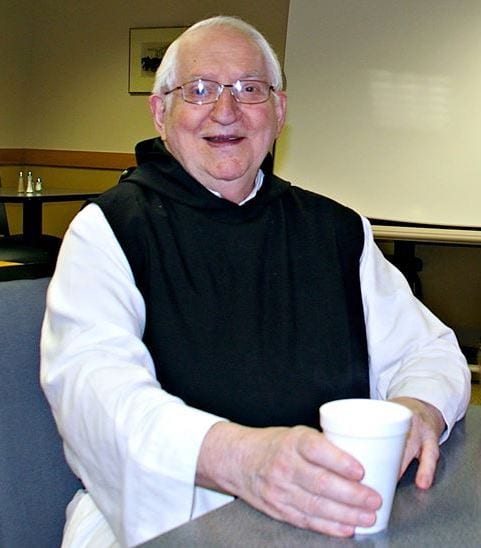 Sad news from the Abbey of Gethsemani in Kentucky:
Brother Patrick Hart, O.C.S.O., who served as the last secretary to Father Louis Merton—better known as Thomas Merton, the heralded Trappist monk and author of the spiritual classic The Seven Storey Mountain—died at the age of 93 on Feb. 21. After Merton's death, he became the literary executor of Merton's works and the custodian of the legacy of the 20th century's most prominent religious seekers and teachers.

A native of Green Bay, Wis., Brother Hart was born on June 14, 1925. Two important events in his life both occurred two days after his birthday: the first when he entered the Brothers of the Holy Cross at Notre Dame on June 16, 1947, and the second when he entered the Abbey of the Gethsemani exactly four years later. He put on the Cistercian habit in 1951 and took his solemn profession of vows in 1957.

Brother Hart became the secretary to Thomas Merton in the summer of 1968. Little did he know that it would be for mere months; in December, Merton died from an accidental electrocution while attending a religious conference in Thailand.

Among his other accomplishments, Brother Hart was appointed to the staff of the Trappist Generalate in Rome in 1966. After Merton's death, he was a member of the board of directors of Cistercian Publications and was editor-in-chief of Cistercian Studies Quarterly; later he served as book review editor for the Quarterly.
Eternal rest grant unto him, O Lord, and let perpetual light shine upon him…
I had the good fortune to meet him during a couple trips to Gethsemani some years back. (Somewhere, buried in my treasure trove of Merton stuff, I have a picture book about the abbey that Brother Patrick graciously autographed for me.) He was a kindly, generous and welcoming presence at the abbey, and always eager to meet Merton admirers, who would make the trip to the Kentucky foothills to walk the fields, breathe the air, hear the chants and pay homage at the great monk's grave.