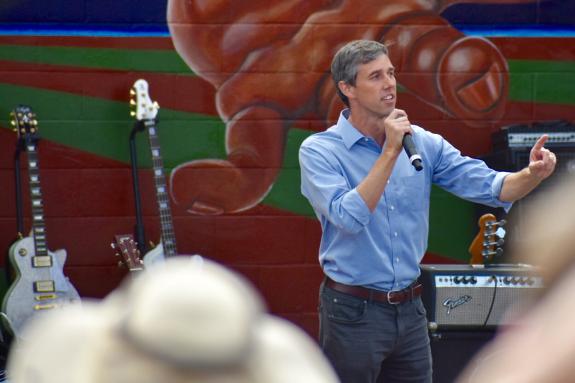 With the former congressman now in the 2020 race, here's an interesting ThrowBack Thursday clip for you, from 2011.
Candidate for U.S. Senate, Congressman Beto O'Rourke (D-TX) is seen on video disparaging the Catholic Church during his time as an El Paso City Councilman in 2011.

The video begins with O'Rourke demeaning a Catholic priest about the "moral failings of the church you represent, especially as you try to take the moral high-ground in this debate."

The debate began over a council vote on same-sex marriage benefits which Father Rodriguez urged them to vote down in accordance with traditional teachings.

O'Rourke says, "Luckily, I don't need your approval to move forward. I want to know why this, for you, has become the burning issue of the day… I can think of two obvious cases where the church has failed on a global level."

He continues by alleging that the Pope went to Africa and discouraged people from using condoms before revisiting child-abuse allegations.
Read the rest. And watch the clip below.
Worth noting: O'Rourke himself is identified in his biographies as Catholic. He has declared his support for legal abortion and several years ago received a "100% pro-choice rating" from NARAL.  He has also called marriage equality a "core civil rights issue."
BETO OROURKE ATTACKS ON CHURCHES, PRIESTS AND FREE SPEECH IN EL PASO! FEELING ALL HIGH MIGHTY BECAUSE OF HIS BILLIONAIRE DADDY IN LAW! READ THIS AND WHAT DAMAGE HE'S DONE IN EL PASO ⬇️⬇️⬇️⬇️⬇️⬇️⬇️⬇️⬇️⬇️⬇️⬇️⬇️⬇️⬇️⬇️https://www.texasobserver.org/2483-eminent-disaster-a-cabal-of-politicians-and-profiteers-targets-an-el-paso-barrio/

Posted by WAKE UP 915 on Sunday, July 26, 2015