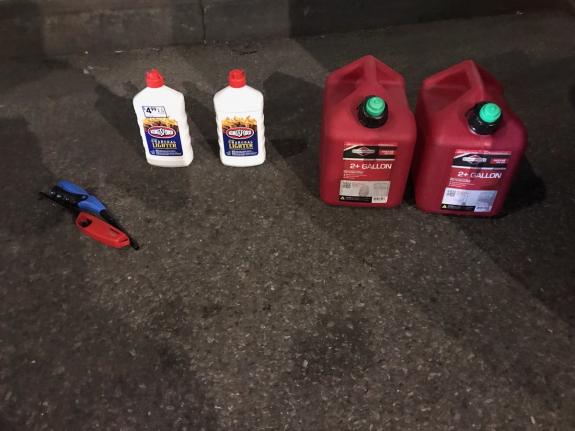 From CNN:
 A man will be charged with attempted arson and reckless endangerment after he tried to enter St. Patrick's Cathedral in New York on Wednesday night with gallons of gasoline, lighter fluid and lighters.

Police identified the suspect Thursday as Marc Lamparello, who was also arrested by the Essex County Sheriff's Office last Monday in Newark, New Jersey, at Sacred Heart Cathedral after refusing to leave, NYPD's John Miller said at a news conference.

Miller previously said that a security officer stopped a suspect Wednesday night, who then left the church and was subsequently detained by counterterrorism officers. The suspect spilled some of the gasoline as the security officer stopped him in the church and forced him to turn around, Miller said.

"It's hard to say exactly what his intentions were, but I think the totality of circumstances of an individual walking into an iconic location like St. Patrick's Cathedral, carrying over four gallons of gasoline, two bottles of lighter fluid and lighters is something we would have great concern over," Miller said.

The incident comes days after the historic Notre Dame Cathedral in Paris burned in what officials say could be an accident related to renovation work.

Lamparello did not make any references to Notre Dame while speaking to investigators, authorities said Thursday.

The suspect had booked a flight to Italy that was set to leave Thursday evening, authorities said.

It's unclear when he will be arraigned, Miller said.
Read more.
Additional details, from The New York Times: 
It remains unclear what may have driven Mr. Lamparello to go to St. Patrick's Cathedral on Wednesday. Police officials would not say what, if any, motive he disclosed to officers.

"There doesn't appear to be any connection to a terror group," said John Miller, the Police Department's deputy commissioner of intelligence and counterterrorism.

Mr. Lamparello is a doctoral candidate in philosophy at the City University of New York. His mother told the New Jersey authorities he had an apartment in New York City.

He was a 2004 graduate of Boston College and was listed as teaching courses at Brooklyn College this spring. The police said Mr. Lamparello also taught at Seton Hall University in New Jersey.

He had written and published a book, "Reason and Counterpoint," in 2016. His online biography on Amazon.com suggests an interest in questions of religion and higher powers; it said he was working on a book-length project that would wrestle with the existence of God.

At least one of the courses he has taught, Introduction to the Problems of Philosophy, touched on religion.

The course included "such topics as the nature and scope of knowledge, meaning and verification, the existence of God, determinism and free will, the mind-body problem, and the nature of moral judgments," according to an online course description for Brooklyn College.