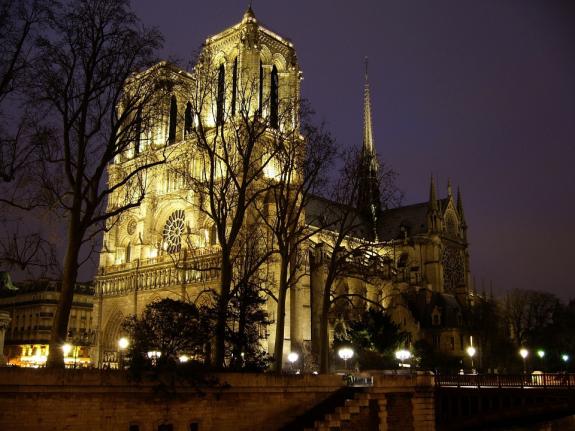 Tonight, in this church named for Our Lady, many of us are thinking of another church, on the other side of the world, also named for Our Lady.
Our hearts are with the people of Paris, as they mourn the damage to Notre Dame and face a Triduum like no other.
We all saw those pictures Monday. We watched in sorrow as the smoke spread, and that spire fell, and the flames tore through one of the most beautiful and iconic churches of the world.
Architects, historians and art experts all weighed in on why Notre Dame is such a landmark. They spoke of its age, its beauty, how it had withstood so many wars and persecutions and upheavals. They spoke of Victor Hugo and Edith Piaf and movies with Audrey Hepburn and Leslie Caron. People expressed relief over the treasures that had been saved – among them, its celebrated organ, its bells, and relics of St. Louis and the Crown of Thorns.
But none of them captured the full weight of Notre Dame's importance. It was left to the archbishop of Paris to put it all in perspective.
The morning after, Archbishop Michel Aupetit told a television interviewer something the world needed to hear:
"Why was this beauty built?" he asked. "What jewel was this case meant to contain? Not the crown of thorns. It was built for a piece of bread, that bread that we believe is the body of Christ."
My friends, above all else, that is why Notre Dame matters.
And that is why tonight matters.
That "piece of bread," that most humble of offerings, is the source and summit of our faith — a miracle reborn at every Mass, in the hands of every priest.
This night, we remember how it began.
It is tempting to look at that beautiful building and consider it in the simplest of terms —what was lost, what was spared, and how much it will cost to rebuild.
But this holy night, we honor three great beginnings — the Eucharist, the priesthood and Christ's great command to love. And  I look at Notre Dame and see something else.
I don't see a building.
I see multitudes.
I see the countless souls across nine centuries who filed into that house of God in every season, in every circumstance, to receive the Eucharist.
I see the tens of thousands of priests who have prayed at its altars and taken the host in their hands and repeated the words we hear tonight: "This is my body."
I see the hundreds of men who have laid down on the cathedral floor to be ordained as priests and deacons. Men who have then gotten up and gone out into the world to do what Jesus did on the night before he died — giving themselves in service to heal the broken, to uplift the fallen, to wash the feet of those carrying the dust of life, the mud from life's journey.
These are men who have lived for one purpose, to save souls. They are men who came from the same land as John Vianney and Jean Baptiste de la Salle and Francis de Sales, grown from the same spiritual soil that produced Therese of Lisieux and Bernadette of Lourdes and Catherine Laboure and Joan of Arc.
I think of the millions of people who have gone to that cathedral with just a few coins in their pockets and prayers in their hearts, during revolutions and wars and calamities of every kind. They were drawn to that sacred space to light candles and sing hymns and to have their hearts stirred by the sun pouring through that rose window — light that has given generations of people from around the world the feeling, even if for just a moment, that they were in God's house.
And it started, all of it, as the archbishop declared, from something so small.
A piece of bread.
The Body of Christ.
In truth, it started with what we commemorate this night — a profound act of love that changed the world.
Love expressed with that bread — blessed, broken and shared.
Love expressed by the savior of the world getting down on his knees — the place where all who pray know that the most important work begins.
Love expressed most profoundly on the cross — as the Easter Proclamation puts it, "O charity beyond all telling."
In the Gospel we hear this night, Jesus asks his disciples, "Do you realize what I have done for you?"
Do we? Do we realize the full measure of his love?
Do we realize how much we owe to this moment?
Tonight, we remember all the communions the world has received, all the priests who have knelt to serve, all the love that has been poured out into the world because of what took place around that table in the Upper Room in Jerusalem.
This is why we call this night "Holy."
It is all because of of this enduring gift, the gift of Jesus — present to us under the appearance of bread here and now, just as he has been present in Notre Dame.
Just as he is present in every tabernacle around the world.
Just as he makes himself present in the heart of every believer who follows the model he gave, the mandatum he showed us — to bend, to serve, to sacrifice, to love as he did.
We have witnessed a tremendous outpouring of love for Notre Dame during these last four days. There have been candlelight speeches, vigils, prayers, hymns sung outside its doors. Around the world, churches rang their bells in a show of solidarity. Close to a billion dollars has been pledged to rebuild what was lost.
In one of the most hope-filled messages of this Holy Week, Notre Dame continues to stand — and it will be restored.
There is a resurrection to come.
But as the archbishop reminded the world: what truly matters, the real reason for that cathedral, for our church, for every Catholic tabernacle around the world, cannot be lost.
Tonight, we share this glorious fact of our faith:
By the grace of God, the Body of Christ — blessed, broken and shared — lives on.