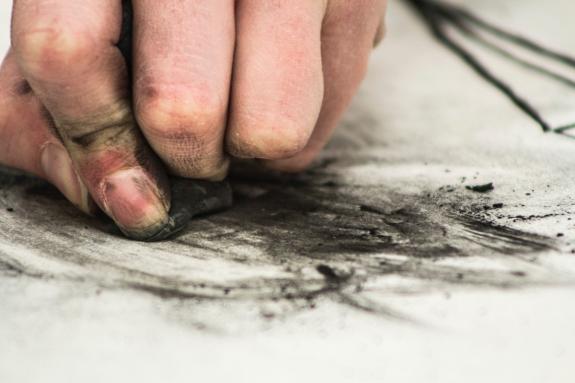 The Gospel for this Sunday brings us once again to the haunting encounter with the woman caught in adultery, and it features (as far as I know) the only moment in scripture when Jesus writes something: 
Jesus bent down and began to write on the ground with his finger.
But when they continued asking him,
he straightened up and said to them,
"Let the one among you who is without sin
be the first to throw a stone at her."
Again he bent down and wrote on the ground.
For centuries, people have wondered just what Jesus was writing; one popular theory is that he was writing down the sins of the Pharisees who had accused the woman.
Perhaps.
But perhaps more important isn't what he was writing, but where. 
He wrote "on the ground" — in sand or dust or gravel. Whatever he wrote wasn't preserved in ink. It wasn't inscribed in stone.
It was meant to be brushed away, or blown away, or kicked aside. It was impermanent.
By the grace of God and our repentance, so are our sins.
We began the season of Lent hearing that we need to remember that we are dust, and to dust we will return. This moment in scripture, coming near the end of this penitential season, serves to remind us of our fleeting time on this earth — and, in the context of Lent, it also reminds us that our sins can be wiped away, erased, scattered in the wind. They are not necessarily etched in stone.
We can be forgiven. We can be set free.
Do we want to be? Do we seek to be? There is no better time than now to reconcile with God and begin anew.
A wave of the hand, a stirring of wind, and the ground — the dusty surface from which we are made, and on which the story of our life is written — can be made new. Sin doesn't have to be forever. Do we want to leave it behind? We can. It can all be wiped away.
It seems to me that is the great takeaway from this episode. That, and Christ's final words, addressed to the woman and to us:
"Go, and from now on do not sin any more."