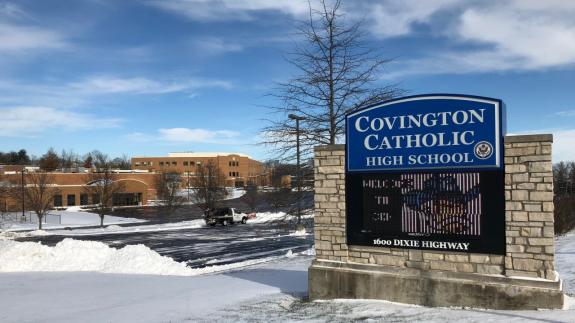 CNN filed a motion Wednesday seeking a dismissal of the $275 million lawsuit filed against the network by the family of Nick Sandmann.

The motion asks the Eastern District of Kentucky to dismiss the suit, arguing it fails to show CNN's reporting was defamatory.

Each of 53 CNN statements identified in the Sandmann lawsuit should be dismissed for reasons such as that they are substantially true, do not concern Nick, are not defamatory or are subjective opinion, the motion states.

One of the identified statements was published in an opinion piece. The piece accused Nick and his "MAGA-hat clad classmates at Covington Catholic High School" of acting with "racist disrespect" toward Nathan Phillips, one of the Native Americans involved in an encounter at the Lincoln Memorial in January.

Deeming someone a racist, the CNN motion says, is not actionable in a defamation case because it cannot be proved true or false. This principle was recently upheld in another case, CNN adds.

Addressing the Sandmann claim that a statement about the students chanting "Build the wall," CNN writes it is not defamatory against Nick for two reasons.

It refers to a group of actors and not Nick directly, and it is not defamatory to say Nick "expressed support for the President or that he echoed a signature slogan of a major political party," the motion states.

Claims that students chanted "build the wall" were not corroborated.

Like in The Washington Post's defense of a $250 million suit brought by Nick Sandmann, CNN relies on the group libel rule. The network writes that Kentucky and federal courts uphold that statements about a large group cannot be construed as defamatory against an individual among that group.

The Sandmann lawsuit against CNN was filed in March and stated "CNN brought down the full force of its corporate power, influence, and wealth on Nicholas by falsely attacking, vilifying, and bullying him despite the fact that he was a minor child."

Previous reporting: Nick Sandmann's legal team disputed The Washington Post's motion to dismiss a defamation lawsuit stemming from its coverage of the January incident involving Covington Catholic students and Native Americans.

The response, filed Tuesday by L. Lin Wood and Todd McMurtry, attacks several claims made in The Post's dismissal motion.

At issue are the parties' diverging interpretations of libel law applicable to the circumstances in this case.