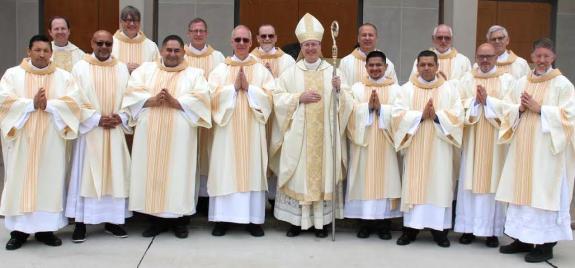 The very deacon-friendly Bishop Shawn McKnight just ordained a new batch of deacons for Jeff City — his first, I believe. The picture is above. The press release:  
Bishop Shawn McKnight, bishop of the Diocese of Jefferson City, will ordain 13 men to the order of deacons during a Mass on Saturday, May 4, at 10 a.m. at the Cathedral of St. Joseph, 2305 W. Main, Jefferson City.

The men, all of whom are married, join 70 other permanent deacons in active service in the Diocese. The diaconate is the first of three ranks in ordained ministry in the Catholic Church. Bishop McKnight explained in a July 2018 article in the diocesan newspaper that "deacons are messengers. They are go-betweens, they are intermediaries," who help connect lay involvement with the priestly responsibilities of pastors and bishops. "In essence, the deacon is involved in supporting everyone else in their role in the Church," he said. Bishop McKnight recently published Understanding the Diaconate: Historical, Theological, and Sociological Foundations, which has become an essential resource for theologians, ministers and others.

Deacons are called to several roles and responsibilities in the Church. This includes proclaiming the Gospel during the liturgy, preaching, teaching and leading people in prayer, baptizing, witnessing marriages and conducting funerals and wakes. They also bear a responsibility to be leaders in identifying the needs of others, organizing the Church's response to those needs and eliminating the injustices or inequities causing such needs.

Pastoral assignments for the newly ordained will be announced at a later date. The men to be ordained, their spouse and their residences are as follows.

Jon and Paula Bequette, Hallsville

Michael and Lisa Berendzen, Jefferson City

Brad and Diana Jones, Lohman

Chris and Katy Korte, Kirksville

Luke and Christie Mahsman, Palmyra

Jaime and Ana Medina, Marshall

Nestor and Sonia Montenegro, Sedalia

J. Amparo and Veronica Orozco, Marshall

Luis and Yesenia Reyes, Marshall

Chris and Nann Sago, Moberly

Robert and Teresa Schowengerdt, Clark

William and Rachelle Seibert, Jefferson City

John and Tammy Watkins, Hannibal

The Diocese of Jefferson City includes 38 counties in central and northeastern Missouri. Approximately 82,000 Catholics live in the Diocese, worshipping and serving in 95 parishes.
Congratulations and welcome, brothers! Ad multos annos! 
And a shout-out, of course, to Bishop Shawn. I'm a fan.