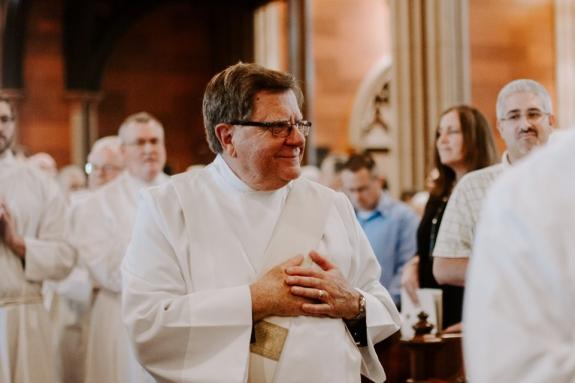 A great profile of one of Albany's new priests:
Mike Melanson preferred Sundays on the water, in the waves of the Sacandaga.

His wife, Peggy Montone Melanson, changed that.

"In our early years, I didn't want to come to church, I was a back-of-the-church Catholic, get in, get out," Melanson said. "But she said, 'No, no, no. We're going to get involved in things … we're going to start teaching religious education.'"

Peggy and Mike became more active at Immaculate Conception in Glenville. They stayed involved.

Melanson may be thinking about Peggy, who died of breast cancer in 2017, this morning. At age 74, he will celebrate his first Mass as a Catholic priest — an 11 a.m. service at Immaculate Conception.

"I am overwhelmed with joy," said Melanson, who was ordained on Saturday by Albany Bishop Edward B. Scharfenberger during a ceremony inside the city's Cathedral of the Immaculate Conception. "I want to put that in capital letters. The overwhelming joy has turned my tears from grief from the loss of my dearly beloved wife to overwhelming, great happiness. It's an incredible feeling … I cannot wait to get started."

Fellow deacons Samuel Bellafiore and Kyle Eads also were ordained.

Melanson has experience on the altar. He has been a deacon at Glenville's Immaculate Conception for the past 26 years.

The journey to deacon began with moments of prayer and reflection inside church. Melanson remembers asking God … were there spiritual plans for his future?

"I heard the Holy Spirit ask me, 'Tell my people how much I love them,'" Melanson said. "It was a distinctive, absolute understanding that was the message coming in. There was no lightning or thunder, no earthquake, nothing like Hollywood. But it was an absolute, comprehensive understanding."

Melanson took the message seriously. In 1988, he began his studies for the diaconate.

"The more I started to learn about God, the more I began to fall in love with God and with Jesus," Melanson said of the four-year preparation period. "It just looked like this was the path I was being called to."
Read on to learn how he felt the call to the priesthood after his ordination as a deacon.
Ad multos annos!