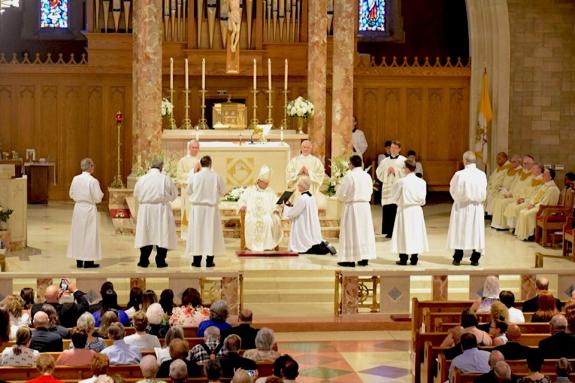 The event happened yesterday: Bishop Frank Caggiano ordained the men at St. Augustine's Cathedral in Bridgeport.
From the Diocese of Bridgeport Facebook page:
Join us in wishing our warmest congratulations to our six newest deacons and their wives! We are praying for you, Deacon Joseph Cann, Deacon Stephen Hodson, Deacon Eric Keener, Deacon Joseph Klimaszewski, Deacon Richard Lawlor and Michael Ronan!
Congratulations and welcome, brothers! Ad multos annos!
UPDATE: More on the new deacons and the ordination, from the Fairfield County Catholic. I love, in particular, the bishop's comments about the wives:
The diocese welcomed six men to the permanent diaconate on a beautiful Saturday morning ordination at St. Theresa Church in Trumbull.

Bishop Frank J. Caggiano ordained Joseph Cann, Stephen Hodson, Eric Keener, Joseph Klimaszewski, Richard Lawlor and Michael Ronan as deacons for the Diocese of Bridgeport.

"For these men have come here to the house of our Heavenly Father to ask him to pour out His Holy Spirit upon them to allow them to answer the call they have sensed in their hearts for a very long time," said the bishop in his homily. "To become one with Christ the high priest and servant, the one who came not to be served but to serve and to give his life as a ransom for many."

"Only He can grant you this good grace to be wholly formed changed forever impressed with His power to be a living sacrament of service in the world," the bishop said.

The bishop thanked the deacons' wives for bearing this great sacrifice along with their husbands, acknowledging them as their husbands' "rock and foundation." "They are the companions God chose for you to walk with you on your journey to eternal life," said the bishop.

"Thank you for saying yes," he said.

So what is the Lord asking of you?" the bishop asked, referencing Christ's sacrifice on the Cross, the ultimate act of service. "The pin that depicts the diaconate is indeed a Cross," the bishop explained.

"For many who do not believe, service is doing things for others," said the bishop. "For you and I, who do believe in this great Savior who gave the greatest act of service in this moment of laying down His life, we understand service as the sharing and the emptying of our lives for others," he said.

The bishop explained that the mystery of the diaconate rests with the mystery of the Eucharist. "You are being asked by the Lord to pour out your life," the bishop said. "You will be the living bridge to this great mystery that is the hope of our salvation."

The bishop addressed the newly ordained, "Feed on the word of God every day," he said. "It will convict you and encourage you, teach you and empower you."

"In a world of half-truths," the bishop encouraged the six men, "preach the Gospel fearlessly, as the Lion of Judah asked us to preach it…become a living homily to our world."