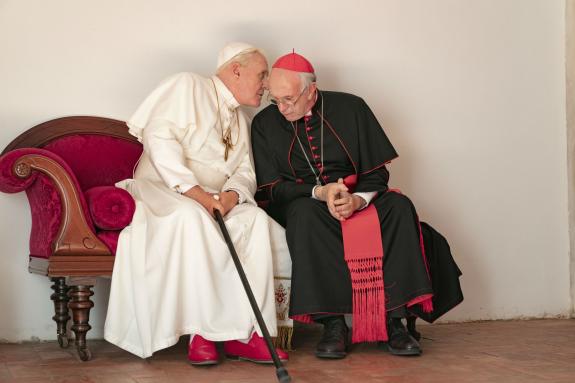 From the BBC: 
The first image of Sir Anthony Hopkins and Jonathan Pryce in The Two Popes has been released, and it's definitely intriguing.

The upcoming movie is "inspired by" real events, distributor Netflix has said. Hopkins stars as Pope Benedict and Pryce co-stars as Cardinal Bergoglio, a man he doesn't exactly see eye-to-eye with. In the first look photo, the two Roman Catholic leaders are captured in what looks like a conspiratorial moment.

Netflix's official plot synopsis teases: "Frustrated with the direction of the church, Cardinal Bergoglio (Pryce) requests permission to retire in 2012 from Pope Benedict (Hopkins). Instead, facing scandal and self-doubt, the introspective Pope Benedict summons his harshest critic and future successor to Rome to reveal a secret that would shake the foundations of the Catholic Church.

"Behind Vatican walls, a struggle commences between both tradition and progress, guilt and forgiveness, as these two very different men confront their pasts in order to find common ground and forge a future for a billion followers around the world."
The movie is scheduled to premiere at the Toronto Film Festival in September. No release date has yet been announced.