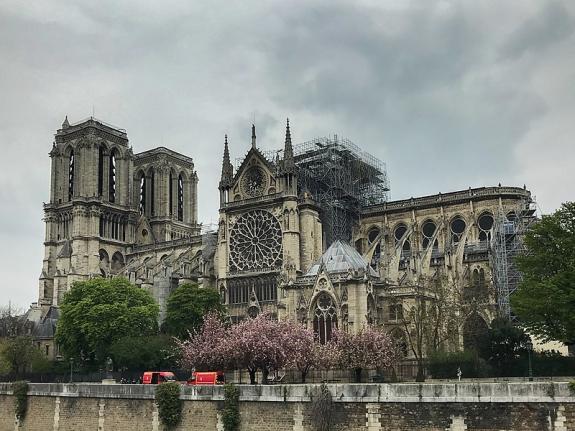 This story in The New York Times utilizes some superb reporting and great multimedia interactive material to help tell the story of what happened the night Notre-Dame burned —and recounts, in dramatic detail, how close the world came to losing this icon forever:
What happened over four hours that night changed Paris. The cathedral — a soaring medieval structure that has captured the hearts of believer and nonbeliever alike for 850 years — was ravaged.

Today three jagged openings mar Notre-Dame's vaulted ceiling, the stone of the structure is precarious, and the roof is gone. Some 150 workers remain busy recovering the stones, shoring up the building, and protecting it from the elements with two giant tarps.

Some of what went wrong that night has been reported in the French news media, including Le Monde and Le Canard Enchaîné. Now, The New York Times conducted scores of interviews and reviewed hundreds of documents to reconstruct the missteps — and the battle that saved Notre-Dame in the first four critical hours after the blaze began.

What became clear is just how close the cathedral came to collapsing.

The first hour was defined by that initial, critical mistake: the failure to identify the location of the fire, and by the delay that followed.

The second hour was dominated by a sense of helplessness. As people raced to the building, waves of shock and mourning for one of the world's most beloved and recognizable buildings, amplified over social media, rippled in real time across the globe.

That Notre-Dame still stands is due solely to the enormous risks taken by firefighters in those third and fourth hours.

Disadvantaged by their late start, firefighters would rush up the 300 steps to the burning attic and then be forced to retreat. Finally, a small group of firefighters was sent directly into the flames, as a last, desperate effort to save the cathedral.

"There was a feeling that there was something bigger than life at stake," said Ariel Weil, the mayor of the city's Fourth Arrondissement, home to the cathedral, "and that Notre-Dame could be lost."
Read it all. Kudos to the Times reporting team that put this together.