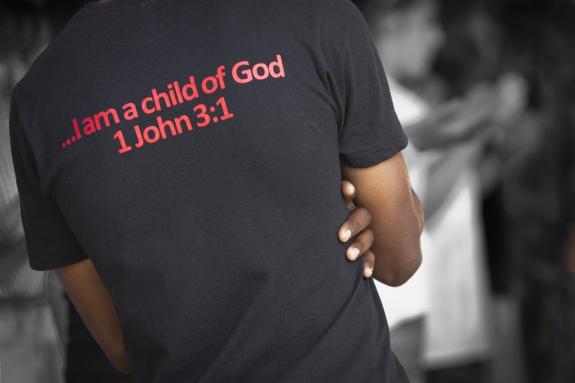 In the fall of 2018, the United States Catholic bishops issued a document entitled "Open Wide Our Hearts" which looks at the issue of racism in the wake of the tragedy in Charlottesville.
And it begins with a definition of the sin of racism:
Racism arises when—either consciously or unconsciously—a person holds that his or her own race or ethnicity is superior, and therefore judges persons of other races or ethnicities as inferior and unworthy of equal regard. When this conviction or attitude leads individuals or groups to exclude, ridicule, mistreat, or unjustly discriminate against persons on the basis of their race or ethnicity, it is sinful. Racist acts are sinful because they violate justice. They reveal a failure to acknowledge the human dignity of the persons offended, to recognize them as the neighbors Christ calls us to love (Mt 22:39).

Racism occurs because a person ignores the fundamental truth that, because all humans share a common origin, they are all brothers and sisters, all equally made in the image of God. When this truth is ignored, the consequence is prejudice and fear of the other, and—all too often—hatred. Cain forgets this truth in his hatred of his brother. Recall the words in the First Letter of John: "Everyone who hates his brother is a murderer, and you know that no murderer has eternal life remaining in him" (1 Jn 3:15). Racism shares in the same evil that moved Cain to kill his brother. It arises from suppressing the truth that his brother Abel was also created in the image of God, a human equal to himself. Every racist act—every such comment, every joke, every disparaging look as a reaction to the color of skin, ethnicity, or place of origin—is a failure to acknowledge another person as a brother or sister, created in the image of God. In these and in many other such acts, the sin of racism persists in our lives, in our country, and in our world.

Racism comes in many forms. It can be seen in deliberate, sinful acts. In recent times, we have seen bold expressions of racism by groups as well as individuals. The re-appearance of symbols of hatred, such as nooses and swastikas in public spaces, is a tragic indicator of rising racial and ethnic animus. All too often, Hispanics and African Americans, for example, face discrimination in hiring, housing, educational opportunities, and incarceration. Racial profiling frequently targets Hispanics for selective immigration enforcement practices, and African Americans, for suspected criminal activity. There is also the growing fear and harassment of persons from majority Muslim countries. Extreme nationalist ideologies are feeding the American public discourse with xenophobic rhetoric that instigates fear against foreigners, immigrants, and refugees. Finally, too often racism comes in the form of the sin of omission, when individuals, communities, and even churches remain silent and fail to act against racial injustice when it is encountered.

Racism can often be found in our hearts—in many cases placed there unwillingly or unknowingly by our upbringing and culture. As such, it can lead to thoughts and actions that we do not even see as racist, but nonetheless flow from the same prejudicial root. Consciously or subconsciously, this attitude of superiority can be seen in how certain groups of people are vilified, called criminals, or are perceived as being unable to contribute to society, even unworthy of its benefits. Racism can also be institutional, when practices or traditions are upheld that treat certain groups of people unjustly. The cumulative effects of personal sins of racism have led to social structures of injustice and violence that makes us all accomplices in racism.
Read it all. It's worth your time.
Meantime, there is also this, from John Paul II:
Racism is a sin that constitutes a serious offense against God. The Second Vatican Council reminds us that "We cannot truly pray to God the Father of all if we treat any people in other than brotherly fashion, for all men are created in the image of God…. Therefore, the Church reproves, as foreign to the will of Christ, any discrimination against people or any persecution of them on the basis of their race, color, social condition or religion" (Nostra aetate, n. 5).

To oppose racism we must practice the culture of reciprocal acceptance, recognizing in every man and woman a brother or sister with whom we walk in solidarity and peace. There is need for a vast work of education to the values that exalt the dignity of the human person and safeguard his fundamental rights. The Church intends to continue her efforts in this area, and asks all believers to make their own responsible contribution of conversion of heart, sensitization and formation. First of all, prayer is necessary to achieve this.

Particularly, let us invoke Our Lady, so that everywhere the culture of dialogue, of acceptance, and of respect for every human being may be advanced.
Related: My homily on racism: 'Dear Lord, make us instruments of your peace'