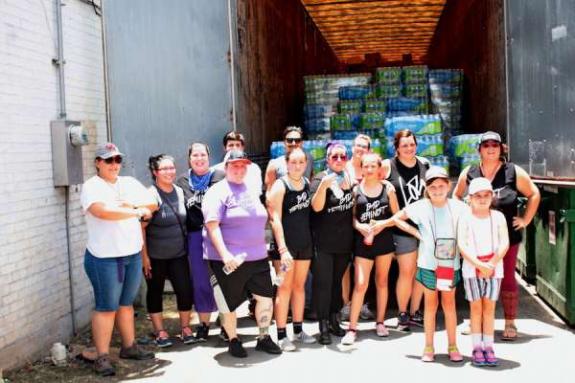 These ladies are walking the walk: 
 The heat index in McAllen, Texas was 125 degrees on Saturday, but that did not stop members of the pro-life movement from delivering a semi-truck full of supplies and thousands of dollars in aid to respite centers at the border of the United States and Mexico.

The #BottlestotheBorder campaign, launched by New Wave Feminists in partnership with And Then There Were None (ATTWN), collected more than $120,000 worth of supplies and donated more than $70,000 in aid funding to multiple respite centers, where migrants who are legally in the U.S. are temporarily housed and cared for while they connect with family members and figure out their next steps.

"We were unloading what feels like a million cases of water, and it's heavy and it's hot and it's exhausting, but you look at these families, and especially the children in this center, and you just realize that it's worth it," [pro-life activist Abby]Johnson told CNA, "and you can't even complain about how hot it is or how tired you are or how sore your arms are going to be, because these children, they need this food, they need these diapers, they need these wipes."

Johnson said that the material items were donated to Catholic Charities in McAllen, Texas, which has a warehouse large enough to store the donated items. The monetary donations went to other respite centers in the area that are in need but do not have the storage space to handle large amounts of items at one time.
And there is this:
[Johnson] said people have asked her if her efforts to bring supplies to migrants means that she supports an open-border policy. She doesn't.

"No I don't support lawlessness, I don't support an open border, I support legal immigration, doing it the right way, but the bottom line is I don't have the answer, I don't know the answer," she said, "but I can deliver these wipes so that babies' butts are clean and they're not getting infections. And I know how to make sure that a baby can get fed, and that's really what this is about. And that's what it is to be the Church, to meet the needs that are right in front of us."
Last Sunday's Gospel asked, "Who is my neighbor?" Here is a powerful answer.