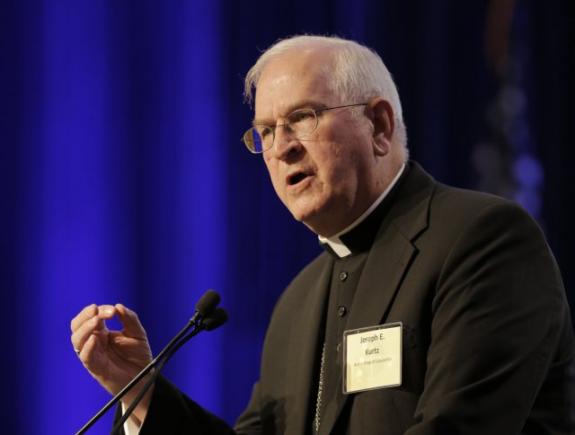 From CNA:
Archbishop Joseph Kurtz requested prayers Wednesday as he announced that he has been diagnosed with bladder cancer and will soon undergo treatment. The Archbishop of Louisville announced he will be out of the archdiocese for three months while he receives treatment.

"I have been diagnosed with urothelial carcinoma in my bladder and prostate and will take part in a treatment plan that includes immunotherapy and chemotherapy for at least 12 weeks," said Kurtz in a statement posted on the Archdiocese of Louisville website July 9.

After undergoing chemotherapy, Kurtz said that he will have his bladder and prostate surgically removed. His diagnosis came after several months of health problems and medical tests.

Kurtz, who served as president of the United States Conference of Catholic Bishops from 2013 to 2016, said that he is "very grateful" to his oncologist Dr. Dan George and the rest of his team at the Duke University Cancer Institute, and that he has "good cause for optimism."

"I feel well, and with the encouragement of Dr. George, I have remained active during this time," said the archbishop said. He will be staying in North Carolina throughout his treatment, but will be in contact with officials from the archdiocese while he is away.
Read on.
Among other things, Archbishop Kurtz is a great booster of the diaconate, as I noted a few years ago. He once said of this vocation:
Deacons bring the presence of Christ to those they work with day in and day out with their calm demeanor, positive attitude, and openness to listening to others. And, I can't speak about our archdiocesan diaconate without acknowledging the wonderful ministry provided by deacons' wives, who support their husbands in ministry and who often share ministry with their husbands in areas such as marriage preparation, Communion to shut-ins, and youth ministry. We are truly blessed with the gifts of these men and women.

When I present each newly ordained deacon with the Book of the Gospels, I charge each one with these words: "Receive the Gospel of Christ, whose herald you have become. Believe what you read, teach what you believe, and practice what you teach." Through their service in the liturgy, their outreach to those in need, and their witness of faith, our deacons are truly heralds of the Gospel. Please take the time to pray for all deacons and to personally thank those deacons who are serving you.
Please keep this generous, hard-working churchman in your prayers.