"Such discourse has no place on the lips of those who confess Christ or who claim to be civilized members of society."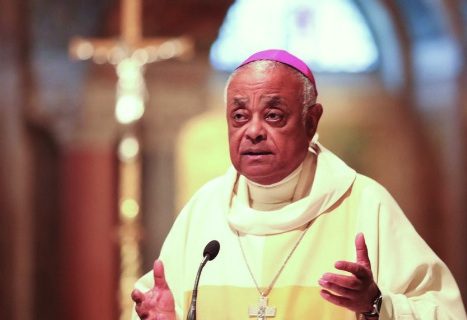 The Archbishop of Washington, Wilton Gregory, speaks out in an interview: 
What is your reaction to the controversy over President Trump's tweets on some members of Congress, deploring Baltimore and related matters? 

In my brief time in Washington, I have been doing a lot of listening and learning. I have promised to try to preach the Gospel, tell the truth and attempt to heal wounds in the body of Christ and our broader community. I have stressed that I am a pastor and fellow disciple of Jesus, not a political leader.

There are, however, sometimes, when a pastor and a disciple of Jesus is called to speak out to defend the dignity of all God's children.

I fear that recent public comments by our President and others and the responses they have generated, have deepened divisions and diminished our national life. In particular, I join my brother Archbishop William Lori in sadness and deep regret for the ways our Maryland neighbors in Baltimore have been denigrated in recent public attacks.

Our faith teaches us that respect for people of every race, religion, gender, ethnicity and background are requirements of fundamental human dignity and basic decency. This include newcomers to our country, people who have differing political views and people who may be different from us. Comments which dismiss, demean or demonize any of God's children are destructive of the common good and a denial of our national pledge of "liberty and justice for all."

What can we do about this kind of rhetoric or divisions?

I have recently met with leaders of the Knights of Columbus and many lay ecclesial movements in the Archdiocese. We discussed what we can do together to advance our Gospel mission. I encouraged them and their members to seek to promote respect for all, the common good and humble dialogue in a time of growing and destructive divisions. This request builds on the good work and outstanding service of the Knights and these exemplary lay movements in our family of faith and our Washington community. I asked their help in lifting up and defending the dignity of every person, promoting respect, civility and principled discussion of what unites us and where we may differ. We all need to reject racism, disrespect or brutality in speech and action…

…We must all take responsibility to reject language that ridicules, condemns, or vilifies another person because of their race, religion, gender, age, culture or ethnic background. Such discourse has no place on the lips of those who confess Christ or who claim to be civilized members of society. Speech that vilifies or denigrates another is a violation of the humanity of the speaker and those to whom it is directed – and deprives each of us of our God-given dignity.
It's worth noting that the kind of speech the archbishop is describing occurs in many places, from a variety of sources, not just in the public square or in politics. Social media is overflowing with it.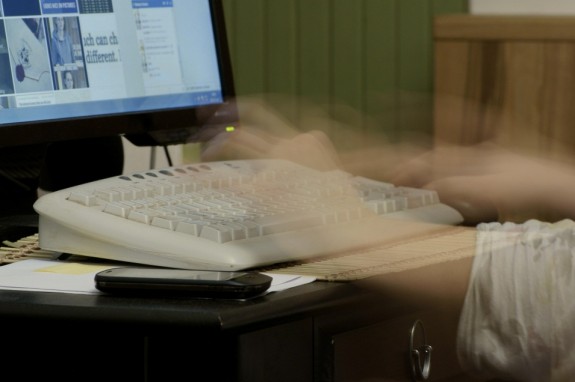 One example is this story, which popped up yesterday in Utah, describing a protest by parishioners upset at the online postings of a priest who will be their new pastor. They've organized a petition to try and stop the appointment.
Most of us know this only too well: the Internet can be toxic, and it only encourages bad behavior. Six years ago, I proposed an Examination of Conscience for the Internet. Things haven't gotten any better since then. This seems a good moment to revisit that reflection and strive to live on this "digital continent" as better Christians and witnesses to the Gospel.
The world is watching us. What are they seeing?
***
I am the Lord your God; you shall not have strange Gods before me.  Have I treated people, events or things as more important than God? Have I elevated the Internet to a deity?  Is commenting on Facebook, Twitter, or blogs supplanting my prayer life?
You shall not take the name of the Lord your God in vain. Have my words, actively or passively put down God, the Church or people?   Have I inflicted wounds on the Body of Christ by showing disrespect, dissent or disdain?  Have I mocked online the leadership of the Church—whether it's my pope, my bishop or my pastor?
Remember to keep holy the Lord's Day. Do I go to Mass when I should? Do I avoid work that impedes worship to God? Do I spend too much time on Sunday surfing the Internet and chat rooms and forums, when I could be spending time with my family or with God?
Honor your father and your mother. Do I show my parents due respect? Do I maintain good communication with my parents? Do I criticize them to others, or online?
You shall not kill. Have I harmed another through physical, verbal or emotional means, including gossip?  Have I destroyed another's reputation online?  Have I used comments to mock, disrespect, slander or attack? Have I gleefully ridiculed another person's failings online and enjoyed their setbacks?  Have I resorted to petty name-calling to score points or make another person feel bad? Have I robbed another of  basic human dignity online?
You shall not commit adultery. Have I respected the physical and sexual dignity of others and of myself? Have I used the Internet to visit porn sites or engage in sinful conversations about sex?
You shall not steal. Have I taken or wasted time or resources that belonged to another?  Have I spent valuable time at my job on the Internet when I should have been working?
You shall not bear false witness against your neighbor. Have I gossiped, spread lies or embellished stories at the expense of another? Have I posted online something I suspect may not be true?
You shall not covet your neighbor's spouse.  Have I honored my spouse with my full affection and exclusive love?   Have I made my life online, and the time I spend there, more important than my life with my husband or wife?
You shall not covet your neighbor's goods. Am I content with my own means and needs, or do I compare myself to others unnecessarily? Do I surf online shopping sites, wishing I could buy things I don't need and being jealous or resentful of others?
***
The USCCB site also offers this:
How well do we love God and others?  Do we love as Christ calls us to? In the Gospel of Matthew, Christ gives us two commandments: "He said to him, 'You shall love the Lord, your God, with all your heart, with all your soul, and with all your mind. This is the greatest and first commandment. The second is like it: You shall love your neighbor as yourself. The whole law and the prophets depend on these two commandments'" (Mt 22"37-40.)

Not sure what love is? St. Paul describes it for us. Is this how you love God and others? "Love is patient. Love is kind. It is not jealous, it is not pompous. It is not inflated, it is not rude, it does not seek its own interests, it is not quick-tempered, it does not brood over injury, it does not rejoice over wrongdoing, but rejoices with the truth. It bears all things, believes all things, hopes all things, endures all things. Love never fails." (1 Cor 13:4-8.)
I know I fail at this often. I do not love as I ought. I'm just as susceptible to snark, meanness, pettiness, and ridicule.
We can do better. We all can.
We need to — for the sake of the world and for the sake of our souls.