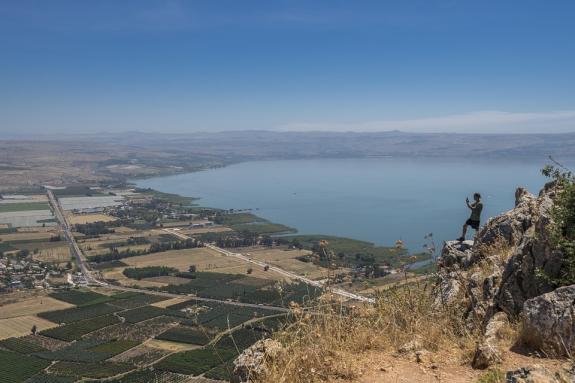 Archaeologists believe they have likely found the Church of the Apostles, which Christian tradition says had been built over the home of Jesus' disciples Peter and Andrew in the village of Bethsaida, today part of the Bteikha Nature Reserve, by the Sea of Galilee.

The archaeologists, from the Kinneret Academic College and Nyack College of New York, said the Jewish village of Bethsaida on which the Roman city of Julias had been built was much larger than had been thought, they announced Thursday.

What can be said for certain is that the excavators of Beit Habek, aka el-Araj, found the hallmarks of a large Byzantine-era church. The most distinctive indicator is gilted glass tesserae (mosaic tiles), Prof. R. Steven Notley of the private Christian college in New York tells Haaretz. "Those are for wall mosaics and only appear in churches," he says.

So far, only the southern rooms of the church have been dug up. But the bird's-eye view of the structure also supports the theory that this place was a church because of the west-east axis and the division into a central nave with two aisles, explains Prof. Mordechai Aviam from Kinneret Academic College.

The archaeologists also found marble fragments from the chancel screen that would have separated the congregation from the priest at the altar. The stone screen had been decorated with a floral wreath.

Other discoveries included mosaic flooring, roof tiles characteristic of big buildings and a fragment of a chalk carving featuring a cross.
Check out the rest.