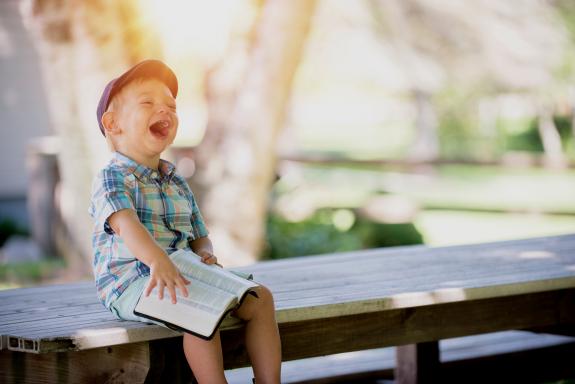 This morning, I saw a post on Facebook from a priest, describing how a parishioner apologized to him for her children making so much noise during Mass.
The priest didn't mind at all, and wanted to make clear that he loved kids at Mass and didn't mind the noise. "I can speak louder if I have to," he said.
Which reminded me of this posting of mine from a few years ago, about St. Thomas More Parish in Lynchburg.
Lying on the table in the gathering area was a stack of cards for parents, with the following advice printed on them. I'm told it comes from the parish of St. Juan Diego in the Archdiocese of Portland, OR.
TO THE PARENTS OF OUR YOUNG CHILDREN, MAY WE SUGGEST…

Relax! God put the wiggle in children. Don't feel you have to suppress it in God's house. All are welcome!
Feel free to sit toward the front where it is easier for your little ones to see and hear.
Quietly explain the parts of the Mass and actions of the priest, altar servers, choir, etc.
Sing the hymns, pray and voice the responses. Children learn liturgical behavior by copying you.
If you have to leave Mass with your child, feel free to do so but please come back. As Jesus said, "Let the children come to me."
Remember that the way we welcome children in church directly affects the way they respond to the Church, to God, and to one another. Let them know that they are at home in this house of worship.

Please let your child use the reverse side of the card to draw and doodle.

TO THE MEMBERS OF OUR PARISH

The presence of children is a gift to the Church! They are members of our community, and a reminder that our parish is growing. Please welcome our children and give a smile of encouragement to the parents.
On the back of the card were the words:
PEW ART
Please let your child use this side of the card to draw and doodle. Take this with you as a reminder of your time in church.
Feel free to spread this around. I think it's a wonderful way to evangelize families, and encourage parents to bring their small children to church. Most clergy really won't mind. As the priest noted: we can always speak louder!