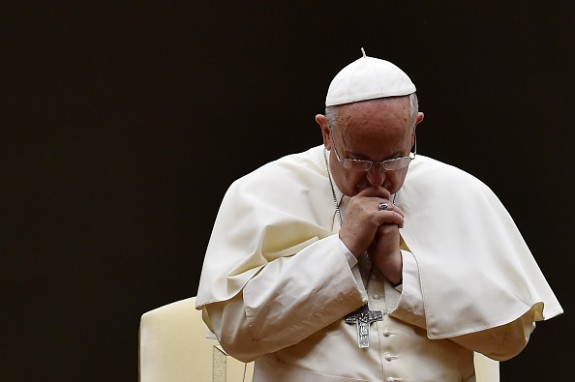 Pope Francis has written a letter to the more than 400,000 Catholic priests worldwide encouraging them during the tribulations from the sexual abuse crisis. The letter is meant to give priests, many of whom feel disheartened because of the horrendous crimes of abuse committed by a small percentage of their fellow priests, hope in these times of tribulation when they are so often blamed or treated with suspicion, distrust, contempt or ridicule.

The letter comes as a surprise. Last year, on Aug. 20, in the wake of the Pennsylvania grand jury report and the former Cardinal Theodore McCarrick scandal, on the eve of his visit to Ireland, he wrote "A Letter to the People of God" in which he condemned outrightly the sexual and other abuses of minors by clergy as well as the failure of church leadership to take action and called for an effort by the entire church to deal with it. This year, he speaks directly to all priests because he is well aware and deeply concerned that in many countries, including the United States, Australia, Ireland, the United Kingdom, Germany and Chile, the morale of priests has suffered greatly because of the abuse scandal.
From the letter:
To my Brother Priests

Dear Brothers,

A hundred and sixty years have passed since the death of the holy Curé of Ars, whom Pope Pius XI proposed as the patron of parish priests throughout the world. On this, his feast day, I write this letter not only to parish priests but to all of you, my brother priests, who have quietly "left all behind" in order to immerse yourselves in the daily life of your communities. Like the Curé of Ars, you serve "in the trenches", bearing the burden of the day and the heat (cf. Mt 20:12), confronting an endless variety of situations in your effort to care for and accompany God's people. I want to say a word to each of you who, often without fanfare and at personal cost, amid weariness, infirmity and sorrow, carry out your mission of service to God and to your people. Despite the hardships of the journey, you are writing the finest pages of the priestly life.

Some time ago, I shared with the Italian bishops my worry that, in more than a few places, our priests feel themselves attacked and blamed for crimes they did not commit. I mentioned that priests need to find in their bishop an older brother and a father who reassures them in these difficult times, encouraging and supporting them along the way.

As an older brother and a father, I too would like in this letter to thank you in the name of the holy and faithful People of God for all that you do for them, and to encourage you never to forget the words that the Lord spoke with great love to us on the day of our ordination. Those words are the source of our joy: "I no longer call you servants… I call you friends" (Jn 15:15).
PAIN
"I have seen the suffering of my people" (Ex 3:7)
In these years, we have become more attentive to the cry, often silent and suppressed, of our brothers and sisters who were victims of the abuse of power, the abuse of conscience and sexual abuse on the part of ordained ministers. This has been a time of great suffering in the lives of those who experienced such abuse, but also in the lives of their families and of the entire People of God.

As you know, we are firmly committed to carrying out the reforms needed to encourage from the outset a culture of pastoral care, so that the culture of abuse will have no room to develop, much less continue. This task is neither quick nor easy: it demands commitment on the part of all. If in the past, omission may itself have been a kind of response, today we desire conversion, transparency, sincerity and solidarity with victims to become our concrete way of moving forward. This in turn will help make us all the more attentive to every form of human suffering.

This pain has also affected priests. I have seen it in the course of my pastoral visits in my own diocese and elsewhere, in my meetings and personal conversations with priests. Many have shared with me their outrage at what happened and their frustration that "for all their hard work, they have to face the damage that was done, the suspicion and uncertainty to which it has given rise, and the doubts, fears and disheartenment felt by more than a few". I have received many letters from priests expressing those feelings. At the same time, I am comforted by my meetings with pastors who recognize and share the pain and suffering of the victims and of the People of God, and have tried to find words and actions capable of inspiring hope.

Without denying or dismissing the harm caused by some of our brothers, it would be unfair not to express our gratitude to all those priests who faithfully and generously spend their lives in the service of others (cf. 2 Cor 12:15). They embody a spiritual fatherhood capable of weeping with those who weep. Countless priests make of their lives a work of mercy in areas or situations that are often hostile, isolated or ignored, even at the risk of their lives. I acknowledge and appreciate your courageous and steadfast example; in these times of turbulence, shame and pain, you demonstrate that you have joyfully put your lives on the line for the sake of the Gospel.

I am convinced that, to the extent that we remain faithful to God's will, these present times of ecclesial purification will make us more joyful and humble, and prove, in the not distant future, very fruitful. "Let us not grow discouraged! The Lord is purifying his Bride and converting all of us to himself. He is letting us be put to the test in order to make us realize that without him we are simply dust. He is rescuing us from hypocrisy, from the spirituality of appearances. He is breathing forth his Spirit in order to restore the beauty of his Bride, caught in adultery. We can benefit from rereading the sixteenth chapter of Ezekiel. It is the history of the Church, and each of us can say it is our history too. In the end, through your sense of shame, you will continue to act as a shepherd. Our humble repentance, expressed in silent tears before these atrocious sins and the unfathomable grandeur of God's forgiveness, is the beginning of a renewal of our holiness".