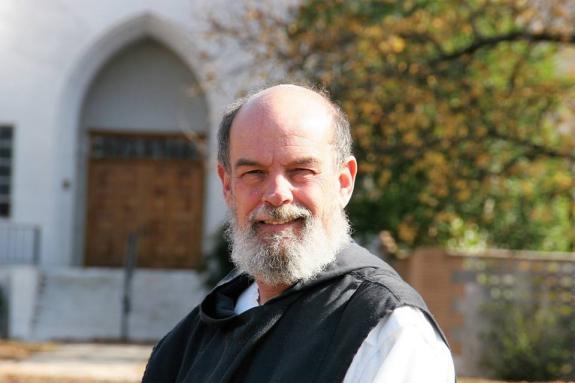 My heart broke when I heard this news today:
Father James Stephen Behrens, OCSO, a monk at the Monastery of Our Lady of the Holy Spirit died on Thursday, August 15th at the hospital as a result of complications from a lung biopsy procedure. A monk of 25 years and a priest of 45 years, he served as a priest of the Archdiocese of Newark for over twenty years before entering the monastery in 1994. Father James was 71 years old when the Lord called him.

Fr James is the author of six books; two of them containing collections of photographs, each captivating image is accompanied by brief snippets of inspirational words to spark reflection and inner thought.  He is the author of the bestseller Portraits of Grace. He is a long-time contributor to the National Catholic Reporter, and his writings have appeared in Notre Dame Magazine, St. Anthony Messenger, the Liguorian, and Living Faith. He is a regular contributor to the Georgia Bulletin, a frequent contributor to our local Rockdale Citizen Paper and various other publications.

Father James was born in Brooklyn New York after his parents relocated from New Orleans, Louisiana. Most of his youth was spent in Montclair New Jersey, which is the focus of many of his essays.  He tends to write on the significance of the ordinary, the sacredness of what comes our way every day and seems to recede from our grasp. His fresh, down-to-earth reflections show how modern monasticism can have a powerful impact on the lives and spirituality of people living far beyond cloister walls.

Father James is one of seven siblings. His brothers John and James Behrens preceded him in death. He is survived by his sisters Mary Behrens McCarthy (Brian) of Atlanta, Margaret 'Meg' Brown (James) of Herndon, Virginia and brothers Robert F. Behrens (Marnie) of Highpoint NC, Peter Behrens (Bonnie) of Troy, Michigan and God Mother Mary Dwyer of Brooklyn NY. Father James was a loving uncle to three nephews and five nieces.
Some of us knew him better as "Jeff." He was baptized "Jeffrey Behrens," but took the name "James Stephen Behrens" when he entered the Trappists. James was the name of his twin brother, who died tragically in a car accident when they were teenagers. And Stephen just happened to be a name he liked and, as he told me one time, "I always liked the feast of St. Stephen, the day after Christmas. It's peaceful and quiet." He liked peace and quiet and I have no doubt that's one reason he found himself drawn to monastic life.
I first discovered him through his books. After the horror of 9/11, I found myself doing more spiritual reading and somehow stumbled onto one of his essay collections. That led me to making a retreat to his home at the Monastery of the Holy Spirit, outside Atlanta, where we became friends. He'd spend long hours on the porch of the retreat house regaling me with stories of his priesthood in Newark, his family, the monks, his struggles with his vocation.
My wife and I flew down to Atlanta in 2005 when he made his solemn profession. I still have the card.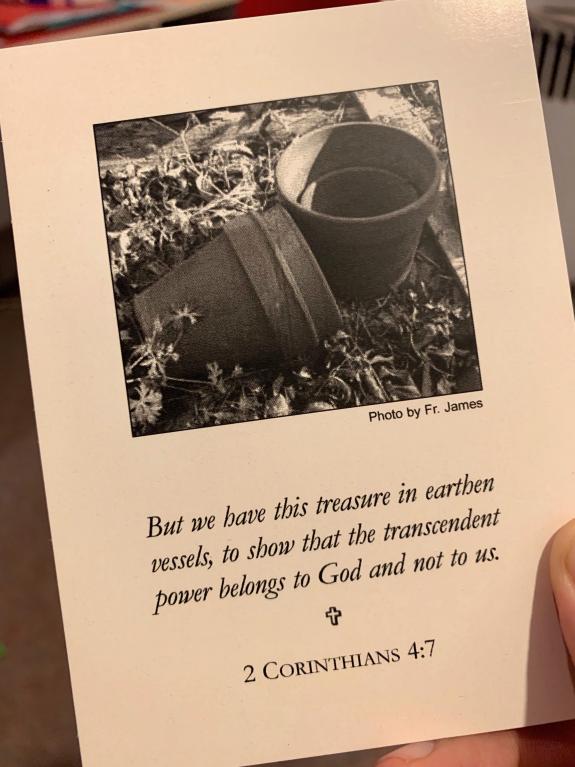 I visited the monastery a time or two after I was ordained. (I got to serve early morning Mass in the dark crypt chapel, wearing a priest's stole that was jerry-rigged with safety pins to serve as a deacon stole.) We exchanged cards and letters. We kept trying to get together during one of his trips to New York — he came up here almost every year to visit family — but somehow it never happened. Life got in the way.
I take solace and comfort in knowing that he entered eternal life on the Assumption. But that doesn't make this loss any easier.
I also know I'm not the only one grieving this morning. Jeff had friends all over the world, many of whom had never met him. They loved his writing, his compassion, his approachability, his lack of pretense. He wasn't overtly pious or aloof; he had an earthy kind of holiness that connected with ordinary people and helped them understand how precious they are. He had a weakness for cigarettes and Bob Dylan — he tried for years to get to meet him — and once told me all he wanted to do as a priest was love people. The rest was a distraction.
I know he was instrumental in my own vocation, whether he realized it or not. God put him into my life at a critical moment, and the rest was left to the Holy Spirit and the mystery of grace.
And grace, as he reminded us again and again, is everywhere. 
The other day, his good friend, Brother Mark, wrote the following, and I couldn't agree more:
I am a better person for knowing Fr. James. His love of words and their meaning made me more aware of the importance of writing. Perhaps if I did not know James, I would never have begun my own journey when I was 50 years old, to write. His photography made me aware of how precious each moment is, and how fleeting it all is. I am sure this is true for many.
Just a few weeks ago, Jeff wrote this reflection, which Mark included in his remembrance:
When I read the opening line from the first reading about the treasure that we hold in these earthen vessels of our bodies, the treasure being the life of Jesus that is within us, I thought back to a homily Gerard gave many years ago. He spoke of how we grow old and weak. And it is then that we are in need of the care of another, care that we are no longer able to provide for ourselves. For most of our lives, we can depend on our health and strength to fortify us, to keep at bay the need for another to feed us, bathe us, comfort us. We are then stripped of whatever defenses we had used to resist the ravages of human weakness. For there comes a time when we learn what it means to be limited, finite, and in need of another to care for us. It is then, in the nakedness of our own vulnerability that we receive in its fullness the richness of the treasure that lies within us. The love and tenderness that is God comes to us through the caring hands of another. We can no longer keep a safe distance from our weakness as it strips us of the last shreds of our self-reliance. But it is precisely through human weakness, our vulnerability, which we come to know a deep and abiding love that is ours through the gift of another who cares for us. And we learn as well the richness of the treasure that is Christ within us, a treasure whose wealth becomes fully ours only when we no longer have the strength to resist it.
++James Stephen Behrens, O.C.S.O
God bless you, Jeff. I know you are finally reunited with Jimmy. I will think of you with love and gratitude every feast of St. Stephen.
Thank you for more than you will ever know.