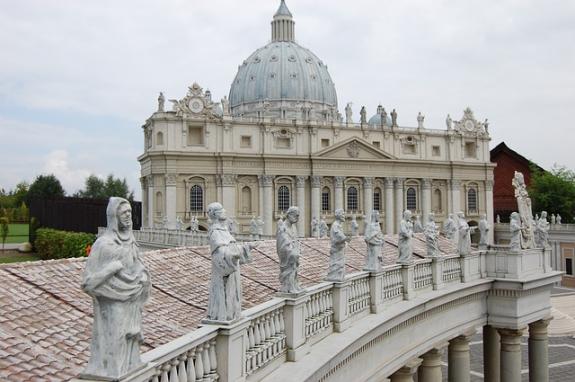 From Edward Pentin in the National Catholic Register: 
Cardinal Raymond Burke and Bishop Athanasius Schneider have issued an eight-page declaration warning against six "serious theological errors and heresies" they say are contained in the Amazonian Synod working document, and calling for prayer and fasting to prevent them being approved.

Cardinal Burke, patron of the Sovereign Order of Malta, and Bishop Schneider, auxiliary of Astana, Kazakhstan, have also published the appeal so Pope Francis may "confirm his brethren in the faith by an unambiguous rejection of the errors" in the working document.

They propose that clergy and laity "pray daily at least one decade of the Holy Rosary and to fast once a week" for such intentions over a 40 day period, from Sept. 17 to Oct. 26.

The working document, called an instrumentum laboris, is meant to guide discussions during the upcoming Oct. 6-27 synod of bishops whose theme is: Amazonia, New Paths for the Church and for an Integral Ecology. 

But the text has received some trenchant criticism since it was published in June from "various prelates and lay commentators, as well as lay institutions." Most notably they include Cardinal Walter Brandmüller, president emeritus of the Pontifical Committee for Historical Sciences, and Cardinal Gerhard Müller. prefect of the Congregation for the Doctrine of the Faith.

One particularly contentious area concerns the subject of priestly celibacy. In their declaration, Cardinal Burke and Bishop Schneider ask that the Pope not approve the "abolition" of priestly celibacy in the Latin Church through the ordination of married men of proven virtue, the so-called "viri probati".

The working document proposes discussion of such a measure to help bring the Eucharist to faithful in remote Amazon areas that are without a priest. Critics are concerned about such an innovation, in particular that it could undermine mandatory priestly celibacy universally by being latterly applied to all areas suffering from a shortage of priestly vocations.
Worth noting: While the NCRegister story plays up the significance of married priests and the importance of priestly celibacy, the document by Burke and Schneider plays down that aspect. It's primary concern is issues of pantheism and "tribal collectivism."
On a married clergy, the document objects to a particular aspect of that:
The Instrumentum Laboris supports tailoring Catholic ordained ministries to the ancestral customs of the aboriginal people, granting official ministries to women and ordaining married leaders of the community as second-class priests, deprived of part of their ministerial powers but able to perform shamanic rituals.
It does call on Pope Francis, however, to reject a married priesthood:
that particularly Pope Francis, in the exercise of the Petrine ministry, may confirm his brethren in the faith by an unambiguous rejection of the errors of the Instrumentum Laboris and that he may not consent to the abolition of priestly celibacy in the Latin Church by introducing the praxis of the ordination of married men, the so-called "viri probati", to the Holy Priesthood.