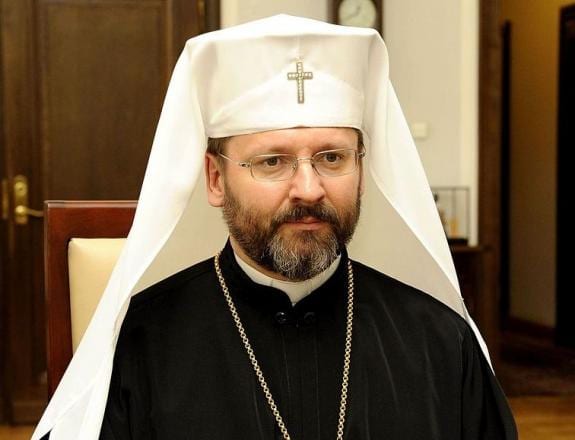 From Crux:
Archbishop Sviatoslav Shevchuk, Major Archbishop of the Ukrainian Greek Catholic Church, has urged those considering allowing priests in the Latin rite to marry in order to help solve a crippling shortage, to proceed with caution, saying marriage has not curbed shortages in his own rite.

With five blooming seminaries in Ukraine alone, "thanks be to God we do not lack vocations," Shevchuk said, but noted that despite the fact that priests in his church – the largest of the 23 sui iuris eastern churches in full communion with Rome – have the ability to marry, the high numbers don't appear for Greek Catholics in other countries.

"The same church with the same way of living the priestly vocation in other countries around the world does not enjoy this quantity of vocations," he said, noting that numbers in the United States and Canada, among others, are few.

"So, the familial state does not favor the increase in vocations to the priesthood. This is our experience," he said.

Speaking to journalists Sept. 11, Shevchuk responded to a question on the married priesthood in light of the upcoming Synod of Bishops on the Amazon, which will reflect on whether to allow the ordination of older married men to help curb a priest shortage in the region.

Insisting that the call to the priesthood comes from God alone, Shevchuk said it is "a vocation which can neither be increased nor decreased based on the state in which this vocation is lived," including whether the priest is married or celibate.

Priesthood, he said, is "a way of offering one's life for the good of the Church."

The shortage of priests, even in Ukraine, is "a challenge for everyone," he said, insisting that while he doesn't have "recipes" to solve the problem, what is important is to "look to the essential: That is, the vocation to the priesthood" as a call from God.
An observation (and my Eastern siblings can correct me if I'm wrong): most of the married clergy in Eastern churches marry when they are young, often when they are in the seminary, because they cannot marry after they are ordained.
What the Latin rite is considering — for now, anyway — is something a bit different: ordaining older men who have been married for a number of years, as with the diaconate.
The phenomenal success of the diaconate in the West — with some dioceses in the United States ordaining classes of 15 or 20 men — deserves serious consideration and exploration. Many dioceses now have more deacons than priests. It's worth looking at whether opening the diaconate vocation to older, married men is a factor in that — and whether that success can be replicated in the priesthood.