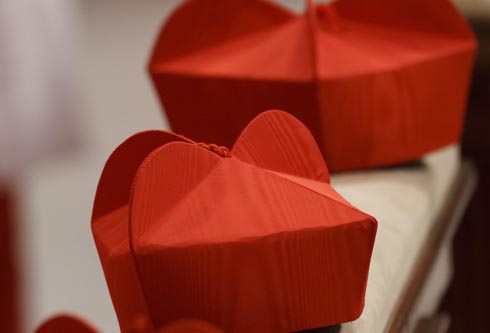 From Vatican News: 
After reciting the Angelus in St Peter's Square on Sunday, Pope Francis announced a consistory to be held on 5 October for the nomination of 10 new Cardinals. He said that the places where these new Cardinals come from express the missionary vocation of the Church as she continues to announce the merciful love of God to every person on earth.

The names of the new Cardinals are:

1.  Bishop Miguel Angel Ayuso Guixot, mccj – President of the Pontifical Council for Interreligious Dialogue.

2.  Archbishop José Tolentino Medonça – Archivist and Librarian of the Holy Roman Church

3.  Archbishop Ignatius Suharyo Hardjoatmodjo – Archbishop of Jakarta

4.  Archbishop Juan de la Caridad García Rodríguez – Archbishop de San Cristóbal of Havana

5.  Archbishop Fridolin Ambongo Besungu, o.f.m. cap – Archbishop of Kinshasa

6.  Archbishop Jean-Claude Höllerich, sj – Archbishop of Luxembourg

7.  Bishop Alvaro L. Ramazzini Imeri – Bishop di Huehuetenamgo

8.  Archbishop Matteo Zuppi – Archbishop of Bologna.

9.  Archbishop Cristóbal López Romero, sdb – Archbishop of Rabat

10.    Father Michael Czerny, sj – Undersecretary of the Migrants and Refugees Section of the Dicastery for Promoting Integral Development

Along with these new Cardinals, the Pope is adding two Archbishops and a Bishop who have served the Church in a distinguished way:

1.  Archbishop Michael Louis Fitzgerald – Archbishop Emeritus of Nepte

2.  Archbishop Sigitas Tamkevicius, sj – Archbishop Emeritus of Kaunas

3.  Bishop Eugenio Dal Corso, psdp – Bishop Emeritus of Benguela
CNS offers some context:
The only Canadian named was 73-year-old Jesuit Father Michael Czerny, undersecretary of the Section for Migrants and Refugees at the Dicastery for Promoting Integral Human Development. None of the new cardinals is from the United States.

Cardinal-designate Czerny, who Pope Francis had earlier named as a special secretary for the Synod of Bishops for the Amazon, was in Guararema, Brazil, when the announcement was made. He told Catholic News Service in a text message that he had not known he was going to be made a cardinal.

Announcing the names of the new cardinals Sept. 1, the pope included 10 men who are under the age of 80 and therefore will be eligible to vote in a conclave to elect a new pope. Three of the future cardinals are already over the age of 80, and the pope said he chose them because of their service to the church.

…One of the over-80 cardinals-designate is 82-year-old Archbishop Michael Fitzgerald, a Missionary of Africa born in England, who had served as president of the Pontifical Council for Interreligious Dialogue and later as Vatican nuncio to Egypt.
Crux notes:
Among the so-called "honorary" cardinals, meaning those over 80 and therefore ineligible to take part in a conclave, the inclusion of British Archbishop Michael Fitzgerald is especially striking.

Once the Vatican's leading expert on Islam and the former president of the Pontifical Council for Interreligious Dialogue, Fitzgerald was sent by Pope Emeritus Benedict XVI in 2006 as his ambassador to Egypt. At the time, many observers saw the move as punishment for Fitzgerald's dovish line on Islam.

The papal honor, therefore, is likely to strike many people as a rehabilitation of Fitzgerald and his advocacy of dialogue and outreach to the Islamic community.
Meanwhile, James Martin tweeted about one of the new cardinals:
Pope Francis has also named Archbishop Matteo Zuppi of Bologna as a cardinal! He is a great supporter of #LGBT Catholics and wrote the foreword for the Italian version of my book "Building a Bridge" ("Un Ponte da Costruire," published by Marcianum Press)