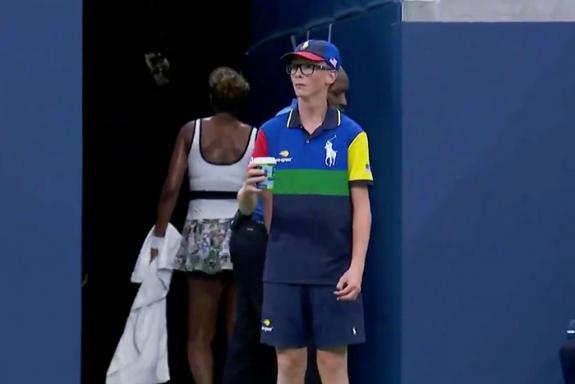 He is 14-year-old Oliver Jawornicki, a.k.a. Ollie, who just happens to be working this summer at the U.S. Open in Queens.
The story: 
In the middle of [Venus] Williams' match against Elina Svitolina, she asked someone on her team to get her a cup of coffee. It was brought in from the stands and given to a ball boy, who then had to deliver it to her. But there was one problem: Williams had already left her courtside seat and was heading into the tunnel. The ball boy just missed her and was left holding the cup. He then had to figure out what to do with it while everyone watched.
The video:
The followup interview on The Today Show can be viewed right here.
The story has now gone viral — worldwide. A Google search turned up reports on ESPN, MSNBC, AOL, Yahoo!, as well as the Hindustan Times and a couple newspapers in Australia.
One observer wrote: "I love him. Omg, sweet man…he has my whole heart now and I love him like my son."
And to think I knew him back before he was famous. Kudos, Ollie!
Below, some shots of the Ollie I know: bearing the cross on Good Friday for Stations of the Cross and serving at the Easter Vigil. Future priest? Future tennis commentator? Hey, you never know.