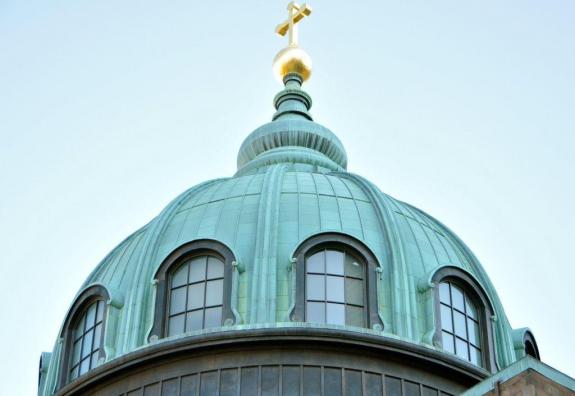 Philadelphia's Archbishop Charles Chaput turns 75 today — and speculation heats up about who will succeed him.
Author and professor Kathleen Sprows Cummings has some ideas about who she'd like to see in the job, and offers some suggestions in today's Inquirer:  
I hope that Pope Francis will appoint a man who is more pastoral than polarizing, a man who seeks a church that is less powerful but more relevant, a man more inclined to listen rather than condemn. Such a shepherd might not only reinvigorate the steadfast Philadelphia faithful, but may also persuade a few of those who renounced Catholicism to return to the fold.
Imagine, for example, that Philadelphia's new archbishop forgoes a lavish installation ceremony. Instead, he presides at a modest mass, adorned in the simple vestments of a parish priest. What follows is not a formal banquet in his honor, but a visit to the city's largest homeless shelter, where he and archdiocesan seminarians serve lunch to the guests.

Imagine he announces that this January, archdiocesan schools will not sponsor bus trips to the March for Life in Washington D.C. Quoting Pope Francis' Gaudete et Exsultate, he emphasizes that Catholics will continue to be "clear, firm, and passionate," in defending the innocent unborn. Nevertheless, Catholic schoolchildren will spend January 24 volunteering at a variety of local institutions, mindful that, as Pope Francis says, "equally sacred are the lives of the poor, those already born, the destitute, the abandoned and the underprivileged, the vulnerable infirm and elderly exposed to covert euthanasia, the victims of human trafficking, new forms of slavery, and every form of rejection."
Imagine Philadelphia's next archbishop broadens the definition of "pro-life" to extend to the lives shattered by sexual abuse suffered at the hands of the clergy. He offers to meet personally, without lawyers or handlers present, with survivors and their loved ones, simply to listen to their stories. He offers to publish their accounts as a regular feature on CatholicPhilly.com, so that others can learn of their pain. He pledges to be vigilant, to muster all the resources at his command, to ensure that no child, ever again, will be abused under archdiocesan auspices.
That's just for starters. Read it all. 
I'll just throw in my two cents: Not too long ago, Philadelphia welcomed a son of Brooklyn to the archbishop's chair. I think another one would be a very good fit. But, of course, I'm biased.