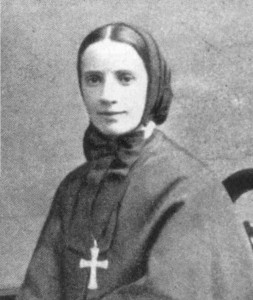 A Columbus Day gift from New York's Italian-American governor.
Ask and you shall receive.
Gov. Cuomo announced Monday that the state will aid Italian-American groups and the Diocese of Brooklyn in subsidizing a statue honoring Mother Frances Cabrini after Mayor de Blasio took heat for shunning the first American saint.

"I'm a Roman Catholic, I was an altar boy. I represent them, I stand with them," the governor said as he stepped off for the start of the city's annual Columbus Day Parade on Fifth Ave. "They don't have to do it alone, we will do it together."
The miracle move comes after first lady Chirlane McCray's "She Built NYC" program left the saint off of a short list of statues honoring historic women. McCray and her husband, the New York City mayor, faced intense backlash for not selecting Cabrini, even though the patron saint of immigrants netted the most nominations in a public poll.

The incident cause a kerfuffle among the city's Catholic and Italian-American communities and led actor Chazz Palminteri to label McCray a "racist" earlier this month. The "Bronx Tale" star apologized to Mayor de Blasio on WNYC last week.
De Blasio said last week Cabrini "is right at the top of the list for consideration" for the next round of statues.
Cuomo, who admitted earlier Monday that he hadn't talked to the mayor directly about the state's decision, said his efforts to speed up the process are all about inclusion.
"You have a Catholic community that feels disenfranchised. Let's fix it," he said.
And there was this, from the Brooklyn Tablet: 
New York Governor Andrew M. Cuomo is expressing his support for the creation of a New York City statue honoring St. Frances Xavier Cabrini.

"Bishop Nicholas DiMarzio has said that this is an affront and the Brooklyn Diocese wants to build a memorial to Mother Cabrini. They are right," said Cuomo during an Oct. 13 speech at the Columbus Citizens Foundation Gala.

"Let's stand up and demand respect for our community. Let's lead the way by taking action and let's build a memorial to Mother Cabrini, and I pledge my full support tonight," he said.

There may be hope for the cause to commemorate St. Frances Xavier Cabrini — the patron saint of immigrants who is known as Mother Cabrini — with a statue in New York City.

The Italian-American saint was excluded by the  She Built NYC initiative, an arts program headed by the city's first lady, Chirlane McCray, that was created last year to build monuments of influential women in the city.