Unity is "the quality or state of being one, single, whole, complete … forming a whole from separate parts … harmony." Unity through the doctrine of Christ
In His old and new world ministries, Jesus described the manner of men we should be.
I would that ye should be perfect [whole, complete] even as I, or your Father who is in heaven is perfect.
This unity – perfection, wholeness, completeness – is a process.
Unity Through the Doctrine of Christ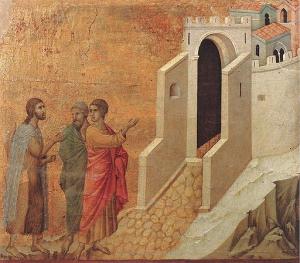 Two disciples walked along a road discussing incidents surrounding Jesus Christ's death and met a stranger who opened the scriptures, prophesy, and doctrine to them.  As the stranger broke bread with them, their eyes also opened and they knew and understood the stranger was Jesus Christ!
And their eyes were opened, and they knew him ….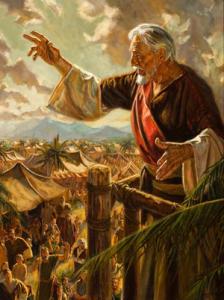 Listening to a king, people humbled themselves, repented of their sins and, opening their hearts, found the Comforter's redemptive power at work.
And they all cried with one voice, saying: Yea, we believe all the words which thou hast spoken unto us; and also, we know of their surety and truth, because of the Spirit of the Lord Omnipotent, which has wrought a mighty change in us, or in our hearts, that we have no more disposition to do evil, but to do good continually.

And we, ourselves, also, through the infinite goodness of God, and the manifestations of his Spirit, have great views of that which is to come; and were it expedient, we could prophesy of all things.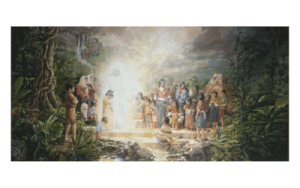 A group of believers gathered, discussing signs given and the events that followed.  Suddenly a strange sound came from heaven.  After opening their ears to the sound, they heard the voice of the Father testifying of His Beloved Son.
Behold my Beloved Son, in whom I am well pleased, in whom I have glorified my name—hear ye him.

And it came to pass, as they understood they cast their eyes up again towards heaven; and behold, they saw a Man descending out of heaven; and he was clothed in a white robe; and he came down and stood in the midst of them; and the eyes of the whole multitude were turned upon him….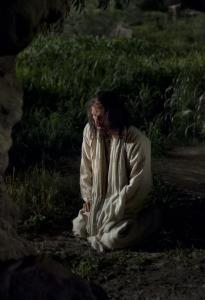 During Intercession's prayer, the Great High Priest, acting as the veil He parted, appealed in His Father's Name that those in atonement with Him could be made one with the Father.
And this is life eternal, that they might know thee the only true God, and Jesus Christ, whom thou hast sent. …

And now I am no more in the world, but these are in the world, and I come to thee. Holy Father, keep through thine own name those whom thou hast given me, that they may be one, as we are. …

That they all may be one; as thou, Father, art in me, and I in thee, that they also may be one in us …

I in them, and thou in me, that they may be made perfect in one; and that the world may know that thou hast sent me, and hast loved them, as thou hast loved me.
How is this unity actualized?
Is such oneness that appears so elusive in today's society really achievable?
God's children, armed with agency, enter mortality and, full of ego and individual pursuits, tend to scatter and build personal and relatively solitary kingdoms for themselves.
They seek not the Lord to establish his righteousness, but every man walketh in his own way, and after the image of his own god, whose image is in the likeness of the world, and whose substance is that of an idol, which waxeth old and shall perish in Babylon, even Babylon the great, which shall fall.
Unity through ordinances
Juxtaposed to the well-traveled broad road leading to the great and spacious building in the company of self-interested others, baptism's gateway opens to the straight and narrow path.  Though it may feel like a solitary road as one enters individually through that gate, the traveler now bearing Jesus Christ's name quickly receives the opportunity to have the Holy Ghost's constant companionship "which shall teach him the truth and the way whither he shall go."
This is the beginning of that unity and oneness Jesus Christ prayed for His followers.
Sacramental sanctification comes as adherents uniformly
eat in remembrance of the body of thy Son, and witness unto thee, O God, the Eternal Father, that they are willing to take upon them the name of thy Son, and always remember him, and keep his commandments which he hath given them, that they may always have his Spirit to be with them. Amen.
To be one with His Spirit is significant unity! For example, the Lord told Enoch,
Behold my Spirit is upon you, wherefore all thy words will I justify; and the mountains shall flee before you, and the rivers shall turn from their course; and thou shalt abide in me, and I in you; therefore walk with me.
Then Jesus opens to His disciples the Door of His Father's house where they learn the laws governing the celestial order by which He lives. They are washed, anointed, and clothed in robes of His holy priesthood. They are endowed with power through the name of Jesus Christ to enter deeper into this order of consecrated oneness, calling upon the name of God until, in intimate embrace, they are joined in one – the Father, the Son, and the daughter or son – and the daughter or son receives the Father's name through the Son, enabling entrance into Their presence, Their abode. Taking upon them this new name, the daughter or son becomes the daughter or son of God.
I came unto mine own, and mine own received me not; but unto as many as received me gave I power to do many miracles, and to become the sons of God; and even unto them that believed on my name gave I power to obtain eternal life.
Building a united community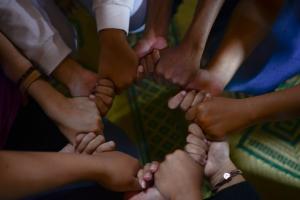 Mortality unfinished, the daughter or son returns to normal life with an eye single to the Father's will, seeking to gather members of scattered Israel and cultivate unity in newly gathered hearts until they too can sing the song of redeeming love.
And we ask thee, Holy Father, that thy servants may go forth from this house armed with thy power, and that thy name may be upon them, and thy glory be round about them, and thine angels have charge over them;
And from this place they may bear exceedingly great and glorious tidings, in truth, unto the ends of the earth…
We ask thee, Holy Father, to establish the people that shall worship, and honorably hold a name and standing in this thy house, to all generations and for eternity;
Jesus Christ makes this perfect unity available to all
This path to oneness is available to all willing to submit their will to His. Evidence of its attainability abounds throughout scripture. Humankind's oneness with the Father is His "work and glory to bring to pass the immortality and eternal life of man."
Unified in accomplishing the Father's work and glory on everyone's behalf, Jesus stands as the beckoning Way and invites all to come and be one.
I am Jesus Christ, the Son of God, who was crucified for the sins of the world, even as many as will believe on my name, that they may become the sons of God, even one in me as I am one in the Father, as the Father is one in me, that we may be one.