Growing Your Testimony in Christ by Austin Bushman
I am Austin Bushman. My parents are Daylen and Scarlet. I have got the best immediate family and extended family in the world because they taught me while I was young to believe in Jesus Christ and in His Atonement. I love my parents and I have come to realize so much more of what they did for me and my love for them has been enhanced on the mission. [In December, I was] released from my service as a full-time missionary. I served in the Texas Dallas East Mission, the Spain Barcelona Mission, and the Spain Madrid South Mission. I love each of those places and will hold them dear to my heart forever. growing your testimony in Christ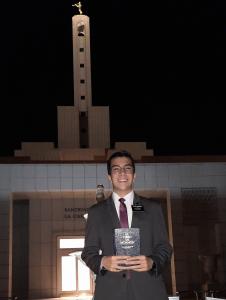 The Mission changed my life in many aspects. For example, I experienced physical change when, in the first 6 months of my mission, I managed to gain 30lbs by eating Oreos and Ice cream. After 18 months of morning exercise, I am still trying to work that off. While I was struggling to button the top button on my white shirts, I also experienced a change of heart and desire. I came to know my Savior and what He has done for me. I also came to realize some of the biggest changes I saw in myself were the Spiritual changes that took place. My belief and Testimony in my Lord and Savior began to grow at an exponential rate. And it is this spiritual change that I would like to speak of.
On the Mission, I learned many key lessons that influenced the growth of my testimony and I would like to share just three in the hopes that they can help you on your own journey of growing your testimony in Christ.
(1.) The Book of Mormon is a super nurturer!
(2.) God knows us and gives us tailored challenges if we desire to grow.
(3.) A testimony should lead to Conversion.
(1.) The Book of Mormon is a super nurturer!
One of the greatest lessons I learned on my mission was how important the Book of Mormon is for our everyday life.
In my last transfer, so six weeks ago, we received a referral. His name was Nacho, and he had watched a YouTube ad where some missionaries present themselves and say something like, "I'm Elder so and so and I like soccer, and I love the Lord." After Nacho watched this video, he referred himself to us.
I remember we had a very spiritual lesson about the Book of Mormon and how it changed our lives, and had solidified our testimonies in Jesus Christ. He accepted the challenge to read the Book of Mormon. Two and a ½ weeks later, he was baptized, and two weeks after that, I had the privilege of going through the temple with him to do baptisms for the dead. It was an amazing testimony to me of how the Book of Mormon can change lives.
And they said unto me: What meaneth the rod of iron which our father saw, that led to the tree? And I said unto them that it was the word of God; and whoso would hearken unto the word of God, and would hold fast unto it, they would never perish; neither could the temptations and the fiery darts of the adversary overpower them unto blindness, to lead them away to destruction.
I love that promise, that if you hold to the word of God or in other words if you read the Book of Mormon every day your Testimony of the Savior will grow to be so strong that the devil cannot overpower you! You will always have more power to resist and avoid every temptation. I have never met anyone who has left Christ and His church who was really studying the Book of Mormon every day, because it is impossible to lose your testimony of Christ if you are nourishing it every day by the good word of God.
In relation to nurturing our testimonies, President Henry B. Eyring has said, "
Testimony requires the nurturing by the prayer of faith, the hungering for the word of God in the scriptures, and the obedience to the truth we have received.
The Book of Mormon is a super nourisher for the soul.
(2.) God knows us and gives us tailored challenges if we desire to grow.
When I opened my mission call and read Barcelona Spain I knew that Heavenly Father knew who I was. (After all, my favorite soccer team was the Barcelona team, and I wanted to take a trip there.) I just had a wave come over me as I read those words, and I knew that God knew exactly who I was.
Then as I was in the Missionary Training Center, I received a reassignment to the Texas Dallas East Mission, and I thought, "Okay, cool, a quick 6 months in Texas. I will learn some Spanish and head out to Spain." Well in the 16½ months that I was in Texas, I learned that God didn't just know me, but He cared about me. He gave me a specialized experience while in Texas allowing me to grow. He gave me many companions so that I could learn and develop myself as a missionary. I learned the joy that comes from obedience, and I was blessed by each companion.
I learned in Texas that God cared for me enough to help me grow in the little things.
I finally made it to Spain. I was excited I had made it to my original assignment, and I loved being in Spain. Zone conferences were amazing. I learned and grew because I was excited to be there. I was happy.
Then I learned the important lesson that God does not want us to just be happy, He wants us to stretch into something bigger, into something better. Spain expanded from two missions to three, and because of where I was serving—after only three transfers in the Barcelon Mission—I was put into the new mission, my third mission. That was the hardest change for me to accept. I loved being in the Barcelona Mission and I felt like a dream was being pulled away from me. I would have to start over for the third time, get to know a third mission president and, for a third time, learn to work with new missionaries.
However once again I learned how much God loves me. In my third mission, I learned that God loved me so much that He would help me grow. He loved me so much that He would help me make plans that I intend to follow about coming home and the kind of disciple I want to be while I am here.
I learned that God loved me enough to stretch me to my breaking point, where I wanted to give up and say it is over, but then I learned that the Savior is the master healer.
He asks for us to come unto Him broken because if we never recognize we are broken, defeated, lonely, weak, sad, or any other emotion—if we never recognize it, there will never be any room for Jesus to come in and heal us. To make us better than we were before. He asks for a broken heart so He can give us a new one, a better one. God broke me so He could build me back up, stronger, more dedicated, and more in love with His gospel.
I learned that God knows me enough to call me to Barcelona and to enjoy my time there, but He cares for me enough to give me tailored experiences in Texas, and He loves me enough to stretch me in Madrid. God is a Loving Heavenly Father!  He knows each of us personally, cares about each of us enough to be involved in the tiny details, and loves us enough to refine us in the fire of affliction. Part of growing a Testimony of the Atonement of Jesus Christ is to recognize that three of the main motivators for God to send His Only Begotten, were because He Knew, He Cared, and He Loved.
Praying for Humility, Patience, and Charity
I remember a time in my mission, near the close of a transfer, and I began to pray a little differently. Many say that you shouldn't pray for patience because you get tested. Throughout my mission, I had been studying the Christlike attributes, and I remember that I came to the realization that the thing I wanted most in this life was to be who God wanted me to be. So I began to pray to develop into that person.
At the close of this particular transfer, I prayed with lots of energy for three things: To be more humble, to be more patient, and to develop charity. I bet you can guess what happened. That next transfer was the hardest transfer of my mission. I was humbled and felt like dirt. Through the hard times, my efforts seemed to have zero effect. I could do nothing by my own power.
I learned to rely on the Lord Jesus Christ and I learned more about the power of His Atonement.
I was given more challenges than before and every day seemed to last forever as I was fighting to be diligent and continue in obedience to what God had for me.
I learned to wait upon the Lord Jesus Christ, that true patience is when we realize that the Lord is carrying us along. and that patience is trusting He can get us through.
I understood more of what other people lived through. I began to understand, in part, the challenges of a life without the gospel. And I began to feel—I began to love like I had never loved, not romantically, but in a way where I saw people like God saw them. The people that were causing me the most hurt during that transfer I came to love the most.
I learned that Charity never faileth, I learned that when we pray hard enough Jesus will help us see others as He sees them and that through His infinite atonement He can help us, help others.
I am not perfect in any of those attributes, but my life has been forever changed by the lessons I learned in those six weeks. God knows what we need, yet sometimes He will wait until we ask, so that we can receive. We don't need to pray for patience every time but we can rotate what challenges or attributes we pray for and slowly build each attribute one percent at a time! The Mission taught me that God gives us tailored experiences to become who we desire to become, and if that is in line with who God wants us to be, we will see the miracles in our hardships.
(3.) A testimony should lead to Conversion.
A true testimony leads us to become something. In my last week as a missionary, I had an exchange. On the exchange, we were talking about the future and the people we wanted to become, our spiritual goals. During that exchange this missionary posed a question, he quoted Alan Stein, Jr. He asked me, "Are the habits you have today on par with the dreams you have for tomorrow?" Or in other words is what I am doing now, really going to get me to where I want to go? Am I investing in my future?
In relation to developing a testimony in Christ, what spiritual habits are we trying to build? Who do we want to become? Am I reading the Book of Mormon every day? Am I praying sincerely? Are my thoughts on the Savior during the Sacrament? How often do I go to the Temple?
If we want a strong testimony in Christ that cannot be shaken, we must strive for conversion. So what is conversion? The dictionary says that conversion is,
An event that results in a transformation. … A spiritual enlightenment causing a person to lead a new life. … The act of changing from one use, function or purpose to another.
When our testimonies have converting power, we are changed by it. We are transformed by it.
Each of the three definitions points out that Action is involved. We must be "doers of the word, and not hearers only" (James 1:22).
President Oaks expounded on this principle in his talk "The Challenge to Become."
It is not even enough for us to be convinced of the gospel; we must act and think so that we are converted by it. … To testify is to know and to declare. The gospel challenges us to be "converted," which requires us to do and to become. If any of us relies solely upon our knowledge and testimony of the gospel, we are in the same position as the blessed but still unfinished Apostles whom Jesus challenged to be "converted." (See Matthew 16:13-17 and Matthew 18:2-4).
We may be able to say that "we know" but can we really say "we became"?
One of my Mission Presidents read to us Revelation 7:13-14, which reads,
And one of the elders answered, saying unto me, What are these which are arrayed in white robes? and whence came they? And I said unto him, Sir, thou knowest. And he said to me, These are they which came out of great tribulation, and have washed their robes, and made them white in the blood of the Lamb.
My President then asked us, who washed the robes? Many said Jesus, he then stopped us and re-read verse 14, saying,
These are they which came out of great tribulation, and have washed their robes, and made them white in the blood of the Lamb.
They washed their own robes, in the blood of the Lamb. Jesus' blood is what cleanses us, but we must do our own laundry! We must become the kind of disciple who takes our own testimonies into our hands.
God lives. God Loves. But we must love Him enough to keep His commandments and by so doing wash our robes in the blood of the Lamb.
How has your Priesthood service changed you?
Within the first months in Texas, I listened to a missionary devotional and heard a question that impacted me like no other question."How has your Priesthood service changed you?"
I knew in that moment the goal was to change, to become. As I have grown my testimony it has been in an effort to become something better. It took me a while to get moving. The crawling turns to walking, and the walking turns to running, and before we know it we are soaring on the wings of the Spirit (2 Nephi 4:25) and we are well on our way to becoming who we need to become.
I know God lives. I know He loves each and every one of you. Two years as one of His special representatives changed my life. The Book of Mormon is the word of God and will help us find our testimony. Our specialized challenges from our loving Father in Heaven will help us strengthen our testimonies, and Acting on what we know will help us become our testimony. It doesn't really matter what we know, it is about what we do with what we know.