Sometimes you can have too much of a good thing.
And sometimes you know that you need to keep the good thing, but the real problem is that you haven't been clinging to the GREAT thing enough.
Such is the way of Catholic authors who have hopped on to the rollercoaster ride of a book's initial release. And the life of syndication. And freelance editorial work. And being a faith travel writer and all-around faith trekker. And a mom, grandma, wife, parishioner, Legion of Mary gal. Homeschool mom. I'm forgetting something.
So I was commiserating with the Director of Laity and Family Life for the Archdiocese of St. Louis–my home archdiocese. Julie Bostick is fantastic, and she knew precisely what I needed. She ran to her office and grabbed a copy. "Order this book. Everyone working for Jesus Christ and the Church should read it."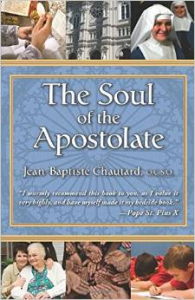 You can find it here.
After thumbing through the table of contents, I knew she was right. I ordered it.
Last night, I read something else that is helping me get back on track. I can't remember where I read it, but there were two things on the to-do list for getting back to being rightly ordered:
Pray rote prayers like the rosary when you are overwhelmed and contemplation is elusive.
Remember Lectio Divina.
Do the first one at night and save Lectio Divina for the morning when you are fresh.
I took the advice, prayed the rosary, fell asleep, woke up, and looked up today's readings for a little Bible time.
I wondered what would leap out at me, because something always does when I approach Sacred Scripture in this ancient, time-tested way.
And something did:
"Bless the Lord, all you his angels, you mighty in strength who do his bidding." It is from Psalm 103 (v. 20).
For the busy–way, way, way too busy–
For the worker in Christ's vineyard–who hasn't lifted up his eyes from the grape basket in a while–
There is good stuff here.
And now, I'm off to walk with my angel, who is mighty in strength … who also does God's bidding … and whose number one job is to point me in the right direction when my human feet can't seem to keep the pace.