In my previous post, I suggested that our present experience of forced digital transitions can help us imagine a post-digital future—if we spend some time reflecting on being "digital first."
Nearly six months ago, with funding from the M. J. Murdock Charitable Trust, the Church Digital Transformation Project at SPU (CDx) hosted a virtual summit on COVID-19 and the Digital Transformation of the Church. The summit was intended to facilitate conversations among church leaders about digital transformation through and beyond the pandemic. Following the summit, the CDx team created a series of videos to advance that discussion further. These videos, along with resources from the summit, are now available through our CDx Repository.
To help church leaders navigate the digital turn and imagine possible post-digital futures, the CDx team created a learning path for these videos, which can be used individually or with a group. The learning path consists of six modules:
Navigating the Digital Turn
Engaging with Church History and the Bible
Youth and Digital Culture
The Limits of the Digital
Exploring Creativity and New Church Modalities
Ministry in a New Context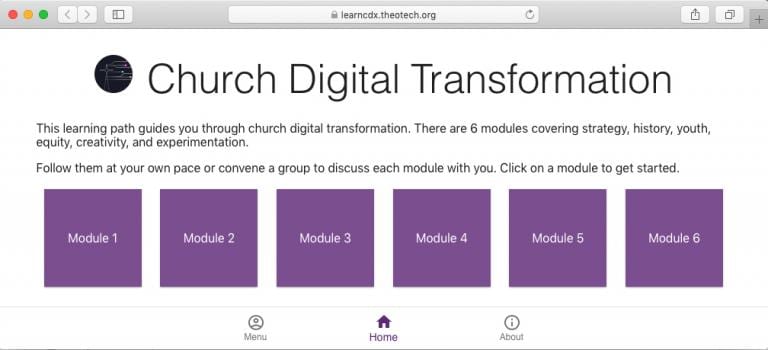 Here is our introduction to the learning path:
Digital transformation is the process of reimagining what we do and how we do it given what is possible with new and emerging technologies. The COVID-19 pandemic forced churches to shift from primarily physical to predominantly digital activities, and churches will need to sustain some form of this digital transition for the foreseeable future. As churches continue to cultivate their digital presence, church leaders have an opportunity to explore the best ways to prioritize digital engagement over physical encounters. However temporary this "digital first" approach may be, it promises to enrich the life of the post-pandemic church. Once we were pre-digital, and in the future we will be post-digital: Instead of viewing digital technologies as something separate from or simple substitutes for physical interactions, we will see these technologies deeply integrated into our lives and world.

These resources, created by the Church Digital Transformation Project at Seattle Pacific University with funding from the M. J. Murdock Charitable Trust, were created to help church leaders reflect on how present digital transitions may become digital transformations.
The learning path can be followed also via an online web app.
In the difficult days before us, we hope and pray these resources will help churches navigate the present as we seek the promised transformation of the world.