I just returned from a trip.  While I was gone, I received an email that Lilly the Goat is pregnant.  Hooray!
Who's Lilly, you say?  Wait, let me back up!
About 2 weeks ago, I found on Craigslist that someone was selling a small herd of Nigerian Dwarf goats, 3 does, one with 8 week old twins (a doeling and a buckling), and 2 bucks.  That's the exact breed I was wanting, if not the exact herd configuration, so I got ahold of this fellow to begin the conversation.
He mentioned that he lived in Aromas.  That's where we're moving to, so I mentioned that he might know our Cindy and Richard.  And YES, it turns out he does and he sits on the executive board of Transition Aromas with Cindy!  She had good things to say about him as well, so it seems very fortunate that we connected.
I trust synchronicity!
So we set up a date to go see the goats.  They are beautiful!  Friendly!  Really cute!  Just right!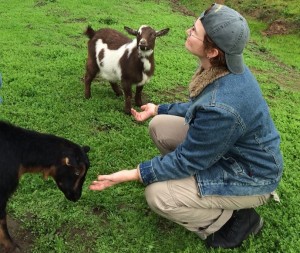 We thought we might take all of them, but it turned out that we don't really have the capacity to keep the bucks separate from the does in the new place, so they'll stay where they are, at least for a bit.  We asked if the does could be bred before we pick them up in January and the answer was YES.
So, while I was out of town, I got the note from Brad that it looks like Lilly the Goat is pregnant.  Now we're waiting for the other girls to go into heat so they can be bred as well.  It just may be that we go from 5 goats in January to 7, 8, 9 in April or May!
These girls will be milkers.  I'm excited to make cheese with the freshest of milks!  We even have a line on a cream separator and somebody to teach us how to make goat milk butter.

Mother, pray for the health, strength and safety of our animals.  May we cherish them as you cherish us.  May we be thoughtful in their care.  May we witness their deep knowing with respect.  Blessed be~