Have you had spiritual or fantastic experiences that do not fit any particular tradition?  Are your inner journeys never quite what you or others expect?  Me, too.  So much so, in fact, that I'm writing a book about it: The Secret Country of Yourself.  
AND I'm fixing to sign a contract with Llewellyn to publish it!
In this model, we don't start by following any other's map.  We begin by making ourselves more fit travelers so we can go with courage where we please. We get strong so we can withstand the powerful forces inside of us. We get clear so we can see truly. We learn to express our experience into the world using our minds, bodies and souls.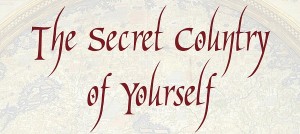 The Secret Country of Yourself 
is a destination and a journey.  It's an exploration of the most magickal kingdom of all: your unique inner self. It includes the Sanctuary, the Cathedral, the University, the Library, and of course, the Shadow House. It includes an internal expression of the elemental realms, above, below and center. But beyond those names, all else is up to you. I can tell you what others have found there, but what you find will be all yours. I can tell you what my Sanctuary looks like, but I have no expectation that yours will be even slightly similar.
This is exploration without expectation. This is adventure.
I look forward to the Journey!