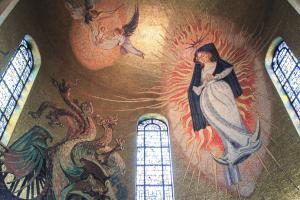 In the Roman Catholic Church, there are two Marian dogmas, the celebration of which are given the status of a solemnity.
The first is the solemnity of the Immaculate Conception of Mary, the dogma declared by Pope Pius IX in the 1854 papal Bull entitled Ineffabilis Deus ("Ineffable God").
The second was the Assumption of Mary into Heaven, which was defined by Pope Pius XII in a 1950 apostolic constitution entitled Munificentissimus Deus ("The Most Bountiful God").
The elevation of these teachings on Mary to the status of dogma, making them indispensable aspects of life in the Catholic Church, is often decried by many – both outside and inside the Church – as a Catholic attempt to re-centre the economy of Divine grace away from Christ towards Mary.
What certainly does not help is…(see the full article on The Catholic Weekly).