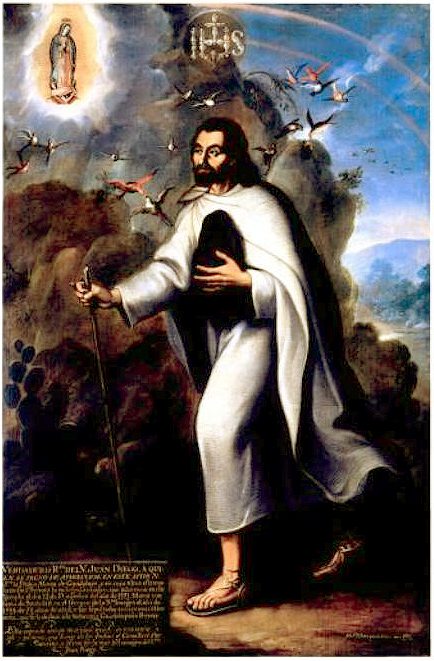 Saint Juan Diego Cuauhtlatotzin
Feast Day: December 9
Biography:
Born in 1474 in Cuautlitlan (now part of Mexico City, Mexico) and given the name "Cuauthlatoatzin," which means "the talking eagle," Juan Diego, a member of the Chichimeca people, would grow up to become the Church's first saint indigenous to the Americas.
Though little is known about Juan Diego's early life, records tell us he was baptized in 1524 at 50 years old, along with his wife, Maria Lucia, by the Franciscan priest, Father Peter da Gand. Prior to his conversion to the Catholic Faith, Juan deco hd been raised in the Aztec religion and culture. After his conversion, he threw himself into his faith, with humility, love, and a great devotion to the sacraments and to Our Lady.
Early Saturday morning, December 9, 1531, two years or so after his wife's death, Juan Diego was walking to Mass and catechism lessons in Tlalteloclco at the first Franciscan convent in Mexico City. As he reached Tepeyac Hill at the outskirts of Mexico City, our Blessed Mother appeared to Juan Diego in what he described as a shining white cloud and rainbow of many colors. Our Lady called him to her saying, "Juanito, Juan Dieguito," and asked her son where he was headed. He replied "My Lady, Queen, My Little Girl, I go there, to your little house in Mexico, Tlaltelolco, to follow the things of God which are given to us, that we are taught, by those who are the image of Our Lord, our priests."
The Blessed Mother told Juan Diego that she desired that her "little sacred house be erected" at the foot of the hill, so that she might show her Son and "give Him to all the people in my personal love, in my compassionate sight, in my shell, in my salvation; because I am truly your compassionate mother, yours and those men in this land who are one." She then instructed Juan Diego to go to the Bishop of Mexico's palace, telling the bishop that Mary had sent him and wished them to build a church at the sight of the meeting.
Juan Diego went to tell the bishop, Juan de Zumarraga, and was initially not allowed into the bishop's palace because of his humble and poor appearance. Eventually, he was let in to meet with the bishop, but Bishop Zumarraga was skeptical of the vision.
On that same day, Juan Diego returned to the hill where Mary had appeared to him, and told her that the bishop did not believe his report. He spoke to Mary, begging "my Lady, Queen, my Little Girl, that you send one of those noble persons, who is well-known, respected, honored, to take your kind word so that it will be believed." Our Lady, however, replied that it was Juan Diego that she "must entrust the delivery of [her] message" with, and she told him to return to the bishop again with her message. So that Sunday, Juan Diego again spoke with the bishop, who instructed Juan Diego to ask for a miraculous sign to prove the veracity of the vision. When Juan Diego returned to Tepeyac, he asked her for a sign, and Our Lady promised to provide one the next day.
However, Juan Diego's uncle, Juan Bernardino fell sick the next day, and Juan Diego stayed to care for his uncle. By December 12, Juan Bernardino was in danger of death, and Juan Diego set out to find a priest who could provide his uncle with last rites. So, Juan Diego took a different route to Tlatelolco, avoiding Tepeyac Hill, because he was ashamed he had failed to meet Mary the previous day. Our Lady, nevertheless, appeared to Juan Diego and asked where he was going. When he told her of his uncle's illness, she reminded him that she was his Mother, and she was here, telling Juan Diego "Do not be afflicted by the illness of your uncle, who will not die now of it. Be assured that he is now cured." Then she asked Juan Diego to climb to the top of Tepeyac Hill and cut the flowers he found there, bringing them before her. The diversity of roses would be a sign to the bishop that the vision was true.
So again Juan Diego went to the bishop's house, where he met with the bishop and relayed his vision. When he handed the bishop his tilma filled with flowers to prove the vision, the flowers fell to the floor, revealing that the tilma had been impressed with an image of the Holy Virgin Mary. The bishop then believed Juan Diego, and asked to see the place where "it is the will of the Queen of Heaven to have her temple built."
Later, the bishop granted Juan Diego permission to live the rest of his life as a hermit in a small house near the chapel that was built on Tepeyac Hill. Juan Diego lived his life out dedicated to prayer and the practice of virtue, caring for the church and the early pilgrims who came to ask for Mary's intercession. He died in 1548 and was buried in the first chapel dedicated to the Virgin of Guadalupe. He was canonized by Pope John Paul II in 2002.
What Does He Have to Do With Me?
Perhaps one of the less obvious lessons in holiness we can learn from St. Juan Diego is what Our Lady taught him: we are all her children, and she is our Mother. Saint Juan Diego was ashamed of his failure to meet Our Lady, and certainly many of us are ashamed of our failures to live holy lives, to turn away from our sins once and for all, or even when we neglect our prayers because we are tired, or sick, or life is simply overwhelming. So, like St. Juan Diego, we try to hide from our Mother, avoiding her and her Son, because we feel that once again we have disappointed them. However, Our Blessed Mother's gentle correction to St. Juan Diego serves as a gentle correction to us as well: she is our mother, and she wants us not to avoid her when we fail, but to come to her with our worries, anxieties, and fears even and especially when we feel we have failed. She wants to intercede for us, to help us, to assist us, and to support us as we follow her Son and grow in holiness. And like any good mother, she is there to soothe our anxieties and give us graces beyond what we could ever have imagined. Moreover, St. Juan Diego serves as a model for our faith. Once Mary reminded him that she was his mother, he faithfully served her with humility and love, returning to the bishop to proclaim her wishes even after failing the past two times. And, for his courage and faith, he was rewarded with her faithfulness to him. St. Juan Diego teaches us to turn to Our Lady in our moments of failure, and to faithfully trust her as we continue on in the life God has called us to.
Interesting Facts
-St. Juan Diego's tilma, which should have decomposed within a few years of the apparition, is still in pristine condition and can be seen in the Basilica of Our Lady of Guadalupe in Mexico City.
-The first miracle attributed to St. Juan Diego, in 1990, was the "scientifically inexplicable" healing of Juan Jose Barragán Silva, who was addicted to drugs and, under the influence of those drugs, stabbed himself in front of his mother and attempted to throw himself off of a balcony, falling head first to the ground. His mother, while her son was falling, prayed to Juan Diego, asking the saint to "give me a proof…save this son of mine! And you, my mother, listen to Juan Diego." Even more providential, this fall happened at the exact same time as Pope St. John Paul II was beatifying Juan Diego at the Basilica of Our Lady of Guadalupe in Mexico City.
Prayers
Saint Juan Diego, you are our first American indigenous saint.

Please pray that God the Father would protect all migrants through his Son, Jesus Christ.

Ask the Father to pour out the love of the Holy Spirit upon all who are isolated, alone and separated by choice or necessity from their native lands.

May those torn away from their families and forced to leave their country to find work elsewhere be reunited: husbands with wives and parents with children.

We ask especially for migrant women and children who are particularly vulnerable to the dangers of human trafficking. Give them your protection and shield them from evil.

May we as a Church receive the grace to welcome with love migrants who enter into our country, seeking a home in our parishes and communities.

We ask for your prayers and intercession for all immigrants who are desperate, alone and in need of God's loving support.

And we ask Our Lady, who appeared to you as your Mother and Mother of all in our land, to wrap her mantle of protection around all migrant people.

We beg for her love, compassion, help and protection on all immigrants who today experience great sufferings, sorrows, necessities and misfortunes.

Amen.
–via the USCCB
In His Own Words:
"I am a nobody, I am a small rope, a tiny ladder, the tail end, a leaf.""
Further Reading:
Resources: