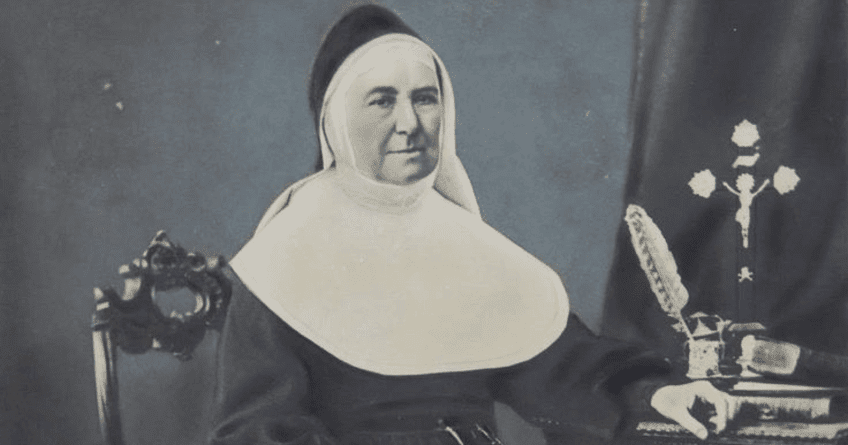 Saint Mary Josepha Rossello
Feast Day: December 7
Biography
As the fourth of nine children, it should come as no surprise that Benedetta Rossello, later Saint Mary Josepha Rossello, would grow up with a desire to care for the young. Her parents, who were poor, worked as pottery makers near Savona, Italy, work that all their children helped them to complete. Being with her parents, Benedetta was influenced by her parents' teachings and examples. She also had the opportunity to attend the local school, where she loved reading stories, particularly those about saints. These stories led her as a child to tell her parish priest she wanted to grow up to become a hermit, doing penance and praying in the desert, and a missionary, teaching children who were unbaptized about God's love.
Her love for God eventually led her to become a Third Order Franciscan at age 16, observing the Rule of Saint Francis in her daily life, attending Mass, and spending time in Adoration of the Blessed Sacrament. The couple she worked for as a companion teased her, saying she was already becoming a saint, but Benedetta replied, "No…I am not saint material. I am just sinner material," to which her employer replied, "Don't laugh, just remember someday how I said that in the future the angels might come to help you with your own work in the fields."
As Benedetta grew up, her kindness and piety attracted the attention of a young man who sought her hand in marriage. At 19, Benedetta turned down the offer, telling her parents that her future was entirely the Lord's, and while she was unsure what that would look like exactly, she knew that it did not involve marriage. After nine years of working for the Monteleones, she came to the conclusion she wanted to enter the convent, despite her employers' offer to adopt her and leave her their heir upon their death. Despite her desire, her lack of a dowery made it impossible for her to enter a convent; she was rejected from all the ones she applied to.
Despite the seeming stall in her vocation, in 1843 when Benedetta was 23 years old, the Bishop of Savona had begun to seek out a group of sisters to care for the homeless, uneducated young girls of the city. Benedetta learned of his desire and approached him with her own desire to serve the Church through acts of Mercy. The Bishop asked her to find some companions to join her in this work.
With three of her childhood friends, Pauline Barla, Angela Pessio, and Domenica Pessio, Benedetta founded the Daughters of Our Lady of Mercy, and on October 22,1837 took their vows, donned their habits, and received their new names. Benedetta became Sister Mary Josepha, the order's first novice mistress. Two years later, the sisters took their final vows. By that time, the order had opened a day school and a boarding school for wealthy girls who could pay tuition that allowed them to then open both a free day school and free boarding school for the poor girls in their community. They also had started local catechism classes in Savona.
In 1840, Sr. Josepha was elected to the role of Mother Superior, a calling she fulfilled until her death in 1880. Due to her own experience, she insisted on accepting girls into the order who had no dowery. The order expanded its mission in this time from teaching to also include hospitals and other works of charity, including encouraging vocations to the priesthood. Another ministry Mother Mary Josepha was very committed to was rescuing African girls who had been kidnaped by slave traders. At the time of her death, the Daughters of Mercy (as they were commonly called) had established 67 hospitals, schools, and homes for abandoned girls. She was canonized by Pope Pius XII on June 12, 1949.
What's She Got to Do with Me?
Saint Mary Josepha stands as a particularly relatable saint to modern young adults. Her poverty seemed to limit her ability to follow her vocation, and when she attempted to pursue what she was sure God was calling her towards, she was rejected by the convents she sought to enter. To anyone who has found themselves following what they were sure was God's will for their vocation only to find the relationship breaking up, being turned away from a religious order, or discerning out of the seminary, Saint Mary Joseph provides an image of hope. She reminds us that God's providence and plan is far grander and more particular than we could have ever imagined, even when it looks like it could never possibly happen.
She also reminds us that, tempting as it may be to solve big problems far away from where we are, often times the opportunity to serve Christ's Body can be found in our own towns, with those who are rejected. Whether serving the poor, volunteering to foster children, working as a mentor with troubled teenagers, working at a local woman's shelter, or even visiting a retirement home to visit those who are so often forgotten and ignored by society, we all have opportunities to perform acts of charity in our own towns and cities. Serving God, becoming a saint, as Saint Mary Josepha shows us, often simply requires that we show up willing to fulfill a need facing the Church today.
Interesting Facts
When the exhumed her body to move it to the grounds of the order's new motherhouse in 1917, Saint Mary Josepha's body was found to be incorrupt. It was still incorrupt when it was again exhumed prior to her beatification on June 12, 1949. In fact, in this later exhumation, it was discovered her heart still gave off blood.

The heart was found to be incorrupt after it was surgically removed at the request of her order, that the old motherhouse be allowed to to retain a relic of their sainted founder.

You can still join the order, which has houses in Europe, North and South America, India, and Africa, to this day. Check out The Daughters of Our Lady of Mercy here

.
In Her Own Words
"The hands should be at work, the heart with God."

When the girls were difficult to work with, she reminded the sisters, "They have been unhappy. We must make them happy. We must be angels toward them."

"To Saint Joseph, all children are images of the Child he reared."

"We must look upon our sick sisters as our most reliable support. They, by their patience, their suffering, and their prayers, maintain the house and, in fact, the whole institute, since they seek and obtain for us from the Father of Mercy the blessing of heaven."
Further Reading
Resources