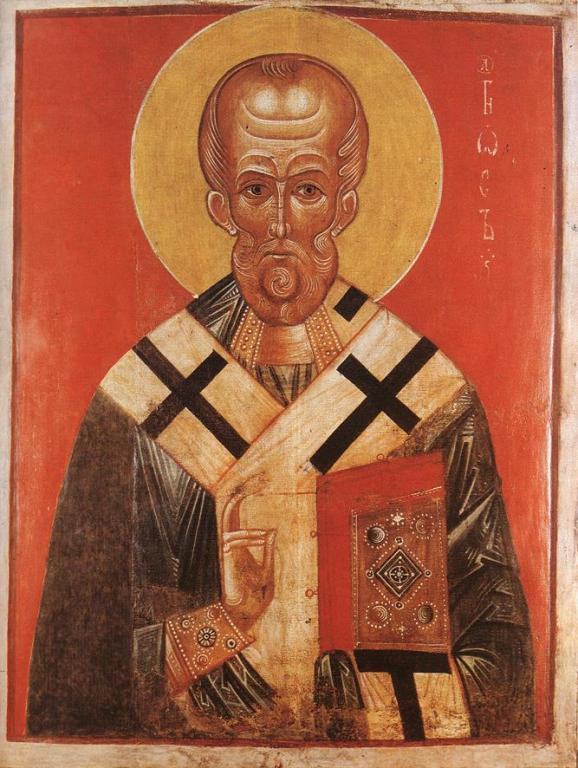 Saint Nicholas of Myra
Feast Day: December 6
Biography
Saint Nicholas of Myra's story begins far south of the wintery wonderland we are used to associating with Santa Claus: Nicolas is believed to have been born in Parara, a city in Asia Minor, in the 4th Century. While historically accurate records are lacking, there are many legends about this saint, popular in both the Eastern and Western Church, that have nothing to do with either reindeer or elves.
That Nicholas became a bishop to the see of Myra in the 4th Century remains one of the few historically definite facts. However, the saint's popularity over the centuries at least allows us to put forth some of the more consistent and endearing stories of his faith and charity. Nicholas was, according Butler's Lives of the Saints, well brought up by pious parents; he began to study theology at age five and "day by day the teaching of the Church enlightened his mind and encouraged his thirst for sincere and true religion."
When his parents died, while Nicholas was still a young man, he decided to devote his inheritance to acts of charity. One of the more famous legends about Nicolas is that the young saint used his inheritance to save three women from being forced into prostitution. After their father had become impoverished, he was unable to support his daughters, and their poverty made the girls unable to find husbands. The young women's father "going to give them over to prostitution." Nicholas learned of this, and in the middle of the night snuck over to the man's house and there a bag of gold in the window, which served as a dowry for the eldest daughter, who was able to marry. Later, Nicholas tossed in a bag of gold for the second daughter. When he went to do so for the third daughter, the father recognized their benefactor and was overcome with gratitude. This is likely the origin of the more familiar tales of Santa Claus delivering presents.
As Bishop of Myra, he served during the persecution of the Emperor Diocletian, who it is said to have tortured and imprisoned Nicholas. When Constantine assumed the role of Emperor, he was far more friendly to Christians, and is said to have freed the bishop to return to Myra.
Nicholas's reputation as a bulwark against heresies can be traced to St. Methodius's claim that "thanks to the teaching of St Nicholas the metropolis of Myra alone was untouched by the filth of the Arian heresy, which it firmly rejected as death-dealing poison."
This is the likely origin of the infamous Arius incident. Despite lack of evidence supporting his presence there, legend holds that Nicholas attended the Council of Nicaea and, encountering Arius, the saint was overcome with anger and slapped the heretic in the face. An action for which, the legend continues, the Council Fathers deprived him of his episcopal insignia and sent him to prison. However, while in prison, so the story goes, Our Lord and His Mother appeared to Nicholas and freed the man. Though this story itself is not verifiable, stories do tell us something of the man: he was a fierce defender of the truths of the Catholic Faith. He is also reported to have destroyed pagan temples, including that of Artemis. Moreover, he was a bishop who was devoted to his flock, caring for their spiritual and temporal needs.
The holy bishop died, according to unanimous accounts, in Myra. According to one 10th Century writer,
The West as well as the East acclaims and glorifies him. Wherever there are people, in the country and the town, in the villages, in the isles, in the furthest parts of the earth, his name is revered and churches are built in his honor. Images of him are set up, panegyrics preached and festivals celebrated. All Christians, young and old, men and women, boys and girls, reverence his memory and call upon his protection. And his favors, which know no limit of time and continue from age to age, are poured out over all the earth.
Patron Saint of…
A lot. Despite the lack of information we have on him, tradition tells us Nicholas is quite the popular saint. He is the patron saint of Greece, Russia, the Kingdom of Naples, Sicily, Lorraine, the Diocese of Liège; many cities in Italy, Germany, Austria, and Belgium; Campen in the Netherlands; Corfu in Greece; Freiburg in Switzerland; and Moscow in Russia. He is also the patron of mariners, merchants, bakers, travelers, children, and prisoners, just to name a few.
What's He Got to Do with Me?
For most of us, it's easy to say that "Santa" is a fairly relevant saint. After all, we have been seeing popularized images of him and hearing songs about him since sometime before Halloween. And yet, the commercialized whats-its and sentimentalized legends serve more to obscure rather than reveal anything about the sanctity the life of Saint Nicholas presents us with. Even if the legends are not entirely historically accurate, they point to certain practices of holiness that are worth bring in to our own lives.
Firstly, St. Nicholas' holiness was steeped in a love of theology. Now, for many of us, that can sound like an intimidating word. But really it means the study of God. This Advent Season, consider taking fifteen minutes out of your day to emulate this saint and learn more about God, whether that is through reading the Scriptures or spiritual reading. If you don't know where to start, perhaps you might begin with the Gospel of St. Luke or Fulton Sheen's Advent and Christmas Reflections.
Secondly, we can imitate the holy bishop's acts of charity. Whether it is in following his lead to give of our treasure to organizations that fight modern day slavery (including sex trafficking) like Catholic Charities' End Slavery Now initiative, or donating to organizations that help those in poverty, like the Society of St. Vincent de Paul, or giving of our time to minister at local women's shelters, food kitchens, or even prison ministry. St. Nicholas demonstrated what it means to minister to Christ's Body in this world, and that is an example we can all strive to emulate more, particularly in this Advent season.
Interesting Facts:
Oldest church dedicated to him was build in the 6th Century by Emperor Justinian I
His relics can be viewed in Bari, Italy
Yet another legend holds that the saint appeared to Emperor Constantine in a dream after he falsely imprisoned three of his officers under trumped up charges. The officers had seen the bishop save falsely condemned men in Myra and prayed for his intercession. That night, St. Nicholas appeared in a dream to Constantine and threatened the emperor if he would not free the men. Constantine did so, and sent a letter to Nicholas informing him that the men were free, and asking the bishop to not threaten him again and instead pray for peace in the world.
Prayers:
Give me, Lord, Nicholas as my intercessor, your great confessor whom you had glorified with the name of blessed throughout the world.

Saint Nicholas, I pray to you through him who has made your name venerated throughout the world; do not refuse to help a needy suppliant.

Why, Sir, are you called upon by all men in all the world unless you are to be an advocate of all who pray to you?

Why does this sound in all ears, "My Lord, Saint Nicholas," "My Lord, Saint Nicholas," unless it means, "My advocate, Saint Nicholas," "My advocate Saint Nicholas?"

Why is your name poured forth everywhere except that the world may have some great good poured into it?

Your fame calls to me, your miracles send me to your intercession, your works draw me to seek your help.

But why do I speak about your miracles, when your power now is greater than them all?

Why do I recount what you have done, when before God you now have supreme grace? Why recount the help that you gave to many when you are able to give spiritual help now that you live in heaven, of more value than the corporal help that you gave during your pilgrimage upon earth?

For it is not as if you were able to do those things then and can no longer do them. No, I say, you could not have power only in those things that come to nothing, and to be powerless in those that go on into eternity.

Indeed, you did not only accomplish the former, you did not ascend merely that you might grant them. Bestow upon us the spiritual things in which you glory, the joys of eternity in which you rejoice, pour upon us the heavenly things to which you have turned. Through you we needy ones come to know that abundance which you receive fully in a perpetual stream.

O your plenitude of goodness, and my abundance of badness!

How far they are from each other!

How vehemently the first makes you happy, how greatly does the latter make me unhappy.

The first comes down from the plenitude of God, the latter goes up from the need of myself;

The first flows from the abundance of God, the latter surges up from my poverty.

O if only that super-abundance would overflow and flood into my abundant ills!

O if only that full plenitude would fill the emptiness of my need!

I do not doubt, Sir, that you can do this for me, if you are willing to ask that much for me of my judge who is your beloved friend.
—Saint Anselm, Archbishop of Canterbury (1093–1109)
Further Reading:
Resources: