Healthy Trees, Healthy People
My father has an encyclopedic knowledge of trees. As a landscape designer and nursery/garden center owner, he would walk with me through Pennsylvania forests where he could name nearly every tree, including its genus and species. To be on a first-name basis with the trees, as Adam was in the original garden, is to have an intimate and stewarding relationship with Creation.
500 trees for 500th Anniversary of the Reformation
While I did not inherit that gift for remembering botanical names, I did develop a deep reverence for things green and growing. First as a Lutheran minister, and now a seminary professor in Lexington, Kentucky, cultivating an ethic of care for the Earth community is an orienting principle of my life and work. It seemed only fitting, then, when I heard about a University of Kentucky research study called "Healthy Trees, Healthy People," that I should participate.
Especially as my fellow eco-Lutherans are celebrating 500 years of the Reformation by planting 500 trees across the U.S., I saw this study as an opportunity to learn more about these woody plants that sustain life on this planet. After all, as Martin Luther once said, "God writes the gospel not in the Bible alone, but on trees and flowers and clouds and stars."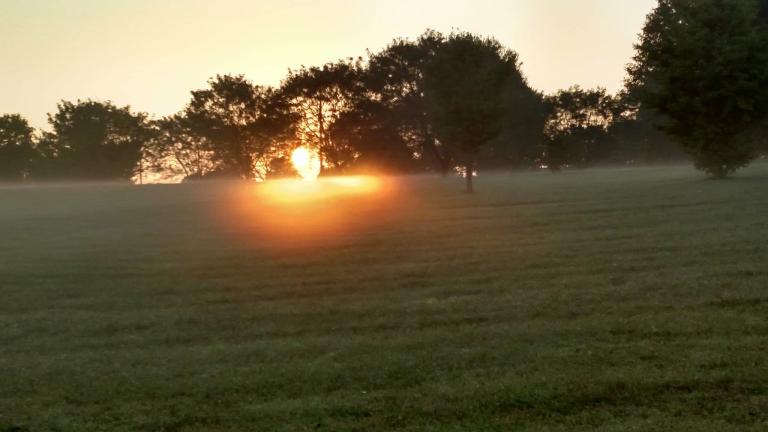 Assessing tree and human health
How do we spot healthy trees? At the orientation, we were trained to assess the health of specific trees at two Lexington parks – Kirklevington and Harrods Hill. For six weeks we were to walk the pathways around the parks every few days and seek out the trees on our list. We learned how to observe the health of the roots, stem, and canopy of the trees, and to record them in our logs. At the same time, these walks would engage us in physical activity that would contribute to our own health. The researchers recorded our weight and blood pressure and administered a questionnaire to assess our level of stress. At the end of the six weeks, the same measures and questionnaire were repeated when we came to report our findings.
The study was designed to test whether people's health improve when they engage in nature by becoming "citizen scientists" and observing the health of trees. By learning about the important role trees play in our urban environment, and about the pests that can threaten them, we become "eyes on the ground" for the researchers. Just as important, we improve our own physical, mental, and spiritual wellbeing.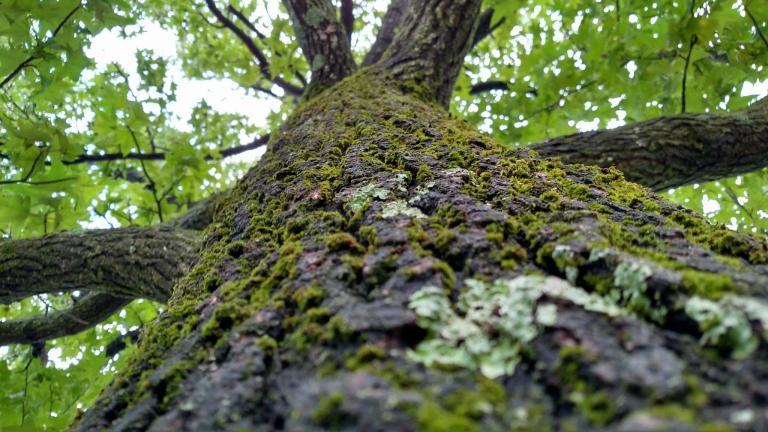 Seeing trees in a different way
At the final session, I sat down with the lead researchers, Lynne Rieske-Kinney, PhD (Dept. of Entomology), and Heather Norman-Burgdolf, PhD (Dept. of Dietetics and Human Nutrition) to ask what they had learned from their findings so far. Initial indications are that people did report feeling happier and less stressed by the end of the study. In addition, participants shared their appreciation for being able to connect to nature with "a different set of eyes."
"Most people are 'tree-blind,'" explained Dr. Rieske-Kinney. "Once they learn how to spot signs of health and disease, it gives them a whole new perspective when out walking, or even looking at the trees in their own yard."
This happened for me.
Not only can I now identify eight different species of trees, I know things like why "mulch volcanoes" are bad for trees (they cause fungus and disease to grow on the bark). And why the leaves of tulip poplars sometimes look scorched (the yellow poplar weevil feeds on the leaves and creates small holes).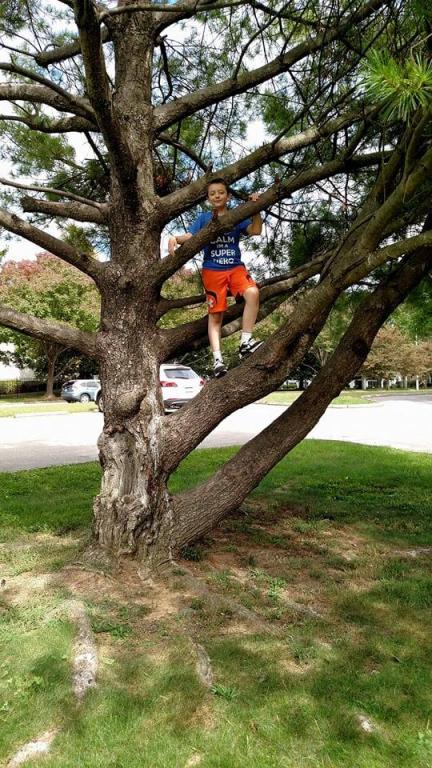 And as I walked through the parks with my 10-year-old son, I felt the connection to my father and our walks in the woods of Pennsylvania. Not only did I teach Benjamin the names of the trees, he urged me to try the meat of the black walnuts he cracked. And we discovered that when you brew the leaves of the sweet gum tree with hot water and a little sugar, it creates a tea that captures the essence of green and the taste of summer.
How does climate change affect tree health?
I also asked Dr. Rieske-Kinney about the ways in which climate change impacts tree health. "We don't know," she admitted. "On the one hand, trees do better with increased carbon dioxide. But then, so do the pests that attack the trees, as well as insects that attack people. Just look at the spread of mosquitoes and the diseases they bring with them."
She did note one thing for certain.
"What we do know is that things are changing. Insects are appearing in areas where they hadn't been previously, pushing north as temperatures warm. Those that kill trees are doing so in new areas and at faster rates, contributing to the wildfires we're seeing."
Invasive pests in Lexington?
So, did anyone participating in the survey find evidence of the invasive insects we were trained to spot? Fortunately, no. None of the 50 participants reported any sightings of Asian Longhorned Beetles, Gypsy Moths, or Walnut twig beetles that cause Thousand Cankers Disease. Healthy trees abound in Lexington!
More citizen scientists are needed
But as the climate of Kentucky continues to warm and bring more pests, we will need even more citizen scientists to help with studies like this one. With the success of this study, the researchers are hoping to replicate it in other locations in Kentucky. I encouraged them to reach out to faith communities to enlist volunteers. What better place to seek out people interested in health and wholeness than in houses of worship where our values are shaped by faith in a God who loves this planet and wants us to care for it?
[Want to contact Dr. Rieske-Kinney to learn more about how you or your group can participate in or conduct this kind of research? Contact her at: lrieske@uky.edu. Check out her faculty profile here.]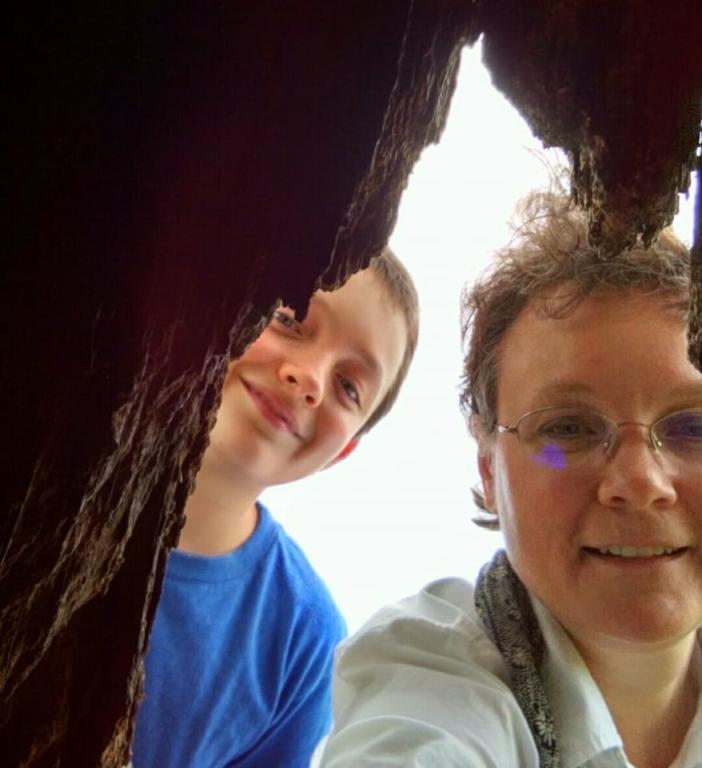 Time to plant a tree!
As Reformation Sunday approaches, I'll be planting my own tree with my husband and children. I'm sure Martin Luther would approve. And my father will be proud.
---
Leah D. Schade is the Assistant Professor of Preaching and Worship at Lexington Theological Seminary (Kentucky) and author of the book Creation-Crisis Preaching: Ecology, Theology, and the Pulpit (Chalice Press, 2015).
Twitter: @LeahSchade
Facebook: https://www.facebook.com/LeahDSchade/.
For more ideas about nurturing children within the natural world:
Welcoming Children into God's Creation: 4 Things You Can Do Now