As we commemorate Holocaust Remembrance Day, Rabbi Mordechai Liebling shares lessons he has learned that help us face the climate crisis.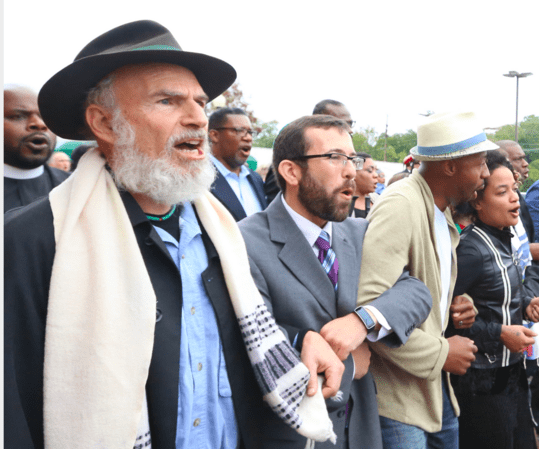 Rabbi Mordechai Liebling
Rabbi Mordechai Liebling is considered one of the founders of the contemporary Jewish environmental movement. He is the Founder and Director of the Social Justice Organizing Program at the Reconstructionist Rabbinical College in Philadelphia, Pa. He serves on and facilitates the steering committee of Green Justice Philly, a coalition of over twenty environmental, community and labor groups. An author and activist, Rabbi Liebling answered the clergy calls to go to Ferguson, Standing Rock, and Charlottesville, and has been arrested numerous times for civil disobedience related to climate change and other issues of social justice.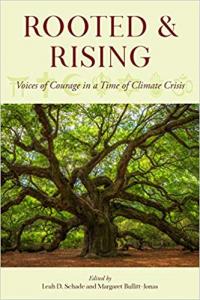 Rabbi Liebling contributed a chapter to Rooted and Rising: Voices of Courage in a Time of Climate Crisis, a collection of twenty-one essays by religious environmental activists co-edited by me and my colleague, Margaret Bullitt-Jonas.
In his chapter, Rabbi Liebling shares how the Holocaust, his faith, and his activism and spiritual practices have taught him lessons that help to sustain him during the climate crisis.
"It is hard to look at the facts of climate disruption, to accept that we are headed full-steam-ahead toward massive environmental disruption and social chaos. The truth is that the lives of my children and grandchildren are seriously threatened," Rabbi Liebling writes. "What helps me to face that truth is that both of my parents were Holocaust survivors."
His mother and father both lost their entire families to the Nazis during the Holocaust. After the war they were refugees. Eventually they made it to America and were able to rebuild their lives. "I grew up surrounded by my parents' friends, all survivors. I experienced first-hand their amazing resiliency and love of life. I saw that people could experience unimaginable destruction and pain and still maintain their humanity with open and loving hearts."
"Auschwitz is the teacher."
As part of his spiritual journey, Rabbi Liebling has participated in meditation retreats at Auschwitz-Birkenau with the Zen Peacemakers. "Each day we sat for several hours next to the railroad tracks where the prisoners were unloaded and selected for immediate death or slave labor. The basic meditation instruction we received was, 'Auschwitz is the teacher.' There was no hiding from the truth of the horrors perpetrated there. We also listened to stories from survivors."
What he found extraordinary was the amount of love that was present in the death camps. "In the face of the most brutal dehumanization imaginable, prisoners insisted on their humanity and took care of each other." [See also: Is Your Dream Too Small? Or Too Big? A Rabbi, MLK, and a Revelation of Love.]
What did this love and humanity look like?
It looked like teenagers in Auschwitz saving a few crumbs every day from their starvation rations in order to make a "birthday cake" for a friend. This was just one story Rabbi Liebling heard from friends and relatives who survived the Holocaust. In the midst of the worst kind of uncertainty and existential anxiety, those who lived – and died – through the Holocaust "learned that we are capable of withstanding great tragedy when we have loving relationships," says Liebling.
Today we are living through existential anxiety on a global scale. How do we cultivate the ability to live with uncertainty while maintaining loving relationships? For Rabbi Liebling, it means being grounded in Earth, in his own consciousness and awareness, in his connection to others, and in Judaism, as well as Buddhist practices.
Rabbi Liebling describes his practice of bodywork and meditative movement that he has done most mornings for more than forty years.
I take some time to ground myself in the Earth. I usually imagine roots coming out of the soles of my feet and intermingling with the soil, rocks and tree roots. Sometimes with each outbreath, I visualize my roots going deeper and deeper into the earth, then to the aquifers below, then further to the dense rock and on to the fiery core; and with each in-breath I breathe the energy of that layer up through my legs into my lower back (first chakra) and my palms.
At times I visualize the energy center above my head (seventh chakra), and with each in-breath I inhale the energy of the cosmos to that point and exhale that energy down my spine to my center, just below my navel (second chakra). After a while, I breathe energy from the cosmos into the Earth and then back up again. This connects me to the heavens and the Earth.
This bodywork, in addition to Jewish mindfulness meditation, helps him to stay grounded with an awareness that "everything is always changing and that it is only in the present moment that we can cultivate awareness." Doing these spiritual practices in a Jewish context leads him to reflect on Jewish teachings and to clarify the intellectual and theological framework within which he views the world. It also helps him to cultivate a keen awareness of what people, corporations, governments, and industries are doing to people and the planet.
Understandably, this awareness can lead to anger.
Anger can be a catalyst for action, Rabbi Liebling notes. However, it can also consume us with rage which we might act out externally or internalize in the form of depression and despair. This is why he turns to the Buddhist practice of metta – loving kindness meditation.
"I find it very helpful in keeping my heart open and strengthening my connection to others," he observes. "Connecting with what I love is a better guide than anger will ever be for deciding which actions to take. It is also one tool to keep me from dehumanizing the people whose policies and actions I oppose."
Metta practices can be found online or learned from a Buddhist teacher. It's as simple as sitting in a relaxed meditative pose and repeating a set of phrases wishing yourself and others in the world well-being. During his second meditation retreat at Auschwitz, Rabbi Liebling contemplated the question, "What does forgiveness mean?" At the end of the week he practiced metta meditation for the prisoners, the dead, and the guards. "I find that love is a much better motivator and sustainer of activism than anger."
"Standing Rock is the teacher."
He discovered the power of this love once again when joining the Native American protests against the pipeline construction at Standing Rock in 2017. "When we entered the area where the pipeline was being built and knew that the police were going to confront us and order us to leave, we were instructed by the Elders to behave as though we were engaged in sacred ceremony," Rabbi Liebling recalls. "There would be no violence, no angry words or disrespect. While the battle to stop that pipeline was lost, the resistance movement centered at Standing Rock created an enduring model for sacred action."
"Just as 'Auschwitz was the teacher,' we learned that 'Standing Rock is the teacher,'" says Rabbi Liebling. "We listened to the community and discovered once again an extraordinary amount of love in the midst of brutal inhumanity."
You can read more of Rabbi Liebling's reflections, as well as many other poignant essays in Rooted and Rising: Voices of Courage in a Time of Climate Crisis (Rowman & Littlefield, 2019).
Read also:
Is Your Dream Too Small? Or Too Big? A Rabbi, MLK, and a Revelation of Love
Rooted and Rising for Climate Action in 2020
Imagine the Child – Reflection from Rev. Fred Small
---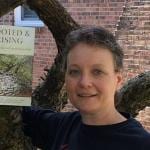 Leah D. Schade is the Assistant Professor of Preaching and Worship at Lexington Theological Seminary in Kentucky and ordained in the ELCA. Dr. Schade does not speak for LTS or the ELCA; her opinions are her own. She is the author of Preaching in the Purple Zone: Ministry in the Red-Blue Divide (Rowman & Littlefield, 2019), Rooted and Rising: Voices of Courage in a Time of Climate Crisis (Rowman & Littlefield, 2019), and Creation-Crisis Preaching: Ecology, Theology, and the Pulpit (Chalice Press, 2015).
Leah's latest book is a Lenten devotional centered on Creation: For the Beauty of the Earth (Chalice Press, 2020).
Twitter: @LeahSchade
Facebook: https://www.facebook.com/LeahDSchade/