Because of COVID-19, I'm thinking about the Maundy Thursday rituals of foot washing and communion in a different way this year. It seems we are living in a Maundy Thursday world.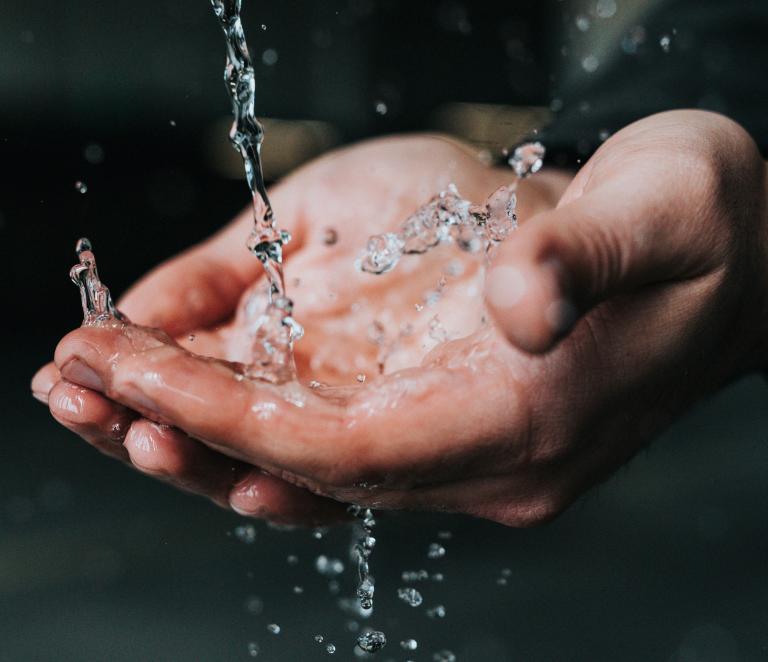 On this side of Good Friday, no one could have known.
Not Peter. Not Judas. Nor any of the other disciples.
And certainly not those who were plotting to arrest Jesus that night.
No one could have known what it all meant.
What Jesus did was so strange, so unorthodox, so unexpected.
This is not what any of them would have expected from God's anointed one.
A foot washing and a meal.
Certainly, it must have been disappointing for his followers who had waved the palms of victory just a few days ago. Jesus seemed poised to ascend the heights of political power; he was at the apex of his popularity. He had the crowds behind him, ready to lead a revolution.
But that's not what they got.
Instead, Jesus disappears into an upper room. There, his disciples receive a foot washing and a simple meal of bread and wine.
This was . . . anticlimactic at best. Infuriating, at worst.
For Judas, the rage was so strong, it caused him to betray his Teacher. He wanted to punish Jesus for refusing to take revenge on their enemies, for not seizing power as he should.
Yet, none of them truly understood.
A revolution was happening, alright. Just not in the way they anticipated.
Jesus knew that we are not saved by revenge, by selfish greed, or by the violent exercise of power. His concern that night was with breaking the cycle of violence, once and for all. Jesus's concern was with doing the will of God.
In order to inaugurate this revolution, though, he needed to prepare his disciples for the work they would have to do in order to usher in the Realm of God, the kingdom of peace. Of course, they could not know then the significance of what he was doing with them as he washed their feet, as he served them bread and wine, as he taught them.
"Whoever wishes to be great among you must be a servant."
"The Son of Man came not to be served but to serve, and to give his life as a ransom for many."
"Love one another as I have loved you."
This was not just a lesson in humility. No, it was more than that.
In a sense, this foot washing and this meal were part of a rite of initiation, a rite of passage.
What do I mean by that?
In some tribal cultures, when a young person prepares for adulthood, they must undergo a rite of passage. They face a test of their strength and endurance. They are tested for their skills and their ability to know themselves—their strengths and their weaknesses.
Before this test, however, they are separated from the rest of the tribe. They are locked in a room to be ritually washed and purified in order to face the arduous tasks ahead. They listen to the instructions and wisdom of the tribal leaders. And they take part in a solemn meal.
For the initiates, it is a vital learning experience that bonds them together. Sort of like the Confirmation classes we have for our youth before their Affirmation of Baptism. Only later, after they have successfully faced their challenges and confronted their demons, will they understand the significance of what they did that night.
I'm thinking about the Maundy Thursday rituals of foot washing and communion in a different way this year because of COVID-19.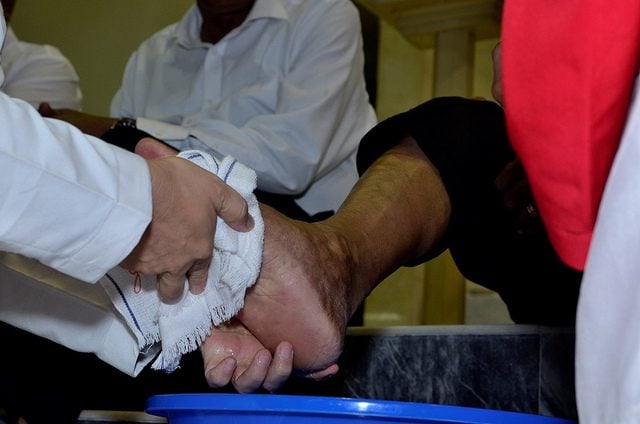 Like the disciples, we are facing a time of great testing right now in the midst of this global coronavirus pandemic.
What's interesting is that the elements of a rite of initiation are playing out across the world, regardless of country or culture. Think about it.
* We are being separated from each other.
Many of us are sheltering in place, staying at home, kept apart from the rest of our "tribe," so to speak. We are not to congregate with others. #HealthyAtHome is the motto of our Kentucky Governor Andy Beshear.
Even as we strive to connect through electronic means, the physical distancing does take its toll. It is a sojourn of isolation for many. But some are also seeing this as a time of introspection, reflection, and prayer.
* We are washing.
Those who are caring for someone with COVID-19 must follow strict protocols for cleaning. For everyone else, the instructions are to wash our hands for a ritually prescribed 20 seconds. Wipe down frequently touched surfaces. Strip down and immediately wash clothes and take a shower after having been out to get supplies. In our house, we even wipe down the groceries that are delivered. I have gained an even greater appreciation for those who wash as a profession. The purification rituals right now feel almost religious, and are permeating every aspect of our lives.
* We are listening to the instructions of our leaders.
Here in Kentucky, we listen to our governor, Andy Beshear, every day at 5:00 p.m. He begins each press conference with the prescribed "10 Steps to Fight COVID-19." He gives instructions for "flattening the curve," and how we can support each other and our families during this time of trial. Also, he admonishes those who are thwarting efforts to control the spread of the virus with his signature phrase: "You can't be doing that." He shares facts and information, and he expresses compassion when reporting on new cases and deaths.
Most importantly, Governor Beshear offers ample encouragement and affirmation for all the positive things people are doing to help their fellow Kentuckians. He reminds us that we are doing our patriotic and religious duty to protect our neighbors. "Andy Hour" has become a sacred time in our house.
* We are partaking in solemn meals.
After listening to Governor Beshear, we sit down to eat. We are learning to no longer take our food for granted. I don't know what it's like in your household, but in ours we are carefully planning every meal so as to make our supplies stretch.
We say a prayer of thanks for those who planted, harvested, transported, stocked, sold, and delivered our food. We pray for those who are on the front lines, and those who are trying to keep things going. And we remember all those who are fighting for their lives, as well as those who are mourning loved ones. All of this we do during the meal which has become a ritual that is both nourishing and sacred.
We need these rituals for what we are dealing with now as well as what we will face in the weeks and months ahead.
We are facing a test of our strength and endurance. This is a test of our skills and our ability to know ourselves—our strengths and our weaknesses. This is a vital learning experience that is bonding us together. My hope and prayer is that we will successfully face these challenges and confront our demons, so that what we have done will serve as a rite of passage into a new way of being with each other.
This crisis has revealed our vulnerability, laid it bare like unshod feet.
The holes in the fabric of our social safety nets rub raw the ones who have no resources. They are blistered with no protection against the constant wear and tear of their lives.
The inequities between those with privilege and those without are gaping like painful cracks across the soles of our feet.
The failure of our leaders at the highest levels reeks with the rot of corruption and ineptitude – like feet that have tramped through the slimiest places.
Yet this crisis has also revealed the best of our humanity as well.
Like the tenderness and compassion of many who care for the sick and dying, cradling their feet with gentleness.
Others are finding that they are tougher than they imagined. They have discovered that they are able to withstand hardship as the calluses on their feet grow thicker.
And some are like Mary who anointed the feet of Jesus with her hair and scented oil. That was the first foot washing, and perhaps where Jesus realized the significance of this ritual.
These are the people who reach out with kindnesses that bring tears to my eyes.
Like my neighbor, Brenda, who put out the call for materials to make personal protection equipment for her sister who manages a nursing home. I came over to drop off a shower curtain and saw another neighbor, Barbara, approach from across the street because she had seen the Facebook post. She called from the sidewalk (being careful to stay back several yards from the house): "I can sew anything! Just tell me what you need!"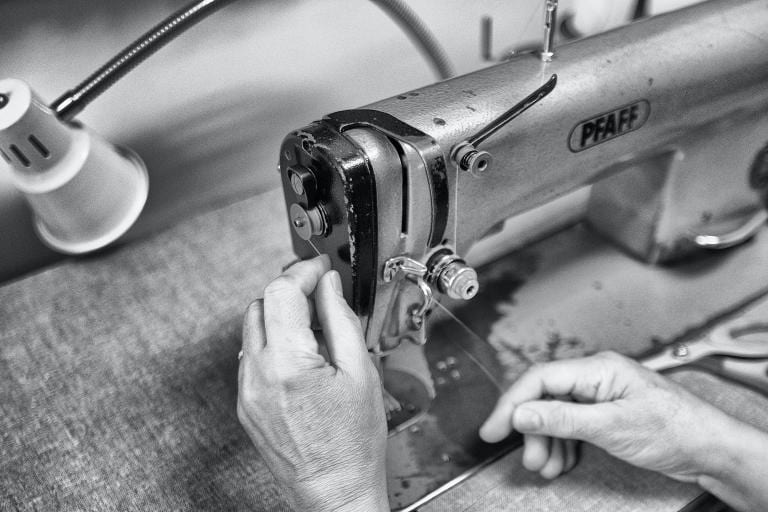 Minutes later, Brenda gave her loads of old sheets and shower curtains that will be made into gowns for the nursing home employees. Those employees will never know the woman who sewed those gowns, or all the people who donated the material. But like the fragrance of anointing oil, they will be covered and protected by neighbors helping neighbors.
This is what Jesus meant when he said, "I give you a new commandment, that you love one another. Just as I have loved you, you also should love one another. By this everyone will know that you are my disciples, if you have love for one another."
We are living in a Maundy Thursday world. And we are being initiated into a time of great testing.
Much will be expected of us. But we are being purified and prepared for the work to come.
Remember that you are a Child of God.
God loves you, God will never leave you.
And God will sustain you for the work of building the Realm of God.
Amen.
Read also:
Those Who Wash: The Divine Disorientation of Maundy Thursday
We Are 'Hosanna People': Palm Sunday and Coronavirus
When Earth Demands Sabbath: Learning from the Coronavirus Pandemic
---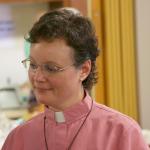 Leah D. Schade is the Assistant Professor of Preaching and Worship at Lexington Theological Seminary in Kentucky and ordained in the ELCA. Dr. Schade does not speak for LTS or the ELCA; her opinions are her own. She is the author of Preaching in the Purple Zone: Ministry in the Red-Blue Divide (Rowman & Littlefield, 2019), Rooted and Rising: Voices of Courage in a Time of Climate Crisis (Rowman & Littlefield, 2019), and Creation-Crisis Preaching: Ecology, Theology, and the Pulpit (Chalice Press, 2015).
Leah's latest book is a Lenten devotional centered on Creation: For the Beauty of the Earth (Chalice Press, 2020).
Twitter: @LeahSchade
Facebook: https://www.facebook.com/LeahDSchade/