Oh, yes, she did.  The Canaanite Woman took a knee.
[Watch the video here:  https://www.youtube.com/watch?v=-RaSVolEaWk&feature=youtu.be]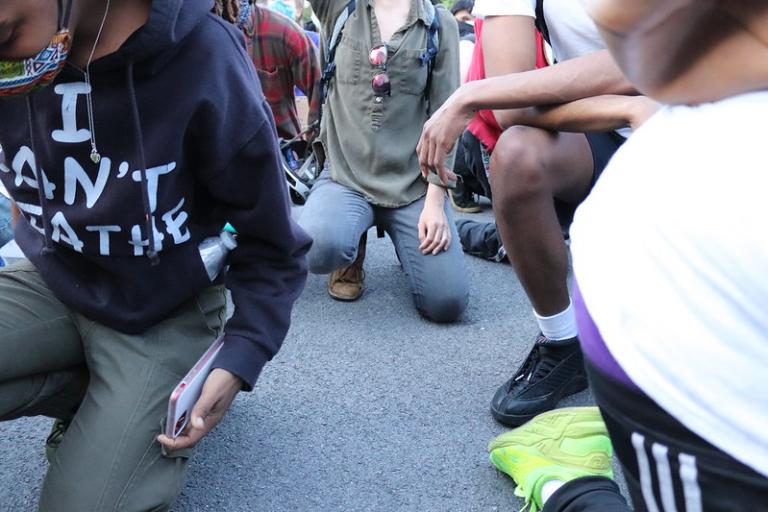 She interrupted Jesus with her pain.
She annoyed the disciples with her incessant wails.
She.
She from an off-color place, with an off-color daughter.
She dared ask for healing
release
relief
from the demon.
They
just wanted to be left alone.
"Get that sonofabitch off the field!"
He called Colin Kaepernick a dog.
The son of a dog, and thus a dog himself.
Colin interrupted the game with his pain.
He annoyed the whites with his incessant kneeling.
He.
He from an off-color people, with an off-color demand.
He dared asked for healing
release
relief
from the demonic system.
JUSTICE!
They.
They ignored her.
Not worth a glance,
much less attention.
Your suffering is not our suffering.
You.
You are not us.
You are in the way.
You are a bitching bitch.
"You wouldn't believe how bad these people are. These aren't people. These are animals."
These.
These people.
These are animals.
She.
She came.
She knelt.
She took a knee.
The Canaanite woman took a knee.
He.
He came.
He knelt.
He took a knee.
Lord, have mercy!
Kyrie eleison!
On me.
On my daughter.
On my people.
Your people.
Are dogs.
"It is not fair to take the children's food and throw it to the dogs."
Dogs?
Yes.
Yes, Lord. Yes, Kyrie.
Yet.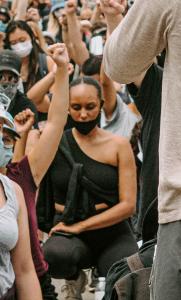 "Yes, Lord, yet
even the dogs eat the crumbs that fall from their masters' table."
Even the dogs.
Even my people.
Even my daughter.
Even our sons.
Even me.
There is enough for all of us.
Enough bread.
Enough healing.
Enough justice.
I like to think
just then
Jesus took a knee.
I like to see
Jesus
taking a knee
to look her in the eye
instead of kyrie-ing over her.
I like to imagine
his knee
the knee of the Kyrie
bending into the dust
into the astroturf
the joint joining
Woman –
Man –
– Not dog –
But dogged.
"Great is your faith."
Faith that the crooked knee of the white kyrie-demonic bent
into the black neck
pressed into Minneapolis pavement
will release.
Faith that the white demonic-kyrie knees bent
in a firing stance
pressing a black body into a bed with bullets
will straighten.
Faith that bent knees will rise
straighten
and stand
together.
But maybe
maybe
as her knees clicked
cartilage against bone
straightening as she rose
as she stood
on her faith
maybe
maybe Kyrie stayed kneeling
as a Canaanite Daughter
– Not dog –
sprang up
out of the bed
as a Canaanite Son
– Not dog –
sprang up
off the pavement
off the astroturf
healed
released
from the demon
the demonic.
Let it be done.
As you
Canaanite woman
Mother of
Colin
George
Breonna
Let it be done
as you will it to be.
Amen.
---
Read also:
Calling People Dogs: Juxtaposing Jesus and Trump
6 Bible Texts for a Sermon on Racism & Why Your Church Needs to Hear It
Mr. Trump, Here's What's Wrong with Calling People 'Animals'
---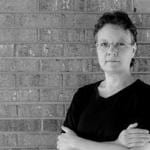 Leah D. Schade is the Assistant Professor of Preaching and Worship at Lexington Theological Seminary in Kentucky and ordained in the ELCA. Dr. Schade does not speak for LTS or the ELCA; her opinions are her own. She is the author of Preaching in the Purple Zone: Ministry in the Red-Blue Divide (Rowman & Littlefield, 2019) and Creation-Crisis Preaching: Ecology, Theology, and the Pulpit (Chalice Press, 2015). She is also the co-editor of Rooted and Rising: Voices of Courage in a Time of Climate Crisis (Rowman & Littlefield, 2019).
Twitter: @LeahSchade
Facebook: https://www.facebook.com/LeahDSchade/