There is no doubt that democracy is under threat with the 2020 Election. What can faith leaders do to equip themselves and their congregations with knowledge, tools, and actions to defend democracy and resist tyranny? Below is a list of election resources for faith leaders so that you can be equipped for the election season.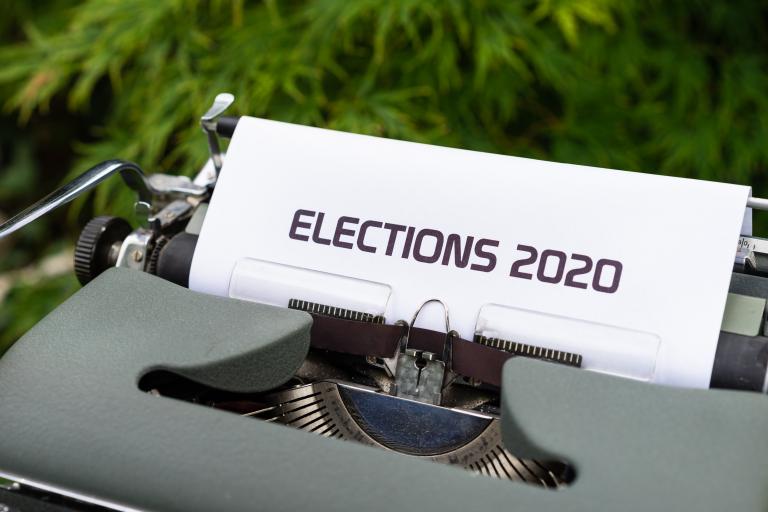 As co-founder of the Clergy Emergency League, a network of more than 2,100 faith leaders, I'm encouraged to see so many ministers rallying for the cause of democracy. Our democracy is what enables freedom of religion. So we must do everything in our power to defend it and resist any powers seeking to subvert or destroy it.
To help faith leaders and congregations navigate this complicated and dangerous time, I've compiled this list of election resources for faith leaders. It's by no means a complete list. But hopefully this will give you a place to start. Through education, Bible study, and organizing, we can guide our congregations through whatever may unfold in the days and weeks ahead.
Election Resources for Faith Leaders
Sign the "Faithful Voter" pledge
At the minimum, commit to voting in the 2020 election for values that recognize the dignity of all people. Faith in Public Life has this voter pledge to commit to speak up for fair elections and racial justice and be a beacon of truth and justice: http://fpl.actionkit.com/sign/faithful-voter-pledge/
Democracy-protection and election resources for faith leaders:
Here are resources that are specifically aimed at clergy to help defend democracy through messaging, organizing, and equipping their congregations.
"Talking Points for Clergy on Violence and the November Election," The Carter Center. This is a helpful list of ways you can frame your sermons, newsletter articles, and communications to your congregation. Acknowledging concerns, finding common ground, and promoting peace and positivity can go a long way to quelling fears, easing tensions, and cooling overheated emotions.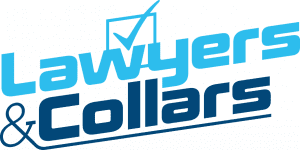 Lawyers and Collars. An organization dedicated to educating and equipping African American Clergy. They provide needed tools and resources to protect members of their communities from unjust efforts that prevent eligible voters from exercising their right to vote.
Hold the Line. This a movement to engage with the church and with millennials in a way that charges them to become more politically active.
"A Call to Action: The November 2020 Election Accompaniment Project". Rev. Le Anne Clausen de Montes is pastor in the PC(USA) who has put together a helpful document to guide pastors in thinking through different scenarios with the election season and how clergy can respond with their congregations.
Volunteer to help with the election process.
This article by The Atlantic contributor Anne Applebaum has a wealth of suggestions and organizations for individuals to do their part in ensuring free and fair elections: "The Election is in Danger. Prepare Now."
In this piece, John Bell, a Buddhist Dharma Teacher offers: "A Dozen Ways to Engage in the U.S. Elections."
Educate yourself about possible scenarios in the post-election season
Faith leaders need to insist that every voter matters, and every vote must be counted, no matter what seems to be happening on the evening of Nov. 3. The election is not about a single day. It's about a season of waiting and vigilance that may take days, weeks, and even months. But that waiting means the system is working, just as it has for nearly 250 years.
However, there are many scenarios that could lead to the unravelling of democracy in short order. Remember that coups usually occur within a 24- 48-hour period. If violence is unleashed and the Insurrection Act is instituted, the United States could very quickly come under martial law. In the unlikely event of that happening, faith leaders need to be prepared.
Some may think it's being unnecessarily alarmist to worry about a constitutional crisis that could result in a coup. However, close observers of the presidential elections, constitutional scholars, lawyers, and political strategists are taking this threat very seriously.
As Barton Gellman explains in The Atlantic: "In this election year of plague and recession and catastrophized politics, the mechanisms of decision are at meaningful risk of breaking down. Close students of election law and procedure are warning that conditions are ripe for a constitutional crisis that would leave the nation without an authoritative result. We have no fail-safe against that calamity" ("The Election that Could Break America").
It's important to recognize the signs that such a crisis may be unfolding so that we can respond. Start with this article by by George Lakey, of Waging Nonviolence: "We need a plan to prevent a Trump takeover — and this anti-coup research shows the way,"
And watch: How Clergy Can Plan for the Election Season (25-minute video), hosted by the Clergy Emergency League with Rev. Lauren Grubaugh. Rev. Grubaugh offers very practical steps for pastors to take in terms of their preaching and ministry in the lead-up to the election and its aftermath.
In case of an election emergency . . .

Before the election, sign the Braver Angels pledge to "Hold America Together." It calls for a "complete disavowal of election-related violence, calls for such violence, or excuse-making for anyone on either side who would commit or tolerate violence as a means of influencing an election." They also offer plans for hosting a "Hold America Together" gathering of of 5-12 friends and neighbors that will be activated in the event of an election emergency. Groups can meet on Zoom or in person to talk about any election crisis and commit to action steps to keep the country together. Houses of worship are ideal nexus points for such gatherings.
Ways to engage in non-violent civil disobedience, resistance, and non-compliance
If the unthinkable happens, it's important to be aware of the tools and power citizens have to resist tyranny through nonviolence and non-compliance. Here are two resources:
198 Methods of Nonviolent Action, Albert Einstein Institute
Resources from International Center on Nonviolent Conflict
What history can teach us about resisting tyranny
Two books are essential for learning from history about how citizens – especially clergy and people of faith – can resist tyranny.
One is On Tyranny by Timothy Snyder. Short, concise, and fits in your pocket, this book has 20 lessons from history for how to resist tyranny. He lays out principles such as "Believe in truth," and "Be as courageous as you can," that would make an excellent sermon series!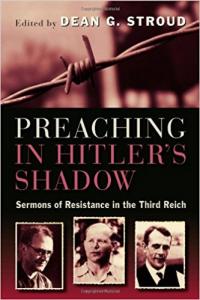 Another is Preaching in Hitler's Shadow. Edited by Dean G. Stroud, the introduction alone is an eye-opening lesson in how fascism co-opted the Christian church in Germany – and how ordinary pastors resisted. Thirteen sermons from the likes of Dietrich Bonhoeffer, Karl Barth, and others are an inspiration for today's pastors. You might consider reading one of them as your Sunday sermon in the event that the election process is subverted and a coup ensues. [Read also: Preaching in Trump's Shadow.]
Root yourself in scripture
Many people are not aware that nonviolent civil disobedience has roots in biblical stories. From the Egyptian midwives protecting Israelite babies in Exodus to Jesus' protest-ride on a donkey into Jerusalem, the Bible is full of inspirational stories.
Watch: Civil Resistance: An Introduction to an Ancient and Modern Liberation Practice (27-minute video), hosted by the Clergy Emergency League with Rev. Lauren Grubaugh. Rev. Grubaugh provides biblical foundations for why resistance is important and necessary in the face of tyranny.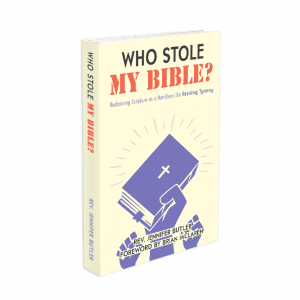 Read: Jennifer Butler's new book, Who Stole My Bible: Reclaiming the Bible as a Handbook for Resisting Tyranny. The book touches on various times when God's people were called upon to resist despotic leaders in public and religious sectors. Butler shows us how God inspired and equipped God's people for fighting oppression, pushing against egotistical rulers, and ensuring equality. With helpful connections to our contemporary context, the book links the historical and cultural context of the Bible to how we can apply those lessons in resisting tyranny today.
Worship resource for the election season
At the very least, faith leaders should be available to their congregants who may experience heightened anxiety on Nov. 3-4 and beyond. Many denominations are offering worship resources, prayer vigils, and recorded worship service to accompany the faithful through this tempestuous time. For example, this resource from the Evangelical Lutheran Church in America has prayers, hymns, and scripture readings, and also includes links to the Episcopal, Presbyterian (USA), and United Church of Christ denominations: Worship Resources for a National Election.
As I said in my previous post, it is our shared duty to protect our democracy. This list of election resources for faith leaders can help you educate yourself and your congregation. We all want to make this country better. So this is an opportunity for faith leaders and congregations to move forward with fairness, dialogue, and respect. And, if necessary, prophetic courage to resist tyranny and restore the democratic structures that enable a safe and functioning society for all.
Read also:
Will Our 'Night on Bald Mountain' Ever End? Election 2020
---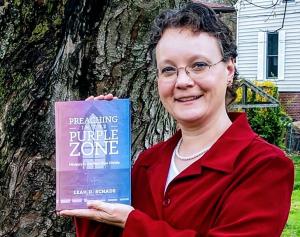 Leah D. Schade is the Assistant Professor of Preaching and Worship at Lexington Theological Seminary in Kentucky and ordained in the ELCA. Dr. Schade does not speak for LTS or the ELCA; her opinions are her own. She is the author of Preaching in the Purple Zone: Ministry in the Red-Blue Divide (Rowman & Littlefield, 2019) and Creation-Crisis Preaching: Ecology, Theology, and the Pulpit (Chalice Press, 2015). She is the co-editor of Rooted and Rising: Voices of Courage in a Time of Climate Crisis (Rowman & Littlefield, 2019). Her latest book, co-written with Jerry Sumney is Apocalypse When?: A Guide to Interpreting and Preaching Apocalyptic Texts (Wipf & Stock, 2020).
Leah is also co-founder of the Clergy Emergency League, a grassroots network of clergy that provides support, accountability, resources, and networking for clergy to prophetically minister in their congregations and the public square in this time of political upheaval, social unrest, and partisan division.
Twitter: @LeahSchade
Facebook: https://www.facebook.com/LeahDSchade/