How can Mister Rogers' legacy of goodness guide us in this time of exile? This sermon draws on Jeremiah 31:31-34 to find God's love written on our hearts.
Over the last year, I've found myself drawn to Mister Rogers, the host of the eponymous children's television show that I used to watch as a child. Mister Rogers' Neighborhood ran from the 1960s until 2001. So as a young child in the 70s, Mister Rogers was part of my daily routine.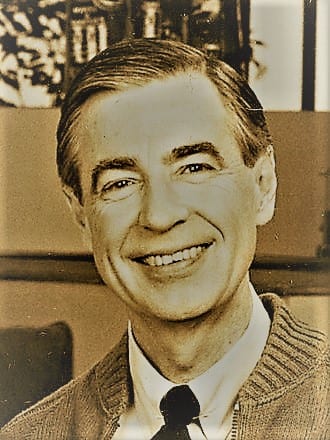 I always felt that he was talking to me when he looked in that camera.
And you know what? He was! Fred Rogers believed that children are worthy of respect, and he strove to create a relationship with his young viewers through that television screen. From the moment he walked in the door, put on his red cardigan, and changed into his sneakers, we knew we were in the presence of someone who cared about us.
Mister Rogers took us on field trips to learn how things were made. His Trolley took us to the Land of Make Believe with his puppets, Daniel Tiger, King Friday, Lady Elaine Fairchilde, and X the Owl. And he had so many neighbors who would visit him or he would take us along to visit.
But there was always a moment of bittersweet sadness at the end of each half-hour episode.
I would feel a bit crestfallen when the sneakers came off and the cardigan was returned to the closet. Fridays were the worst, because I knew I'd have to wait two whole days until I could go back to Mister Rogers' Neighborhood. But he always assured us, "I'll be back when the day is new, and I'll have more ideas for you. And you'll have things you'll want to talk about. I will, too."
In the last four years, there has been a resurgence of interest in the work of Mister Rogers. However, I have to admit, I initially held back.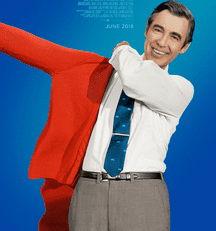 When the documentary, Won't You Be My Neighbor, was released in 2018, and the film, A Beautiful Day in the Neighborhood, came out last year, I resisted watching them. I wasn't sure why, at first.
I think it's because I've witnessed the rhetoric in our country become so vitriolic, so hateful, that I've been embarrassed to imagine what Mister Rogers would think of us now. But more than that, whenever a clip from his show, or a quote from him would cross my Twitter or Facebook feed these last four years, I would just feel immensely sad.
How have we come so far from the basic decency and compassion that we learned as children from Mister Rogers? Surely, some of the people who thought up the idea to tear children away from their parents at the border must have watched Mister Rogers at some point in their lives. Certainly, the terrorists dressed in fatigues marching through our cities with guns must have seen episodes of Mister Rogers teaching us what to do "with the mad that we feel."
But we have strayed so far from civilized norms that we've descended into a bizarro-world of lies, gaslighting, mockery, threats, and violence. Frankly, I didn't have the heart to revisit Mister Rogers' Neighborhood.
To me, it has felt like we've been in a kind of exile – similar to the Israelite people to whom Jeremiah writes in this ancient scripture. His words were addressed to a people who were far from home and losing their hope. The covenant between God and Israel made long ago at Sinai was so broken, it seemed there was nothing left to salvage.
And yet, Jeremiah proclaimed that all is not lost, despite all evidence to the contrary. He assured them that God was making a new covenant with them, one that will be written "on their hearts." In fact, this renewal of community, and equity, and decency will be so natural to them, they won't even have to teach it to each other. Integrity will come naturally. Caring for the vulnerable, honoring their neighbors, protecting the weak, and finding peaceful ways to resolve conflict will be woven into the very fabric of their society. It will just be second nature. Like putting on a red cardigan and tying on a comfortable pair of sneakers.
This message from Jeremiah did not come when things were going well. It came in a period of pain, suffering, loss, and collective depression. It came like the riffs of a playful jazz piano into the living room of child whose world is marked by conflict, overwhelming emotions, and adults who don't seem to understand. And it came like a gentle man singing: "You are special."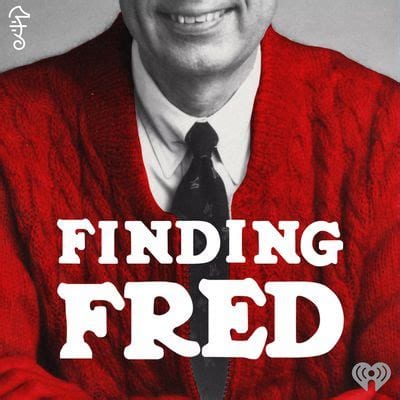 About a year ago, my hesitation to go back to Mister Rogers shifted.
I came across a podcast called, Finding Fred. The description said this: "Mister Rogers' Neighborhood was not a simple show. And Fred Rogers was not a simple man. He was radical. Spiritual. Revolutionary. Maybe even subversive. Bestselling author and cultural critic Carvell Wallace hosts this 10-part series about the life, thinking and work of Fred Rogers, and asks what the cardigan wearing host of a decades-old children's show can tell us about how to get by in today's chaotic world." [https://podcasts.apple.com/us/podcast/finding-fred/id1477279443]
I thought, I need some ideas for getting by in today's chaotic world. But, Fred Rogers: subversive? Subversive means wanting to undermine the system. Why would they describe Mister Rogers as subversive?
By the second podcast, I realized why they used this term. In a 1969 episode, Mister Rogers invited Officer Clemence – a black man – to take off his shoes and dip his feet in the kiddie pool on a hot summer day. This was when the color barrier at public swimming pools was firmly in place. So to see these two men sharing water and a towel was, indeed, subversive. It subverted the racist system in the most unassuming and natural way.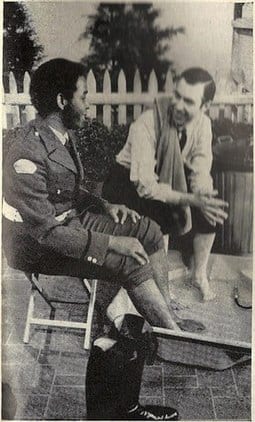 I will put my law within them, and I will write it on their hearts; and I will be their God, and they shall be my people. (Jeremiah 31:33)
In fact, Mister Rogers' entire mission was about subverting the harsh, oppressive domination system that had tortured him as a child. Bullied because of his weight and teased for his shyness, Fred Rogers experienced the rage and humiliation that nearly everyone feels at some time in their life. But he discovered ways to channel that energy into creativity. He made puppets. He learned to play the piano and write songs. And he structured his days with spiritual disciplines such as prayer, reading scripture, and swimming laps.
Fred Rogers was an ordained Presbyterian minister, but never mentioned religion or God in his programs. He didn't need to. The love he believed in was fully embodied in every episode. As natural feeding fish. As looking into a child's eyes to say what he said to his young viewers at the end of every episode.
"You always make each day a special day. You know how: by just your being yourself. There's only one person in the whole world that's like you, and that's you. And people can like you just as you are."
"Fred Rogers still haunts us."
A few weeks ago, my colleague and co-founder of the Clergy Emergency League, Rev. Stephen Fearing, interviewed the journalist portrayed in the film, A Beautiful Day in the Neighborhood. [Watch the interview here.]
In the movie, Tom Hanks plays Fred Rogers who befriends a jaded journalist mired in cynicism and hard-heartedness. It's based on the true story of Tom Junod who was assigned to write a feature about Fred Rogers and whose life was transformed by their friendship. As Stephen and Tom were lamenting our current state of politics and societal upheaval, they noted that Fred Rogers' legacy is still with us. Stephen said, "Fred Rogers still haunts us. I don't mean that in a creepy way. I mean, his ghost still lingers."
That really struck me, especially as we are heading into Halloween. This is the season of hauntings, where demons and ghouls decorate our yards and lurk in our imaginations. But for the last four years, the demonic has found purchase in the systems and powerful eschelons of our society at an unprecedented level.
So now, we are haunted by goodness.
We are haunted by the goodness of Fred Rogers. Sixteen years after his death, Fred Rogers keeps coming back to us. Firmly, gently, yet persistently, he keeps reminding us that there is a power that is greater than a destructive ego, more effective than violence, longer-lasting than hate. It is the power of generosity, curiosity, creativity, joy, acceptance, and peace. We are haunted by goodness reminding us that being kind and accepting people is the way that leads to healing and wholeness.
Even when people try to use Fred Rogers as an insult, it backfires.
After the town hall of the two presidential candidates last week, a critic Tweeted that one candidate's forum was like "watching an episode of Mister Rodgers [sic] Neighborhood." As if that's a bad thing?
The ensuing responses to the intended snipe indicate that the yearning for goodness has not gone away. Fred Rogers will not let us go. Just like Jeremiah proclaimed to the people of Israel that God's love will not let us go.
Reformation Sunday
For Lutherans, today we celebrate Reformation Sunday when we commemorate another man who wrestled with demons and subverted the powers that sought to diminish people's souls and reduce them to subservient chattel. Martin Luther was no Fred Rogers, that's for sure. He was neither gentle nor soft-spoken. But he knew that the way those in power had constructed society needed to be changed. He knew that there needed to be a reformation of hearts and minds and churches and society itself. So he dedicated his ministry, his study, his teaching, his writing to the very thing that Jeremiah proclaimed – a new covenant.
Last week, my family and I finally watched the documentary, Won't You Be My Neighbor? I'll admit, it did make me cry, just as I suspected it would. I wept for what we've lost. I wept because it brings into sharp relief how much meanness, bullying, abuse, and hatred have overtaken our world.
But I also wept with gratitude that someone cared enough about children to want to make a difference in their lives.
Mister Rogers wrote on their hearts the law of love. I'm grateful that those 900+ episodes contain 30 years of messages that our feelings are worth talking about. That even though the world is a scary place, and terrible, awful things happen . . . caring happens, too. We are still haunted by goodness that will not let us go. Goodness will find a way. "For they shall all know me, from the least of them to the greatest." God's love will not let us go.
Read also:
Is Your Dream Too Small? Or Too Big? A Rabbi, MLK, and a Revelation of Love
September Mourn: Lament and Love Meet Covid19, Climate, Racism
Love Touches Fear: Transfiguration Sunday
---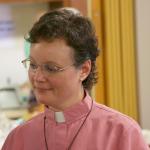 Leah D. Schade is the Assistant Professor of Preaching and Worship at Lexington Theological Seminary in Kentucky and ordained in the ELCA. Dr. Schade does not speak for LTS or the ELCA; her opinions are her own. She is the author of Preaching in the Purple Zone: Ministry in the Red-Blue Divide (Rowman & Littlefield, 2019) and Creation-Crisis Preaching: Ecology, Theology, and the Pulpit (Chalice Press, 2015). She is the co-editor of Rooted and Rising: Voices of Courage in a Time of Climate Crisis (Rowman & Littlefield, 2019). Her latest book, co-written with Jerry Sumney is Apocalypse When?: A Guide to Interpreting and Preaching Apocalyptic Texts (Wipf & Stock, 2020).
Leah is also co-founder of the Clergy Emergency League, a grassroots network of clergy that provides support, accountability, resources, and networking for clergy to prophetically minister in their congregations and the public square in this time of political upheaval, social unrest, and partisan division.
Twitter: @LeahSchade
Facebook: https://www.facebook.com/LeahDSchade/