I'm the co-founder of a network of faith leaders called the Clergy Emergency League (CEL). We provide support, accountability, resources, and networking for clergy to prophetically minister in their congregations and the public square in this time of political upheaval, social unrest, and partisan division. With a potentially explosive election season on the horizon and the ongoing trauma of the Covid-19 pandemic, I wanted to find out how these clergy are coping with pre-election stress.
I asked the members of the CEL Facebook group to rate their stress level on a scale of 1 – 5 (5 being the highest). Then I asked how they're coping with this stress. Here's what I learned.
On a scale of 1 – 5 (5 being the highest), how stressed are you in the run-up to the election?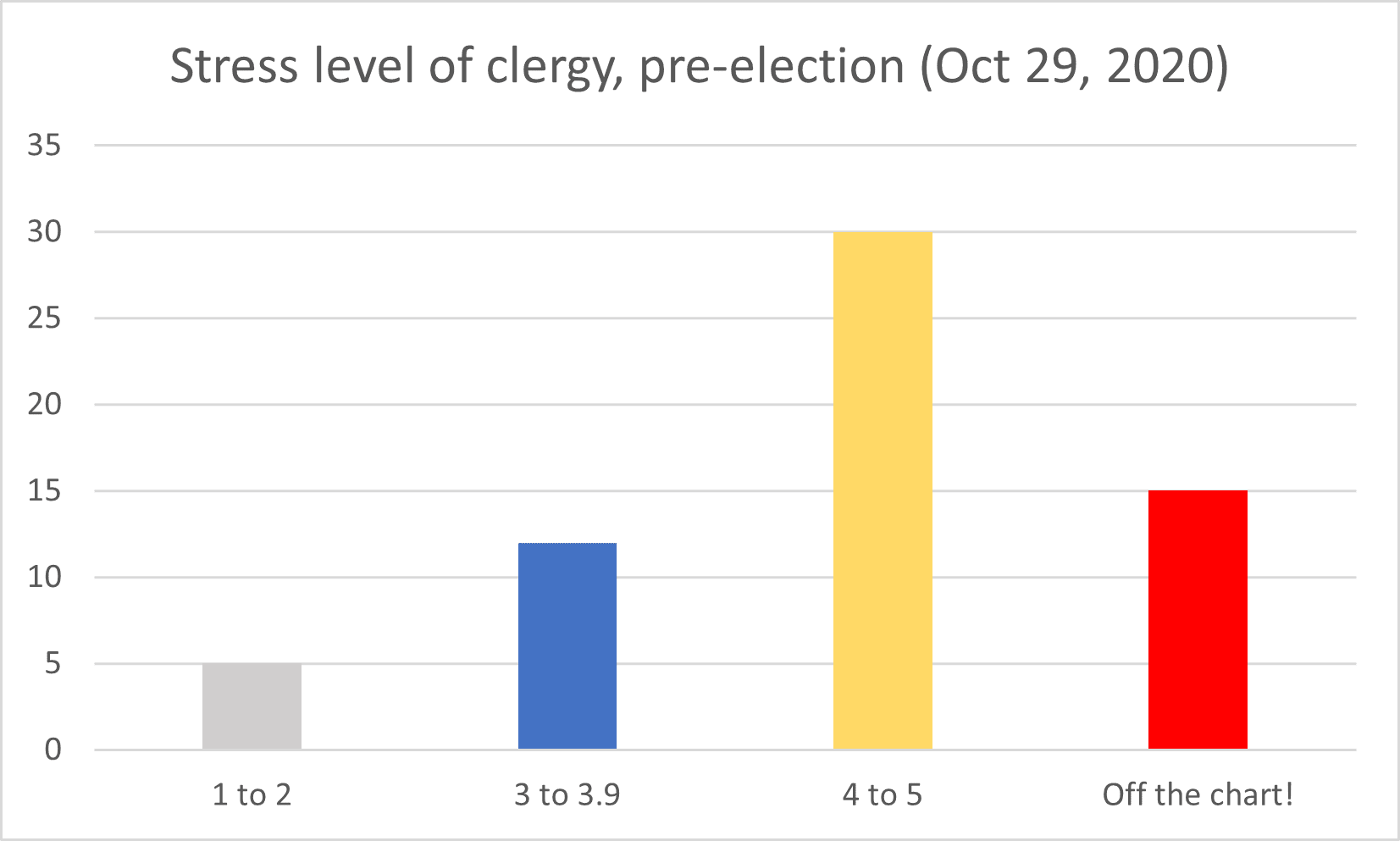 While this is an informal poll from a very small group of clergy, there's important information here. This graph gives us a window into the state of mind of some pastors in this pre-election period.
We can see from this chart that nearly half of pastors rated their stress level at a 4 or 5. But some respondents said that the scale wasn't big enough to contain their stress level! 24% of these clergy indicated that they are "off the chart" when it comes to the anxiousness and concern they are feeling at this time.
Combined, nearly three-quarters of the clergy in this informal poll said that they are experiencing high levels of stress and anxiety in the lead-up to the election.
What clergy are worried about
Many clergy are concerned about how to pastor their congregations through the post-election season. They are already under a tremendous amount of strain from learning how to pastor in a pandemic. Many of their congregations are already divided on issues around in-building worship, masking, and just keeping the church going. As well, many are worried about their access to healthcare, especially as at-risk churches slash budgets or even close. Add in the political divides, and the stress fractures become even more pronounced. Throw in existential concerns about the survival of democracy and the threats to vulnerable people, and for some, the strain is almost unbearable.
Also, for those who have survived sexual, physical, or emotional abuse, the thought of another four years with the current president is terrifying.
The stress of moral injury
But even for those who are relatively "safe" in terms of their race, gender, sexuality, and access to healthcare, there is another stressor that roils the conscience of many pastors. It's called moral injury.
According to the National Center for PTSD (Post-Traumatic Stress Disorder), moral injury is what happens when people witness events that "contradict deeply held moral beliefs and expectations."
NCPTSD's Sonya B. Norman, PhD and Shira Maguen, PhD, explain that when it comes to moral injury, "Individuals may experience betrayal from leadership, others in positions of power or peers that can result in adverse outcomes. Moral injury is the distressing psychological, behavioral, social, and sometimes spiritual aftermath of exposure to such events."
Feelings of guilt, shame, and betrayal are common in moral injury. And for clergy who are trained to adhere to the moral teachings of their scriptures and faith communities, the moral injury experienced during the last four years has been painfully acute.
Moral injury also heightens concerns about the safety of BIPOC citizens, the loss of rights for LGBTQIA+ folks. The idea of a continuation of policies that deny the climate crisis, put babies in cages, and ignore a pandemic causes incredible stress for many pastors. Add to this the knowledge that the criminal activities committed by this administration have largely gone without consequences or justice, and the moral injury is compounded.
How clergy are experiencing pre-election stress
Some of the pastors in the Clergy Emergency League group reported experiencing symptoms of high anxiety such as sleeplessness, hyper-awareness, teeth-clenching, and panic attacks.
"I'm not sure how much more I can take," was a repeated refrain.
Others admitted, "Honestly, I'm not doing a good job of coping."
Even expectations of being able to cope can add to the stress.
That's one of the difficulties of this time for pastors. We can't just be "chaplains" in the midst of the disaster who go home from the catastrophe at the end of the day. We're living it right along with our parishioners. And sometimes our parishioners are giving us the most grief as we're trying to minister. So it's doubly, sometimes triply stressful.
In other words, this is not a "buck up little camper" moment. Rather, it's a time for deep listening and sitting in the sh!t together in solidarity and "unreasonable hope."
That being said, I did ask clergy to share how their coping with pre-election stress. Some of these ideas may help you as well.
Ideas for clergy coping with pre-election stress
Reading scripture, meditation, praying the daily office
Volunteering to help with the election process (phone-banking, working the polls, handing out free water for those waiting in line, etc.)
Moving your body! Exercising, yoga, dancing, martial arts
Screen-free time to decompress from the news
Walking, hiking, spending time in nature
Scheduling vacation time for after the election
Spending time with friends and family – either distanced or on screen
Eating healthy foods
Watching non-stressful movies
Engaging in small acts of kindness. Making phone calls, sending gifts, baking or cooking for others.
Talking with a therapist, counselor, or spiritual director
Focusing on Advent and Christmas preparations
Coloring, crafting, art, gardening, and other "hands-on" activities
Putting a heated rice packs on the chest (helps to loosen knots of anxiety and literally, warms the heart)
Listening to music, playing a music instrument, singing
Getting extra sleep
Video games
And perhaps my favorite, one that I had not heard of before: therapeutic log-throwing! "The grass doesn't care, and it doesn't hurt the log!"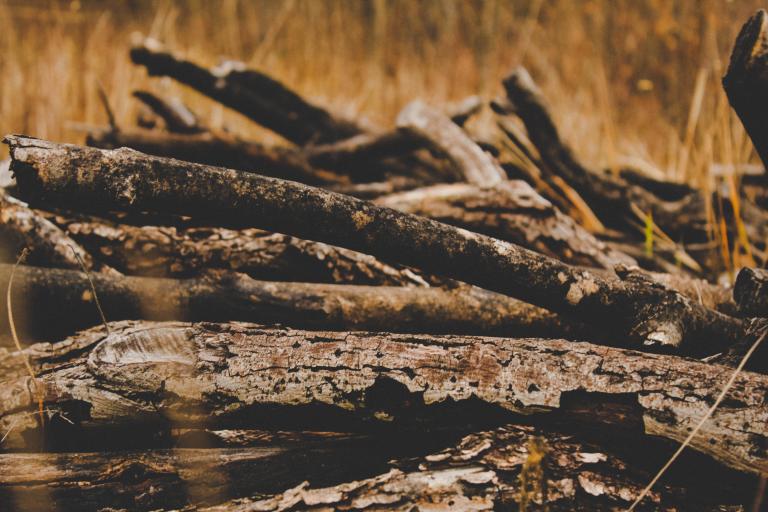 Adjust your expectations
One pastor, Leah Robberts-Mosser, said that she is encouraging both parishioners and clergy colleagues to adjust their expectations when it comes to the election.
"We have to set aside the expectation that we will go to bed on election night knowing who the winner is in the Presidential race. This election is going to be contested. So we have to mentally prepare ourselves for the reality that November 3 will not be the end of this," she said.
She also noted that the fueling of White Supremacy means that we will likely need to prepare ourselves mentally, emotionally, and spiritually for some level of chaos and even violence. It's important for clergy to communicate messages of non-violence while also insisting that all votes be counted. "In any case, this is not a race to election day — it is a marathon that will require our sustained energy."
[See: Keep the Faith: Count Every Vote. This is fantastic resource by Faith in Public Life for clergy in the post-election season.]
Trusted colleagues help with pre-election stress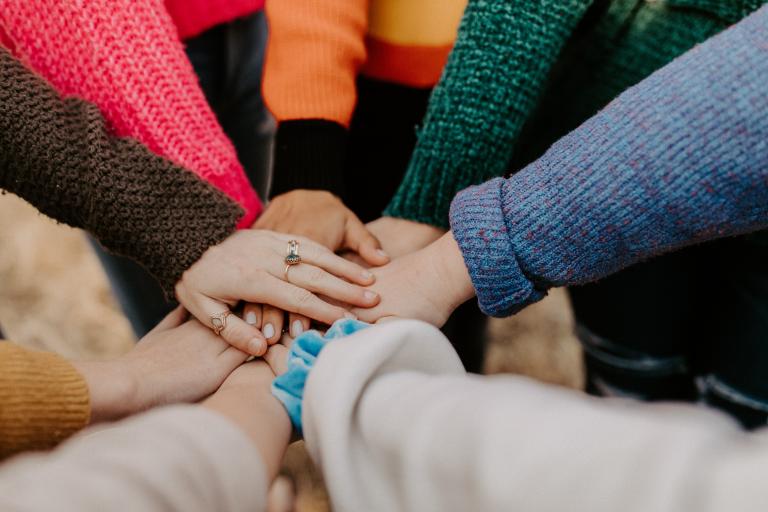 Many respondents noted that one of the most effective ways they're dealing with stress is by talking with trusted colleagues. Commiserating helps reduce the load. Knowing that there are other clergy who support you in your work can help to alleviate feelings of isolation and reduces stress.**
Above all, know that your work as a faith leader matters! Your leadership is important, and God will use your gifts in this pre-election season and beyond. Thank you for your ministry and hold fast to the grace of God!
**Several ministers named the Clergy Emergency League Facebook group as being a helpful resource for dealing with stress. This private group is available to those with a clergy-level leadership role within their congregations, including seminarians, deacons, and retired pastors.
If you're a clergy person and would like to join our private FB Group, click here to request membership. If you request to join, please make sure to answer the entrance questions.
Our public Facebook Page is open to anyone who would like to follow the work of the Clergy Emergency League. Click here to be directed to our Facebook Page. Make sure to click the 'Like' button!
Read next — Clergy: Prepare for the Post-Election Season Spiritually, Emotionally, and Physically
Read also:
Election Resources for Faith Leaders: Defend Democracy and Resist Tyranny
What to Do When Parishioners Leave – Because of Politics
#CloudOfClergy: The Many Ways Faith Leaders Show Up for Justice
---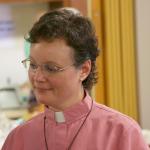 Leah D. Schade is the Assistant Professor of Preaching and Worship at Lexington Theological Seminary in Kentucky and ordained in the ELCA. Dr. Schade does not speak for LTS or the ELCA; her opinions are her own. She is the author of Preaching in the Purple Zone: Ministry in the Red-Blue Divide (Rowman & Littlefield, 2019) and Creation-Crisis Preaching: Ecology, Theology, and the Pulpit (Chalice Press, 2015). She is the co-editor of Rooted and Rising: Voices of Courage in a Time of Climate Crisis (Rowman & Littlefield, 2019). Her latest book, co-written with Jerry Sumney is Apocalypse When?: A Guide to Interpreting and Preaching Apocalyptic Texts (Wipf & Stock, 2020).
Leah is also co-founder of the Clergy Emergency League, a grassroots network of clergy that provides support, accountability, resources, and networking for clergy to prophetically minister in their congregations and the public square in this time of political upheaval, social unrest, and partisan division.
Twitter: @LeahSchade
Facebook: https://www.facebook.com/LeahDSchade/